Kid
15 Seasonal Activities to Do With Your Kids This Fall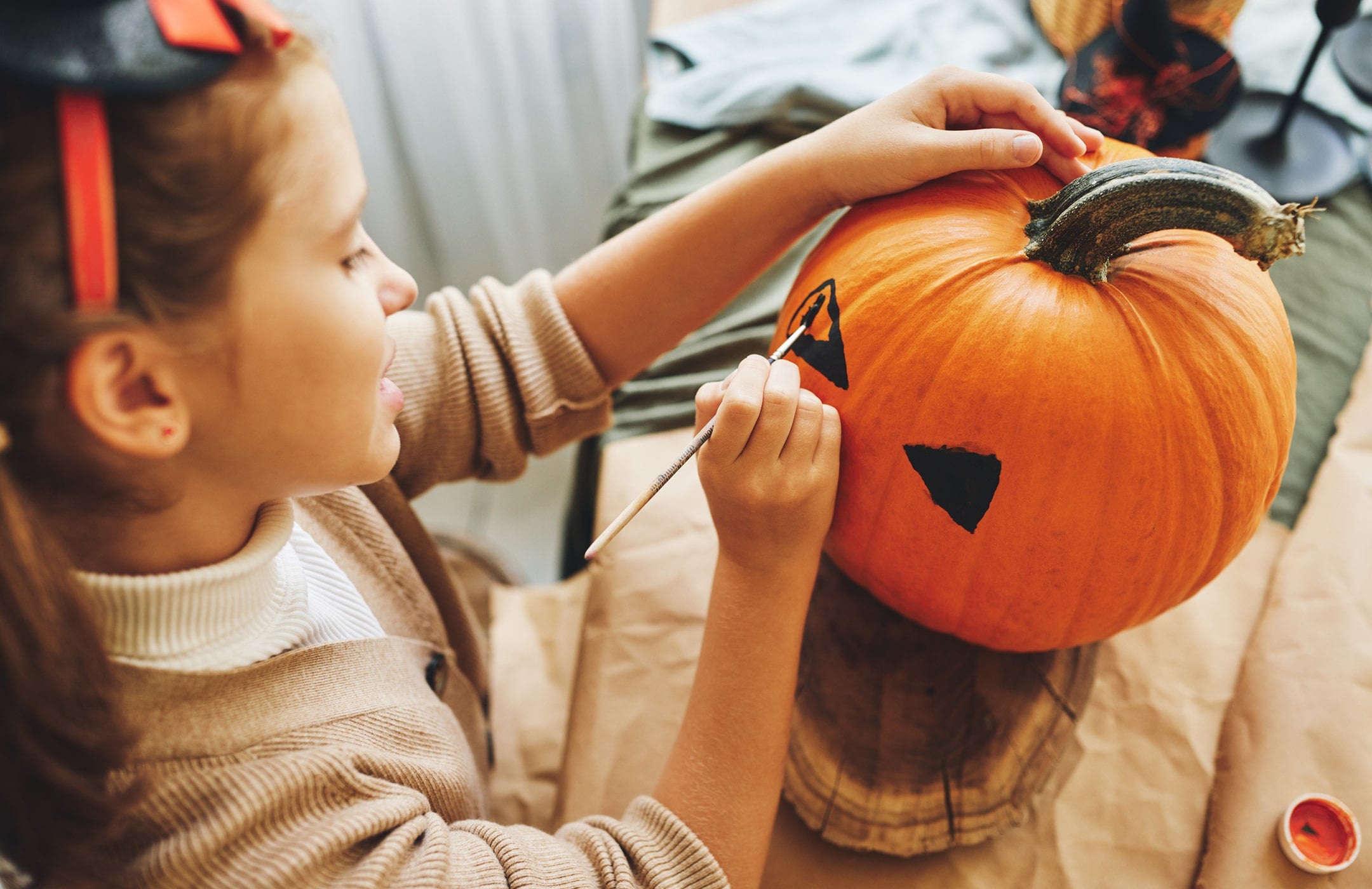 At Once Upon a Farm, we believe in turning ordinary moments into extraordinary memories—and what better way to do that than by embracing the spirit of fall with your little ones? From the comfort of your own home to the great outdoors, here are 15 activities that capture the essence of this magical season. 
At-Home Activities
1. Pumpkin Decorating Party
Transform ordinary pumpkins into works of art with a pumpkin decorating extravaganza. Paint, markers, glitter, and other craft supplies will make this a fun and imaginative activity.
2. Fall-Themed Movie Night
Choose a selection of your family's favorite fall movies, make some popcorn, grab a blanket, and have a cozy movie night at home!
3. Leaf Crafts
Collect fallen leaves and let your creativity flow with leaf-based crafts, including leaf rubbings, pressed-leaf artwork, or even a fall-themed collage.
4. Indoor Camping
Set up a camping experience indoors complete with tents, sleeping bags, and campfire stories. Enjoy the comforts of home while still experiencing the fun of camping!
5. Baking Adventures
Try your hand at making a delicious fall recipe together. Once Upon a Farm offers a range of mouthwatering recipes that use wholesome ingredients, like our Pumpkin Overnight Oats, Banana Zucchini Bread, Apple Donut Holes, and Sweet Potato Pudding.
6. Storytelling Night
Encourage creativity by having a storytelling night! Each family member can contribute to a unique fall-themed story, taking turns to add to the plot.
7. Nature Scavenger Hunt
Create a list of fall-related items for a nature scavenger hunt in your backyard or local park. This will not only get your kids moving, but also teach them about the beauty of the season.
Away-From-Home Adventures
8. Apple Orchard Excursion
Head to a local apple orchard and enjoy the thrill of picking your own apples. You can use the fresh apples to make a variety of treats later!
9. Pumpkin Patch
Explore a pumpkin patch together! Let your kids choose their own pumpkins and afterward, have a carving contest or paint them at home.
10. Hike in the Woods
Embark on a family hike to witness the stunning fall foliage. Bring along a nature guidebook to identify different leaves and trees.
11. Farmers Market Trip
Visit a farmers market to discover an array of seasonal produce, baked goods, and artisan crafts. It's a great opportunity to support local businesses, too.
12. Outdoor Picnic
Pack a picnic basket with fall-inspired foods and head to a scenic spot for a leisurely outdoor meal surrounded by nature's beauty.
13. Hayride Adventure
Many farms offer hayrides during the fall season. Hop on a hay wagon and enjoy a rustic ride through picturesque landscapes.
14. Corn Maze Challenge
Get lost in a corn maze and work together as a family to find your way out. It's an exciting and challenging adventure for all ages.
15. Bonfire and S'mores
End a perfect fall day with a bonfire. Roast marshmallows, make s'mores, and share stories around the crackling fire.
From baking scrumptious treats to exploring the natural beauty of the season, there's no shortage of opportunities for family fun. So, grab your sweaters, embrace the crisp air, and make the most of this enchanting time of year!