Recipes
Sweet Potato Pudding by Exie Mae Garner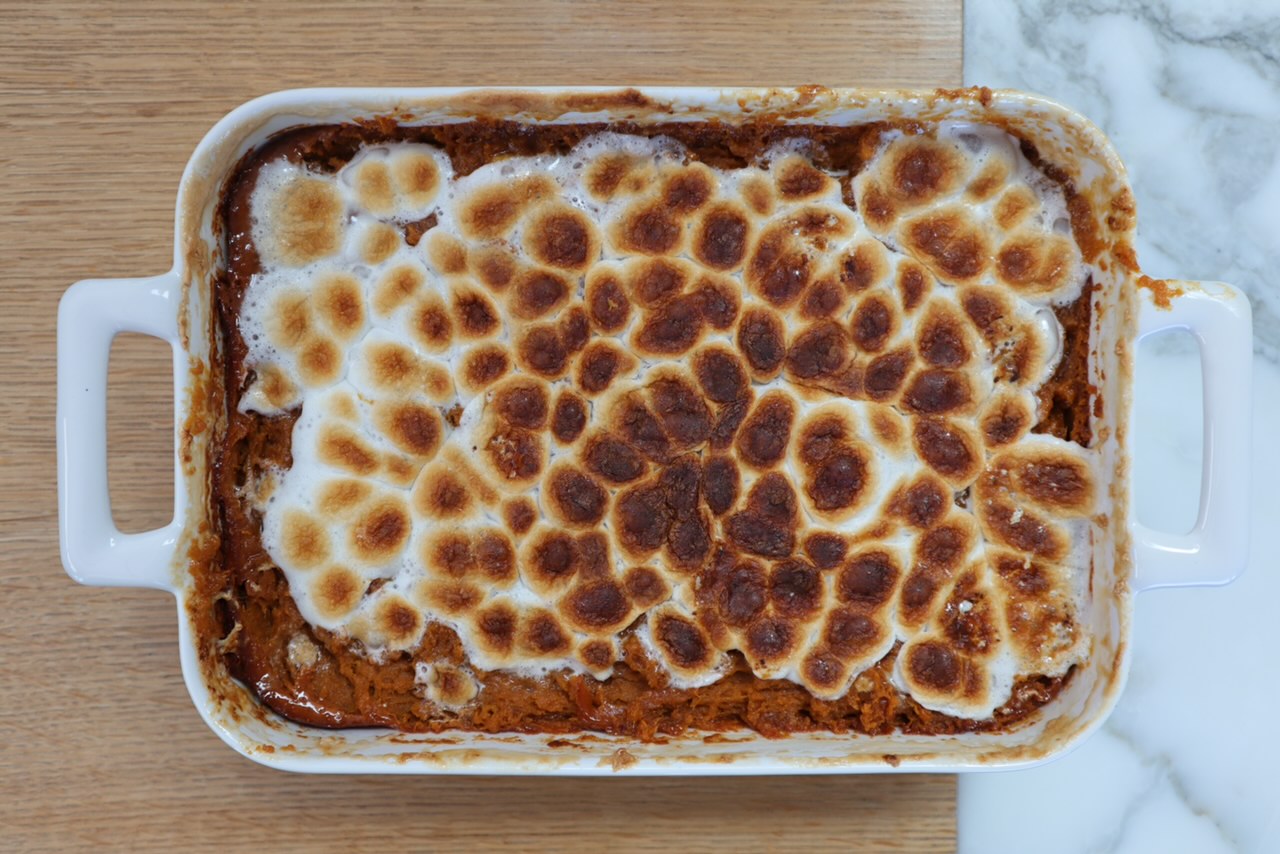 Easy as pie, Sweet Potato Pudding is a family recipe shared by our Co-founder, Jennifer Garner.
Full of flavor and ultra decadent, Grandma Exie's original sweet potato pudding recipe inspired one of Once Upon a Farm's—since retired—limited-edition blends. Bookmark this one for holiday gatherings, family dinners, or when a craving for comfort food hits!
Exie Mae Garner's Sweet Potato Pudding
(makes 6-8 servings)
Ingredients:
4 medium sweet potatoes, peeled and quartered
2 1/2 cups sugar
1 1/4 cups milk
1 tablespoon ground cinnamon
1 teaspoon ground allspice
1/2 teaspoon ground nutmeg
1/4 teaspoon ground cloves
3 eggs
Salt
3 tablespoons butter
One 16-ounce bag of mini marshmallows


Directions:
Preheat the oven to 350 degrees F.
Place the sweet potatoes in a large pot of water, cover the pot and bring to a boil. Remove the lid, lower the heat to medium and cook until the potatoes are tender when pierced with a fork. Drain the potatoes and place them in a large bowl.
Using a hand-held electric mixer, break up the potatoes.
At low speed add the sugar, milk, cinnamon, allspice, nutmeg, cloves, eggs, salt to taste, and combine.
Butter a 9-by-13-inch casserole dish and pour in the mixture. Smooth the top and bake until the pudding is set, 45 minutes to 1 hour.
Cover the top of the pudding with marshmallows, change the oven temperature to the broil setting and cook until the marshmallows are brown and fluffy, 3 to 5 minutes.
Exie Mae's recipe was featured on Food Network last year. We loved seeing this review, "This is the best sweet potato pudding! I usually make a sweet potato casserole for Thanksgiving but this may be replacing that next year. The spices are strong but sooooo yummy….tastes like an warm Christmas hug! It is so nice of Jennifer to share this with the world. Delicious just as it is…no changes…except may be to double the recipe next time!" – Amber.