Recipes
Recipe: Apple "Donut Holes" Using Green Kale & Apples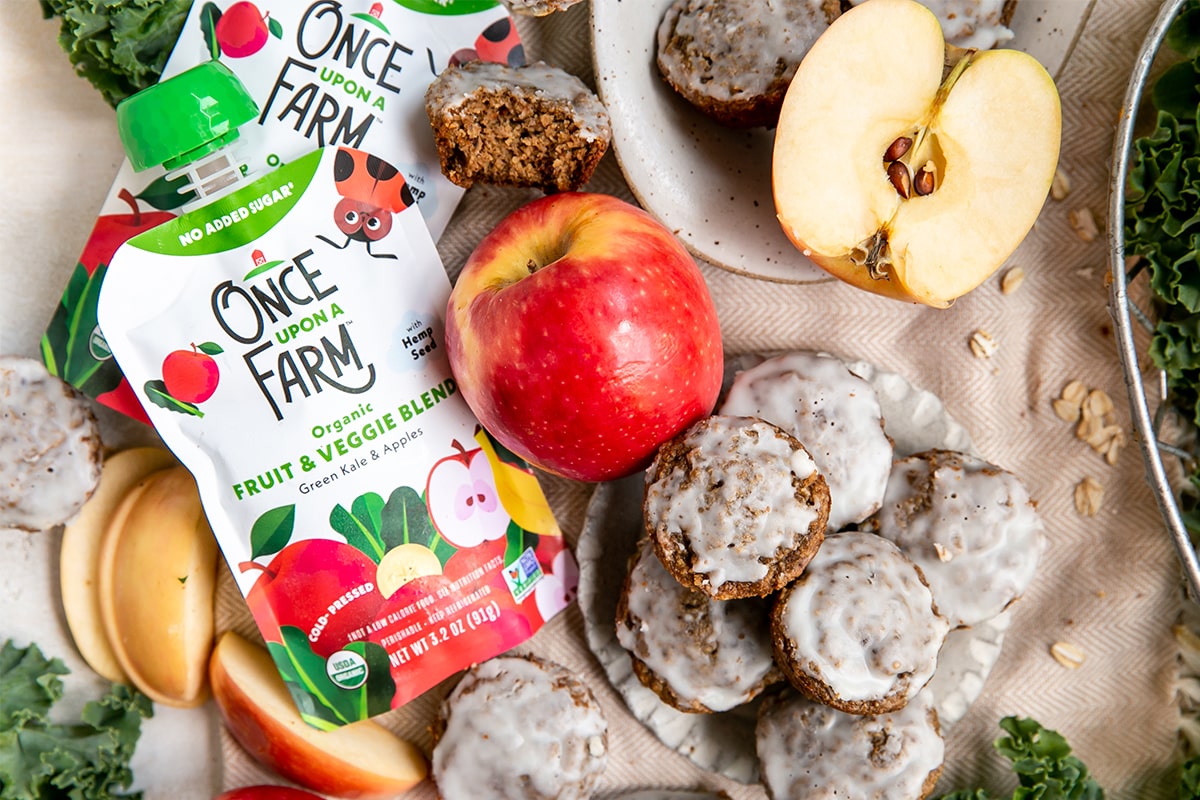 On busy mornings, the best breakfast is one that's already ready. We love something that can be prepped—and even baked—ahead of time, like these "donut holes" (which are really just fancy muffins)!
We tapped Ashley Walterhouse of Fit Mitten Kitchen to create these scrumptious "donut holes" using our Green Kale & Apples pouch. Using a milk alternative, flax "eggs", and oat flour, this recipe can be both vegan and gluten-free!

Baked Apple "Donut Holes"
Yield: 14 Mini Muffins / "Donut Holes"
Ingredients
Wet Ingredients:
1 tablespoon flaxseed meal + 3 tablespoons water
2 tablespoons milk of choice + 1 teaspoon apple cider vinegar
1 Pouch, Once Upon a Farm Green Kale & Apples blend
¼ cup avocado oil or light olive oil
1 teaspoon vanilla extract
Dry Ingredients:
1 cup of oat flour (not packed, weighed 100g)
¾ teaspoon baking soda
1 teaspoon ground cinnamon
⅛ teaspoon fine sea salt
Dash of nutmeg, optional
Coconut Butter "Frosting"
3 tablespoons coconut butter, melted (To melt the coconut butter, place 3 tablespoons in microwave safe dish; microwave on half power in 20 second increments until fully melted.)
Directions
Preheat oven to 350ºF and generously spray 14 cavities of mini muffin pan with oil.
Make oat flour: Make oat flour by pulsing down about 1.33 cups rolled oats into fine flour; measure out to 1 cup and set aside.
Make flaxseed egg: In a small bowl combine flaxseed meal with water and set aside for 3-5 minutes.
Make "buttermilk": In a separate bowl combine milk with vinegar and set aside.
Combine wet ingredients: In a medium bowl whisk together Once Upon a Farm Organic Fruit & Veggie Blend: Green Kale & Apples Pouch with oil. Then whisk in flaxseed mixture and vanilla extract until combined.
Add in dry ingredients: Add in oat flour, baking soda, spices and salt; stir until almost combined then add in milk-vinegar mixture, stirring until fully incorporated.
Distribute batter & bake: Evenly distribute batter into 14 cavities of mini muffin pan, filling ¾ way full – using a small cookie scoop works great for this. Bake for 10-14 minutes, until tops are golden and inserted toothpick comes out clean.
Cool and glaze: Allow muffins to cool in pan for 5 minutes before gently removing with toothpick or butter knife. While the muffins are cooling, melt coconut butter in a microwave safe bowl on half power in 20 second increments, until fully melted. Dip fully cooled "donuts" (muffin tops) into bowl of melted butter and place on wire rack.