Recipes
Kid-Friendly Recipe: Banana Zucchini Bread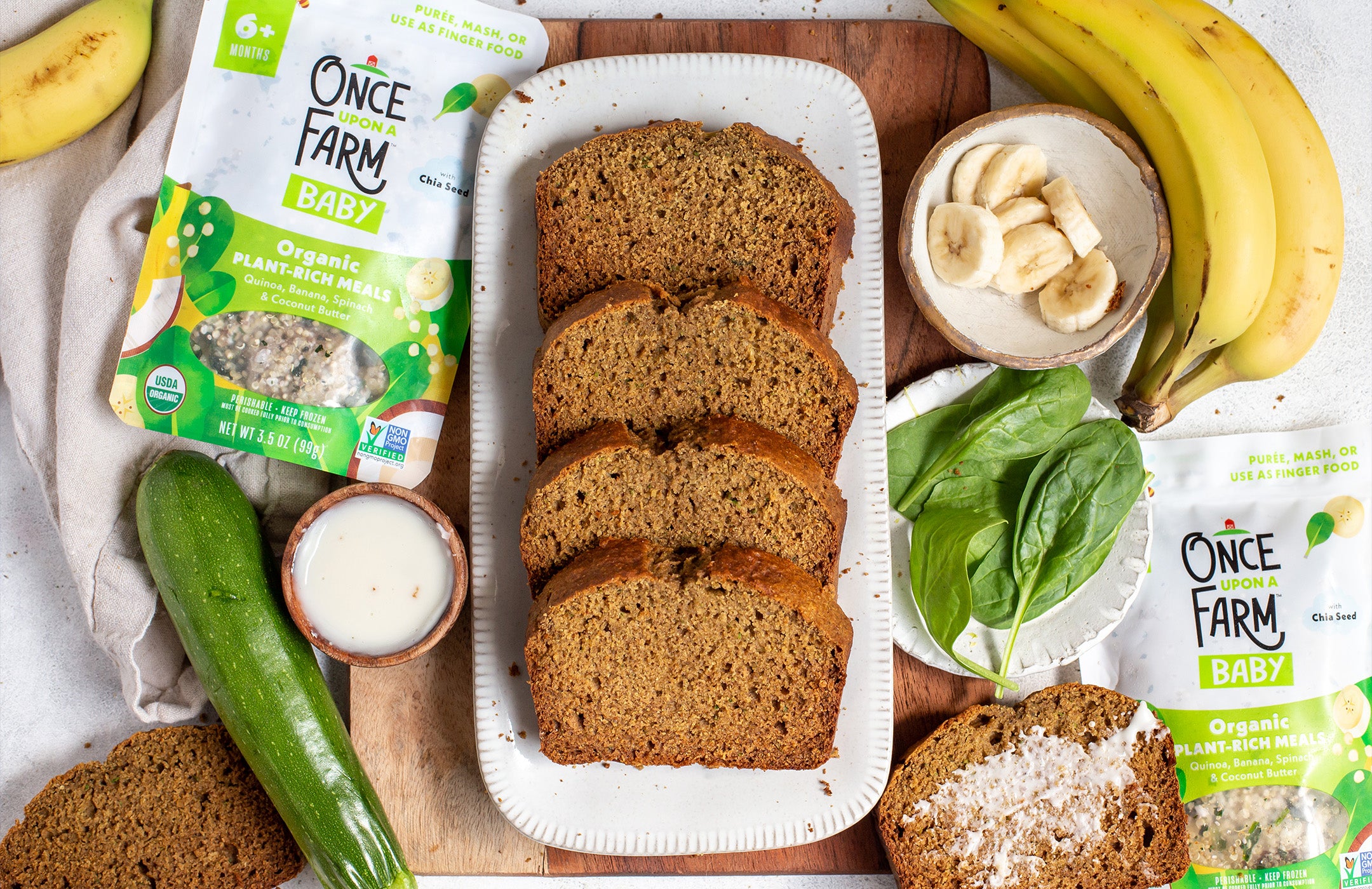 You've tried banana bread. You've maybe even tried zucchini bread. But have you ever tried banana zucchini bread? This recipe—inspired by and made with one of our Plant-Rich Meals—combines an iconic favorite with one of our favorite summer veggies. Created for Once Upon a Farm by Ashley Walterhouse of FitMittenKitchen, this bread is best served warm with melted coconut butter on top!
P.S. Our Quinoa, Banana, Spinach & Coconut Butter Plant-Rich Meal is available in stores, too! Find it in the freezer at Sprouts, most Whole Foods, and Super Target stores.
Ingredients
1 Once Upon a Farm Quinoa, Banana, Spinach & Coconut Butter Plant-Rich Meal
1.75 cups white whole wheat flour (or 1:1 gluten-free baking flour)
1.5 teaspoons ground cinnamon
1.5 teaspoons baking soda
1/4 teaspoon fine sea salt
½ cup packed shredded zucchini (water squeezed out, then measured)
1 medium spotty banana
½ cup honey (or pure maple syrup)
1/3 cup oil
1 large egg
1 teaspoon vanilla extract
Directions
Preheat oven to 350ºF and line an 8x4 loaf pan with parchment paper; set aside.
Cook Plant-Rich Meal according to package directions; remove from heat to cool.
In a medium bowl, combine dry ingredients and set aside.
In a small blender cup, add banana and cooled, cooked Meal. Pulse until smooth and set aside.
In a large bowl, whisk together oil, honey, and egg until combined. Whisk in blended banana-Meal mixture. Then fold in dry ingredients and shredded zucchini.
Transfer batter to prepared loaf pan and bake for 30 minutes uncovered, then an additional 8-10 minutes with the loaf pan tented with foil (to prevent too much browning). Check middle for doneness with an inserted toothpick—bread is done when toothpick comes out clean. Delicious served with a little melted coconut butter!