Recipes
Kid-Friendly Recipe: Butternut Squash Strawberry Energy Bites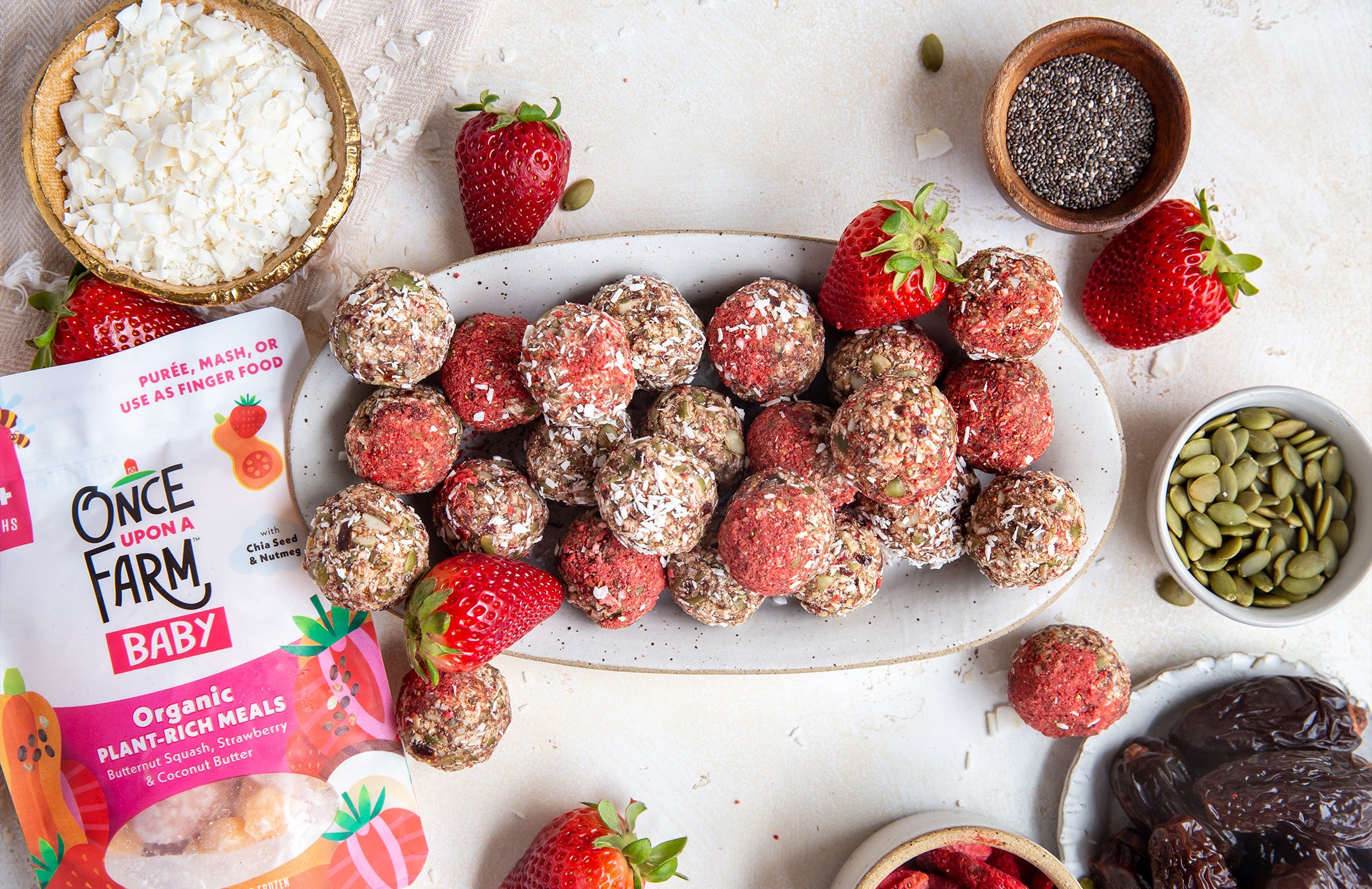 Bite-size snacks that satisfy a sweet tooth and satiate you? Yes, please! We took our Butternut Squash, Strawberry & Coconut Butter Plant-Rich Meal and enhanced it with pumpkin seeds, shredded coconut, and dates to make these scrumptious bites. Your kids* are gonna love these—if you don't eat them all first, that is! 
*Note: We don't recommend these for babies, as the pumpkin seeds and shredded coconut may pose a choking risk. Please use caution when serving to toddlers or younger children.
Ingredients
1 cup Medjool dates, stemmed/pitted (about 12 medium-large dates)
1 cup pepitas (shelled pumpkin seeds)
1 cup unsweetened shredded coconut
1 cup chopped freeze-dried strawberries
*Optional - 1.5 tablespoons coconut flour (see note in step #2)
Optional Coating
Powdered freeze-dried strawberries
Unsweetened shredded coconut

Makes ~24 bites.
Directions
Cook Once Upon a Farm meal according to package instructions and set aside to cool for 10 minutes.
In the bowl of a food processor using S-blade, pulse together pepitas and coconut until pepitas are slightly broken down. Add in pitted Medjool dates, freeze-dried strawberries and cooked Meal. Process until mixture becomes sticky—pepitas and dates should be broken down and mixture easily holds together when pressed. If mixture feels too sticky, remove S-blade and stir in 1.5 tablespoons coconut flour to absorb extra moisture.
Using a rounded tablespoon or small cookie scoop, scoop mixture into balls and roll between palms. Option to roll in small dish of shredded coconut and/or powdered freeze-dried strawberries. You should get about 24 energy bites, depending on size of scoop.
Store energy bites in airtight container in fridge; enjoy within 5 days, or freeze, label and use within 3 months.
Optional Coating: For strawberry coating, pulse about ⅓ cup freeze-dried strawberries in food processor until powder forms. You can also place in a storage bag and smash with rolling pin. Roll bites in the powder and enjoy.
Ready to cook these bites? Get our Butternut Squash, Strawberry & Coconut Butter Meal delivered to your door with a customizable Plant-Rich Meals subscription.