Recipes
Kid-Friendly Recipe: Strawberry Waffles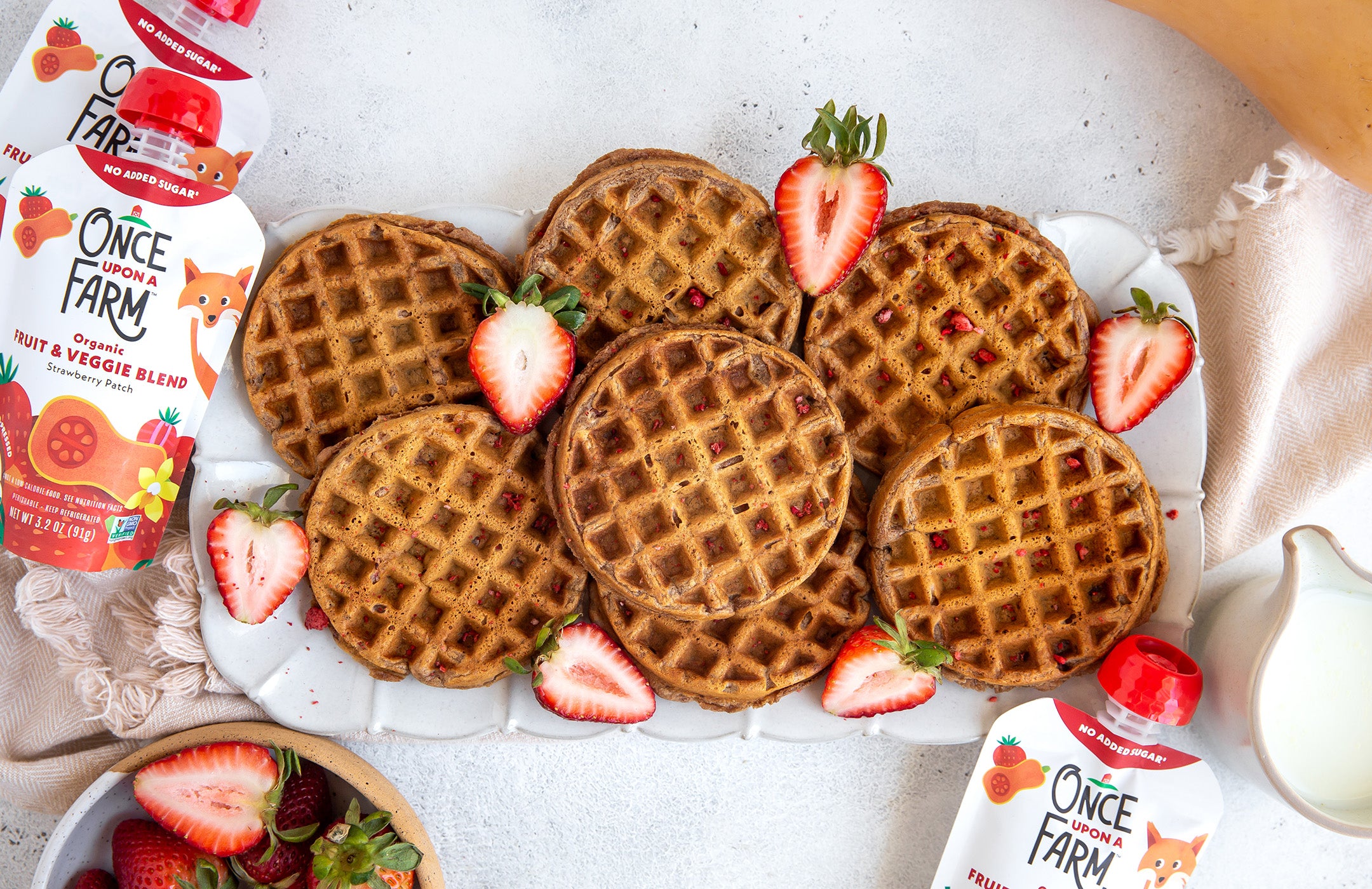 One of our favorite ways to use our pouches is to add flavor and nutrition to foods our kids already know and love, like pancakes or waffles. These homemade waffles are loaded with strawberry goodness, from both our Strawberry Patch Fruit & Veggie Blend and freeze-dried strawberries.
Time to bust out your waffle maker and get to mixing! 🧇🍓
Ingredients
¾ cup milk (or milk alternative)
1 Once Upon a Farm Strawberry Patch Pouch
2 tablespoons oil
1 cup whole wheat white flour (or sub 1:1 gluten-free baking flour)
½ tablespoon baking powder
½ teaspoon baking soda
½ cup chopped freeze-dried strawberries
Makes about seven 4" waffles
Directions
Heat up waffle iron and spray lightly with oil, as needed.
In a large bowl stir together milk, oil, and Strawberry Patch pouch until combined. Add in flour, baking powder and baking soda; stir until almost combined, then fold in freeze-dried strawberries.
Pour about ¼ cup batter into mini waffle maker, cook about 2–3 minutes, or until outside is golden and middle is cooked. Check your waffle maker's instructions.
Serve with favorite toppings and enjoy!
TO FREEZE: Let waffles cool completely on wire rack before storing in freezer-safe container. Label for 3 months (for the best quality; see the USDA Freezing and Food Safety Guidelines for more info). Reheat in toaster for crispy waffles.