Recipes
Recipe: Kid-Approved Butternut Squash Mac & Cheese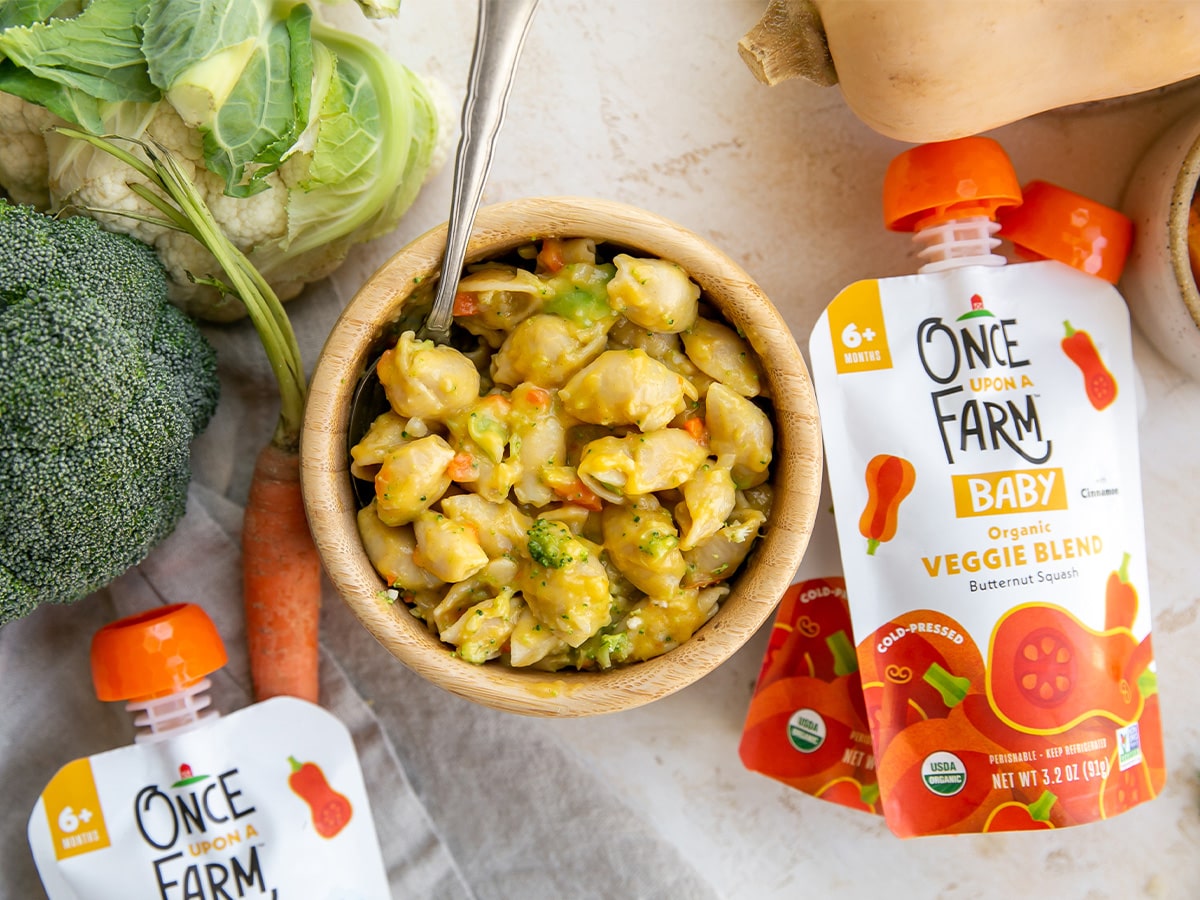 Fall weather calls for a warm, creamy bowl of comfort food. And this kid-approved mac & cheese recipe, created by Ashley Walterhouse of Fit Mitten Kitchen, is pure comfort.
Celebrate the season by cooking this savory recipe with your little one. Our take on the classic uses our NEW Butternut Squash with Cinnamon Veggie Blend for a trendy twist + added veggies for extra goodness.
P.s. It'll make a great side dish for holiday dinners and gatherings! 😋
Butternut Squash Mac and Cheese
Ingredients
8 ounces Chickpea Pasta (short pasta such as rotini, shells, cavatappi)
1 cup Cauliflower Florets (about 6 small florets)
1 cup Broccoli Florets (about 6 small florets)
1 medium carrot
2 tablespoons milk or milk alternative
2 tablespoons unsalted butter or plant-based butter
2 pouches - Once Upon a Farm Butternut Squash Veggie Blend
1.5 cups shredded cheese, dairy-free or conventional
1/2 teaspoon garlic powder
1/8 teaspoon fine sea salt (optional; omit if child is under 1)
Directions
Bring a large pot of water to boil.
Meanwhile, add vegetables to the food processor with S-blade attachment and pulse until vegetables are riced size pieces.
Add pasta to boiling water and and cook according to package instructions.
During the last 5 minutes of cooking, add riced veggies to boiling pasta and continue to cook until pasta is done. Drain pasta and veggies through a fine mesh strainer (if possible, as this will help you keep all of the riced vegetables from going through large strainer holes).
Meanwhile, make the butternut squash sauce: In the same pot the noodles were cooked in, add butter, milk, two Butternut Squash pouches, shredded cheese, garlic powder, and salt*. Cook on low heat until cheese is melted and mixture becomes a cheese sauce.
Add the noodles back to pot, stir and season as desired. Enjoy!

*Omit salt if child is under 1. Please consult your child's pediatrician for specific dietary needs.