Baby
DIY Sensory Activities & 9 Other Hacks for Your O'Farm Pouches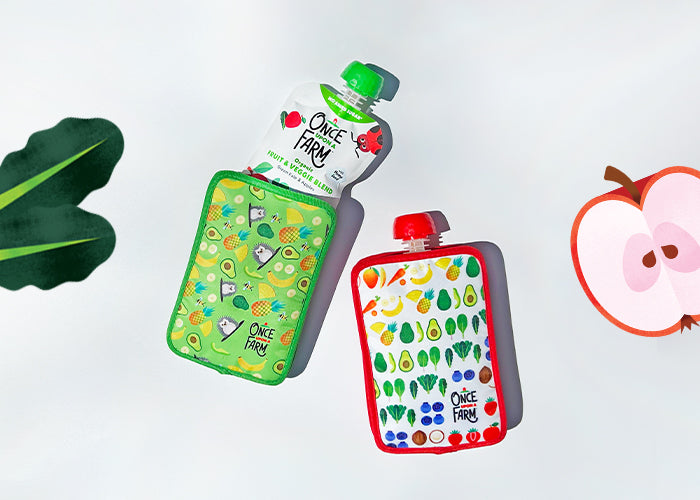 We're all about fun and innovation when it comes to our kids. Playing with your food? Encouraged. Finding new ways to enjoy everyday foods? Let's do it. Repurposing objects into fun activities? Yes, please!

Whether you're looking to spice up snack time, build your kids' fine motor skills, or make mealtime easier, here are some of our favorite "hacks", inspired by our team members and consumers.
1. Add Milk or Yogurt
Combine your favorite blend with equal parts yogurt or milk for an extra-creamy snack or or meal that packs a protein punch. This combo makes a great
frozen teething treat
!
2. Learn & Play
Our bright-colored caps can inspire tons of DIY fun. For bigger kids, our friend Khay (@everydaywithindie on Instagram) always has great ideas for arts & crafts and learning games using our pouch caps. Here's a recent one!
3. Level Down
Make it easy for your kids to choose a yummy, nutrient-rich snack. Stock your O'Farm pouches on a lower shelf in the fridge for little arms to reach for. And if you want to have even more fun with it, consider a mini fridge filled with O'Farm and other healthy kids' snacks just for them!
4. Warm it Up
Our cold-pressed blends are meant to be enjoyed cold, but cold weather or picky eating might call for a warm meal instead. Our pouches are not microwavable, but here's how we recommend warming up our pouches.
5. Baby & Toddler Sensory Activities
The fun colors and unique textures of our pouch caps lend themselves well to sensory activities. An easy one (pictured above) involves a plastic storage bag filled with baby oil (or another clear oil/gel) and a handful of our pouch caps. Tape it to a piece of cardboard and let your little one move the caps around as they squish and grab!
6. Mix With Fruits or Veggies
To introduce textures to your little one, mix in mashed fruits or cooled & steamed veggies with your pouch of choice.
7. Add a Soft Top
For teething babies or little ones who need more control over the flow of their snacks, try adding a fun top to the pouch. We love ChooMee SoftSip silicone tops, which fit our pouches perfectly.
8. Serve in a Bowl
Our pouches are designed to be grab-and-go snacks, but they can certainly be served traditional baby food style, out of a bowl and spoon. Whether you've warmed the pouch (see #4) or you simply want a little more controlled feeding, just squeeze and go.
9. Slide Into a Pouch Cooler
Our pouches can already be taken on the go for up to 4 hours (rule of thumb: if they're cool to the touch, they're good to eat). If you're going somewhere warm or want to extend the on-the-go life a little bit, we've got new Pouch Coolers in two fun colors/designs. To use, freeze the Pouch Cooler for at least 4 hours, then insert your refrigerated pouch of choice.
Our Pouch Coolers retail for $11.99 each and can be shipped with your next pouch subscription order while supplies last. Please reach out to care@uponafarm.com for more info.
10. DIY Frozen Treats
During the warmer months, we love making DIY ice pops with our little ones! Here's our current favorite: Immunity Blends + diced fruit of your choice. Simply pour into a mold and freeze for a few hours or overnight for a yummy, nutrient-packed treat.
We'd love to see your own "hacks" for our pouches! Tag us on Instagram: @onceuponafarm!