Recipes
Kid-Friendly Recipe: Broccoli Tots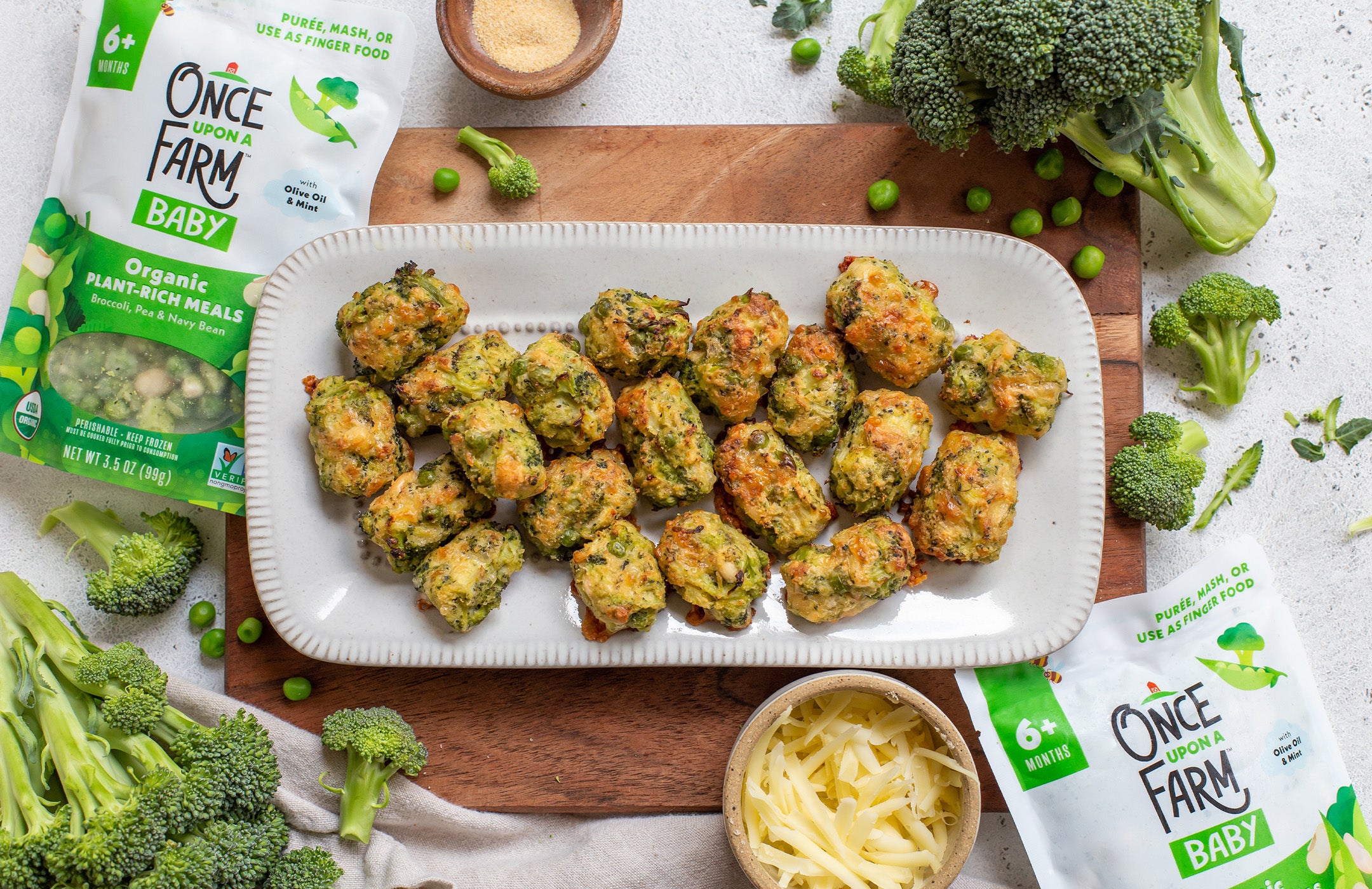 Looking for creative ways to get your kids to eat more veggies? Want to age up our Plant-Rich Meals for your growing toddler? Simply love anything in tot/nugget form? This recipe is for you! Using one of our Plant-Rich Meals as the base, these come together in no time and are both kid and parent approved!
How to Make These Cheesy, Crunchy, Broccoli Tots
Makes 22–25 tots
Ingredients
1 Once Upon a Farm Broccoli, Pea & Navy Bean Plant-Rich Meal
3 cups frozen broccoli florets, steamed and cooled.
½ cup lightly packed shredded sharp cheddar cheese
½ teaspoon garlic powder
¼ teaspoon fine sea salt*
1 large egg
½ cup almond flour
*Omit salt if child is under 1 year old.
Directions
Preheat oven to 375ºF and line a medium baking sheet with parchment paper; set aside.
Cook Plant-Rich Meal according to package directions and set aside to cool.
Meanwhile, steam broccoli until tender. Transfer broccoli to cutting board and blot with a towel to absorb excess moisture. Chop broccoli into small pieces.
Add chopped broccoli, cooked Plant-Rich Meal, cheese and egg to medium bowl; stir until combined. Add almond flour and spices, stirring and mashing until well combined.
Scoop about 1 tablespoon of the mixture into your hands and roll into cylinder-like shapes and place on a lined baking sheet. (TIP: hands will get a little messy as you create the tots, keep a towel close by). You should get about 22–25 tots, depending on the size of your scoop.
Bake tots on lined baking sheet for 20–24 minutes, or until golden brown. Allow to cool and serve with your favorite dipping sauce and sides, or enjoy as a snack!
Tots on the menu in the near future? Get this ready-to-cook meal and more delivered right to your door with a customizable, flexible Plant-Rich Meals subscription: