Kid
How to Build a Balanced Lunch + Nutritionist-Approved School Lunch Ideas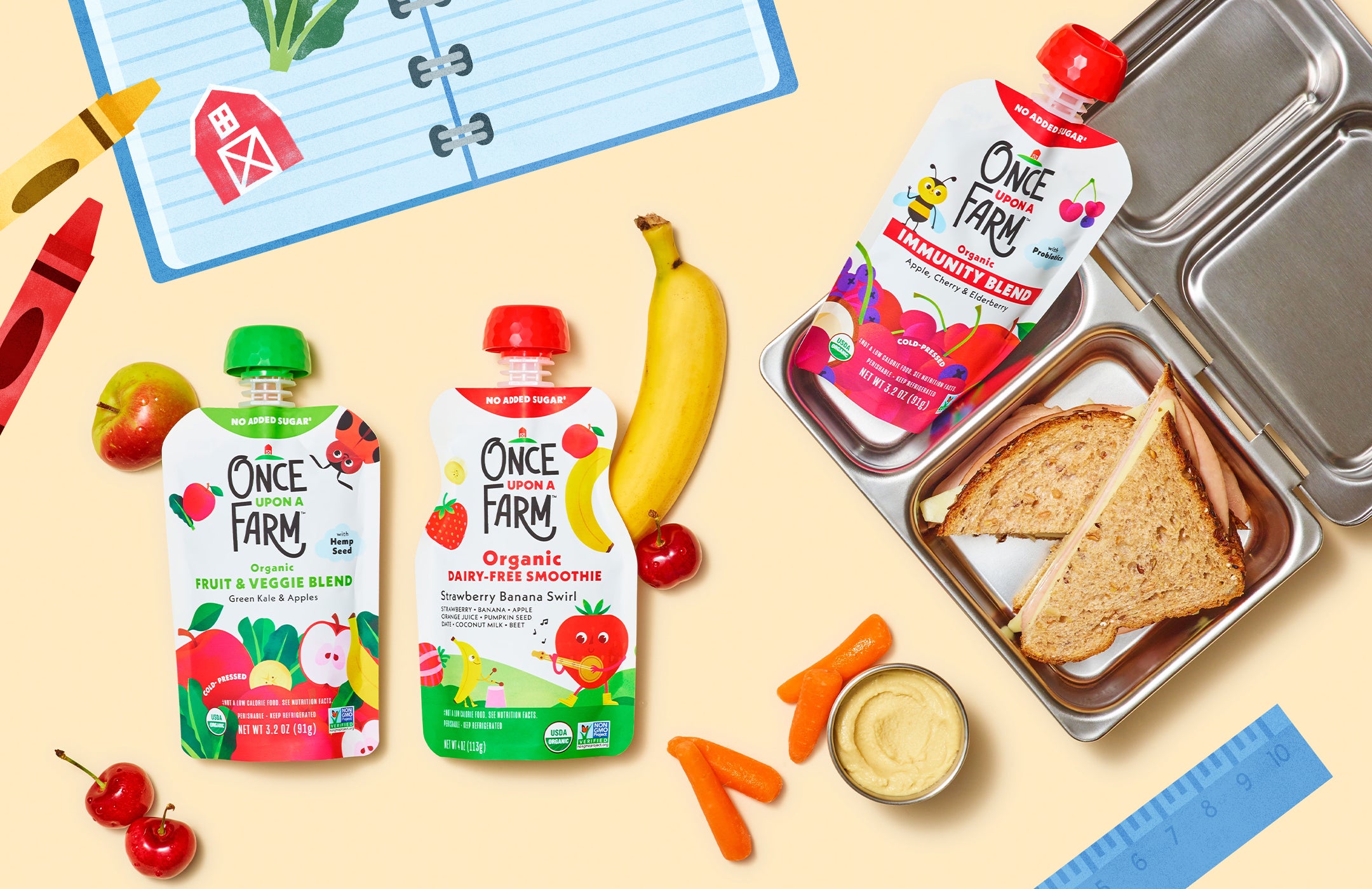 When you're a parent, mealtime can be a challenge. Little kids have big opinions and that extends to what's on—or not on—their plate. When you're eating together, there are things you can do to help manage the culinary chaos, but what about when you're not around? Cue lunchtime.
From finding foods that compose a balanced, healthy meal to picking items they'll actually want to eat, it can be so hard to figure out what to pack for your kiddo's lunch. To take something off your loaded plate, we spoke with nutritionist Kacie Barnes, MCN, RDN, LD (@mamaknowsnutrition) to find out how to build a balanced lunch.
What Makes Up a Balanced Lunch?
When planning meals for toddlers and older kids, Barnes says, "Incorporate items from all the macronutrient categories (carbohydrates, protein, and fat)." Be sure to include fiber-full foods like fruits and veggies. "Once Upon a Farm Smoothie pouches are one of my favorite ways to help cover my bases in lunches for my kids," because they are nutritional, and they "help to keep kids full and more energized for longer."
What Are Good Go-To Lunch Foods?
Aim for balance. As Barnes explains, that means "carbohydrates (things like your sandwich bread, or a serving of whole grain crackers would cover this), fats (a yogurt, cheese, avocado), and protein (chickpeas, shredded chicken, a hard-boiled egg), as well as fruits and veggies." When possible, she opts for low-prep options for fruits and veggies, "like a small mandarin orange, blueberries, or a handful of baby carrots (for kids 4+) or shredded carrots for younger kids, so I don't spend my morning chopping and prepping while I'm packing." In terms of pre-packaged products, she suggests Once Upon a Farm Fruit + Veggie Blends and Dairy-Free Smoothies.
Let's Talk About Presentation
We've all seen photos of those bento boxes packed like works of art and eyed our kid's not-so-pretty lunches with concern, wondering how much does meal presentation really matter? "For some kids," Barnes offers, "especially picky kids, adding some fun and flair to their lunchbox can go a long way." She has some simple ideas to help step up your lunchbox game:
Let your kids pick their favorite lunchbox so that they're excited to take it to school and use it
Use fun food picks with their favorite shapes or animals to pick up their food
Cut fun shapes into their sandwich
Give your kid some choice in how things are presented. For example, "Would you rather cucumber sticks or half-moons?"
While these aren't guarantees they'll gobble up their meal, she says, "the more fun and enjoyment kids can find at a meal, the more likely they are to eat and enjoy what's in front of them!"
Balanced Lunch Examples
Below, Barnes shares 5 ideas to help you build yummy, nutritious, and satiating school lunches for kids ages 4 and up:
Sandwich (nut-butter or alternative butter like sunflower seed or granola butter + fruit spread), cheese stick, berries
Carrot "chips" (near the baby carrots) + hummus, whole grain crackers, cheese slice, grapes (charcuterie-style)
Half a bagel + cream cheese, Once Upon a Farm Smoothie pouch, chickpeas (canned or dried)
Mac and cheese, applesauce (try our Green Kale & Apples pouch!), avocado, crackers
Turkey roll up (tortilla + turkey + cheese), snap peas + ranch for dipping, half a banana
For something sweet, you could try adding an Apple "Donut Hole" or Butternut Squash Strawberry Energy Bite.
At the end of the day, you know your little one best. So, pack with love and remember an unfinished (or not "Instagram-worthy") lunch is FINE. They'll eat something for dinner, and you're doing great.