Kid
12 Healthy Snack Ideas for Kids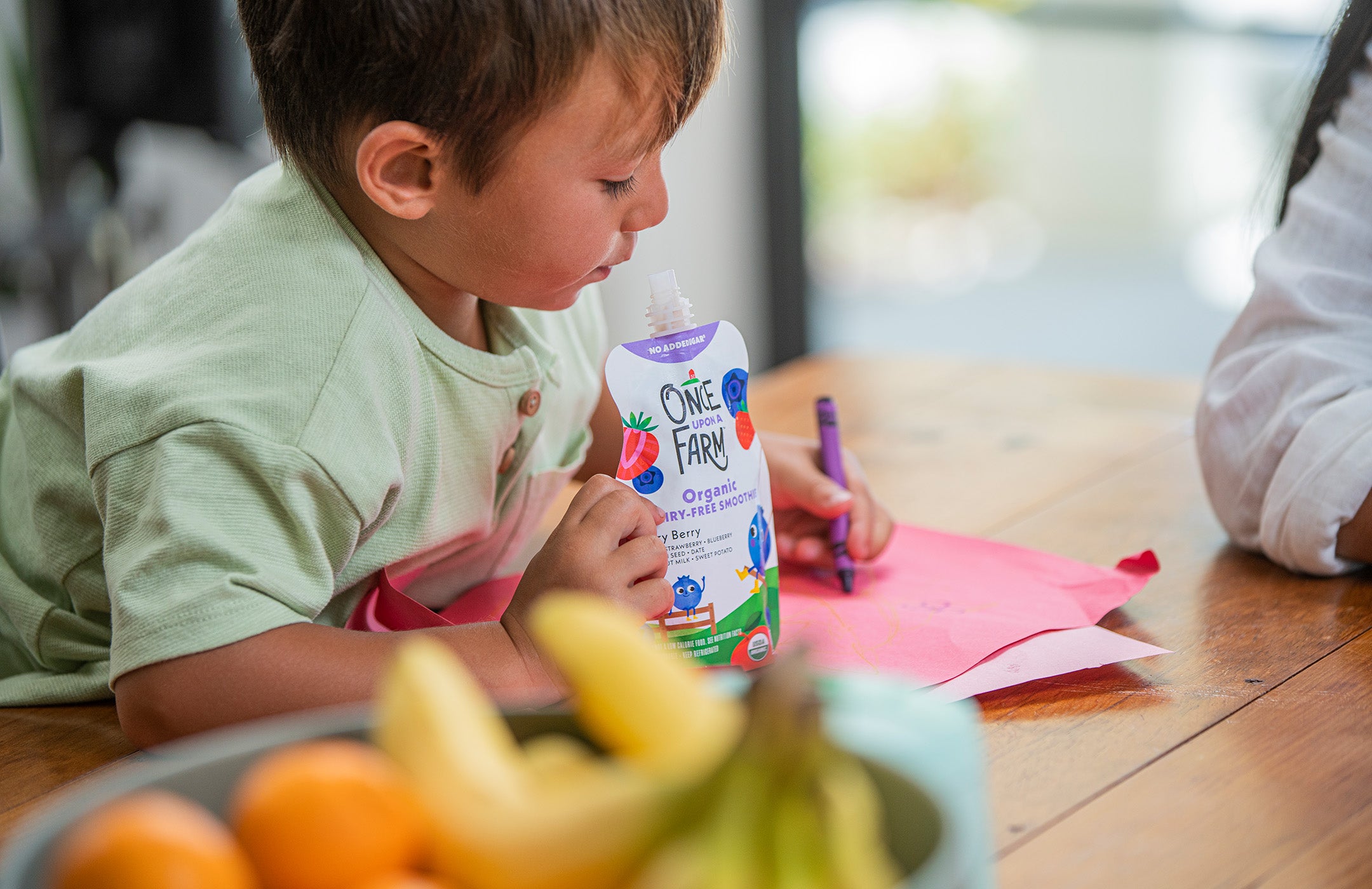 Whether you're packing snacks for school or for an afternoon adventure, it can sometimes feel like a struggle to find the right ones. Then, there's the question of timing—you want your little one full and happy, but don't want to spoil their meal. To help, we went to the expert and spoke about all things snacks with Kacie Barnes, MCN, RDN, LD (@mamaknowsnutrition).
School Snacks
For school snacks, Barnes notes to keep in mind that you might be more limited with what you can pack (nut-free, easily opened and eaten, etc.). With those considerations in mind, she says, "Choose snacks that have either 2–3+ grams of protein or fiber (ideally, both!) which aid in kids feeling full." Here are some ideas:
1. Applesauce –
fiber (Try our
Green Kale & Apples
blend for our take on this classic!)

2. Cheese stick
–
protein and fat

3. A banana sliced up with nut butter –
carbs and fat

4. Once Upon a Farm Dairy-Free Smoothie Pouch –
protein and fiber (Note: We recommend packing with an ice pack or in one of our
Pouch Coolers
.)

5. Energy bites or energy bar –
fiber
After-School Snacks
"If you're home after school," Barnes says, "snacks don't have to look the same as what you pack" for lunch. These snacks can be things you might serve as part of a meal, she explains, "It doesn't always have to be pre-packaged, traditional snack foods!" Here are some ideas:
6. Bowl of cereal (no added sugar)
7. Half a nut butter sandwich
8. Pear slices with yogurt (no added sugar)
9. Cottage cheese with fruits or veggies
10. Apple slices + nut butter
11. Carrot chips + hummus
12. Popcorn – sweet or savory!
Snacking Schedules
Even with healthy snacks, you may be concerned that your kiddo fills up on them and doesn't save room for mealtime. It's a valid concern. "You may find that you have to play around with the schedule and what works best for your kids and family." Barnes suggests. "It will depend on what time your child gets out of school, when you typically like to serve dinner, and even when your child goes to bed (kids may need a bedtime snack if dinner is 2+ hours before bedtime)."
Your child may come home from school starving and need a more filling snack. In this case, she says, "Try to serve snacks around 2 hours before the next meal if possible." If you're getting really close to a meal and your little one is still ravenous, she suggests fruits or veggies.
Whatever, whenever, and however you serve your little one their snacks, be sure to steal some for yourself. Everyone needs—and deserves—a tasty boost of energy throughout the day!
*Note: Snack suggestions are not appropriate for all age groups. Be sure that your child is ready for these snacks. Be mindful of food size and texture and cut into age-appropriate pieces to minimize choking risk as needed. Only feed your child when they are seated and supervised. More info on choking hazards here.
Shop Our Favorite School Snacks
This is a carousel. Use Next and Previous buttons to navigate, or jump to a slide with the slide dots.