Lifestyle
6 Uses for Your Once Upon a Farm Pouch Cooler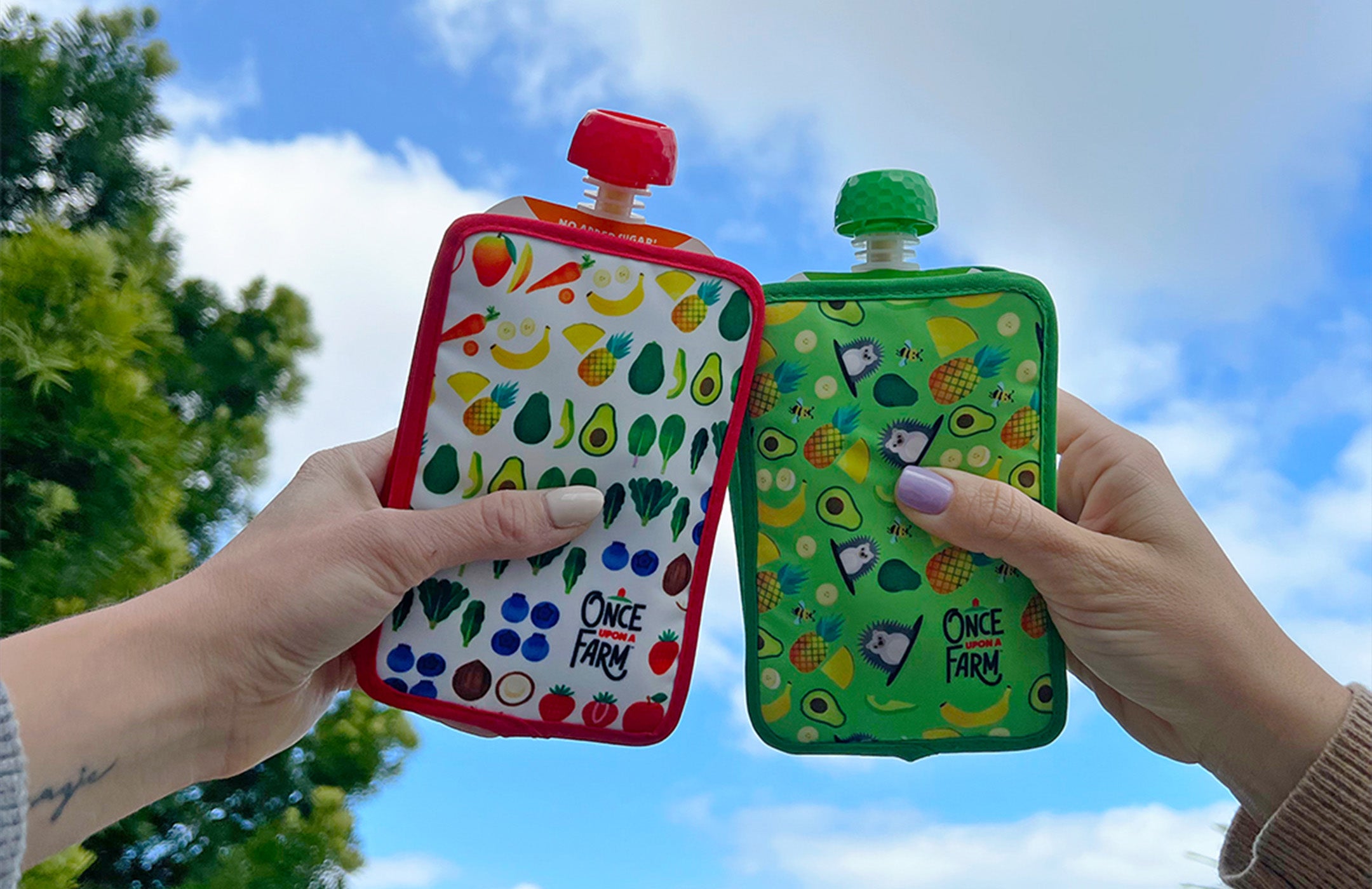 We've said it before and we'll say it again—there's never a bad time to pop open a pouch for your little one (or yourself!). Once Upon a Farm pouches can be taken on the go and be out of the fridge for up to 4 hours. And most of the time, that's totally fine (think: trip to the park, playdate with friends, short car journey).
However, if you're planning to be out and about for longer or it's an especially warm day, it's easy enough to pack a pouch—just use our custom Pouch Cooler (like this one or this one). Once Upon a Farm's Pouch Cooler keeps your pouch cooler for a longer period of time and can serve a few less-common purposes, too!
How It Works:
Freeze your Pouch Cooler for at least 4 hours (overnight is best) until it's frozen solid. Once frozen, insert your refrigerated pouch into the cooler. Note: The length of time the pouch will stay cool in the Pouch Cooler (AKA okay to consume) will vary based on temperature/climate. More info on our FAQs page.
Uses for Your O'Farm Pouch Cooler
1. Traveling With Snacks
Perfect for those longer car rides, our Pouch Coolers make perfect travel companions, allowing your kiddos to enjoy a pouch at any point along the road.
2. Packing School Lunch
Depending on your child's daycare/school policy, they may or may not refrigerate packed lunches. If they don't, a Pouch Cooler will ensure the pouch can be enjoyed at a later lunch, or even as an afternoon snack.
3. Outdoor Adventuring
Whether you're going on a hike or spending a day at the beach, cooling your kiddo down with a nourishing pouch is always a great idea, and Once Upon a Farm Pouch Coolers help make this a possibility all day long. More tips for adventuring with kids here!
4. Soothing Boo-Boos
Another way to make the most of your Pouch Cooler is as an ice pack to ease those bound-to-happen boo-boos. Just grab it from the freezer when the wailing starts—everyone will be grateful!
5. Keeping Your Drink Cool, Too
Everyone loves a cold beverage, and Pouch Coolers can work on all sorts of drinks. So, why not take advantage of that not-in-use cooler in the freezer and fashion it into a beer cooler.
6. Chilling Breastmilk
For those still breastfeeding, Pouch Coolers are a great way to keep your milk insulated while you're on the go.
With so many ways to use a Pouch Cooler, the only question left is: how many to buy?
Shop Pouch Coolers
This is a carousel. Use Next and Previous buttons to navigate, or jump to a slide with the slide dots.