Kid
Introducing Our NEW Refrigerated Oat Bars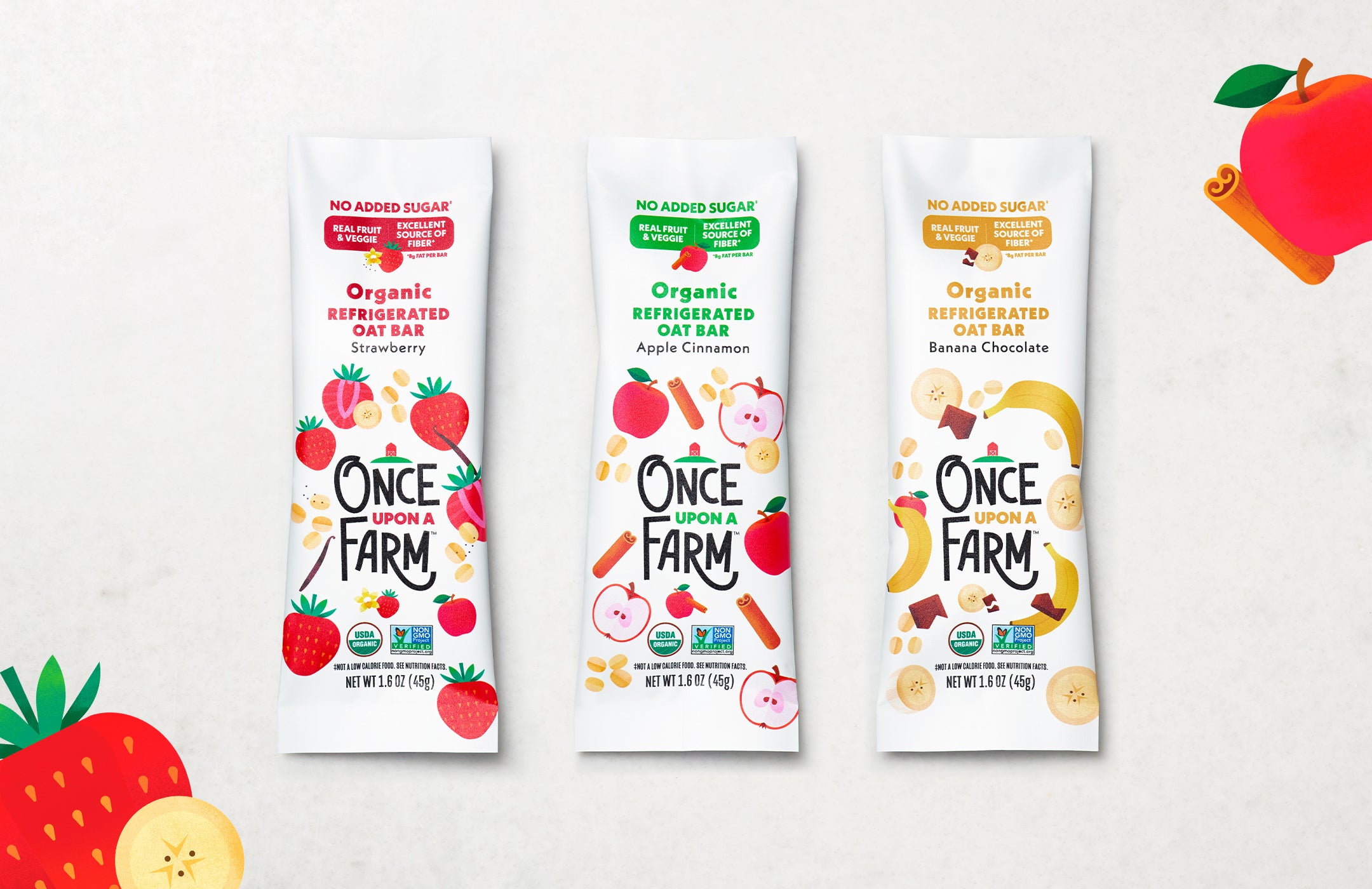 We're raising the bar on oats! Our new Refrigerated Oat Bars have arrived and are made to our exacting standards, with both parents and kids in mind.
As our co-founder Cassandra Curtis says, "Most of the bars in market today are full of sugar, preservatives, and lack taste and nutrition—but not ours." As we know, refrigeration is a natural way to keep things fresh. So, we took our immense knowledge of freshness, nutrition, and flavor, then packed it into this incredible bar—a bar that took two whole years to perfect.
Like all Once Upon a Farm products, our bars are organic and Non-GMO Project verified. They are made with real fruit and veggie, nothing artificial. Plus, they are full of farm-fresh flavor and no added sugar!* And yes, that even includes the scrumptious icing on top!
We crafted three craveable flavors: Strawberry, Banana Chocolate, and Apple Cinnamon—all fueled by 100% whole grain oats. As microbiome expert Suzanne Devkota, PhD explains, "they contain fiber and fat to keep you feeling full and slow digestion, which will keep your blood sugar from spiking." This combo makes them a great grab-and-go choice for a hearty breakfast or snack.
"The bars are the perfect addition to snack time," says Board-certified pediatrician and mom of three, Joana Fraser, MD. "They are the ideal not-too-chewy, not-too-crunchy texture for toddlers. The wholesome ingredients will delight parents, and little ones will love the kid-friendly flavors." Win-win!
Stock up for on-the-go breakfasts, lunchbox treats, or pre-dinner and post-game snacks—there are so many delicious possibilities for fueling your kids' adventures.
At the end of the day, "We know what parents and kids want," Curtis says, "so, we're shaking up the fresh snacking category yet again, and we guarantee this will be the must-have, on-the-go snack your kids will want!"
So, clear some space in your fridge because the bars are now available in Target and Wegmans stores, and on our website. Try all three yummy flavors in a Variety Pack!
P.S. Refrigerated Oat Bars can also be added to your pouch subscription!
*Not a low calorie food.