Baby
The Top 5 Reasons Why Parents Love Our Organic Baby Food & Kids' Snacks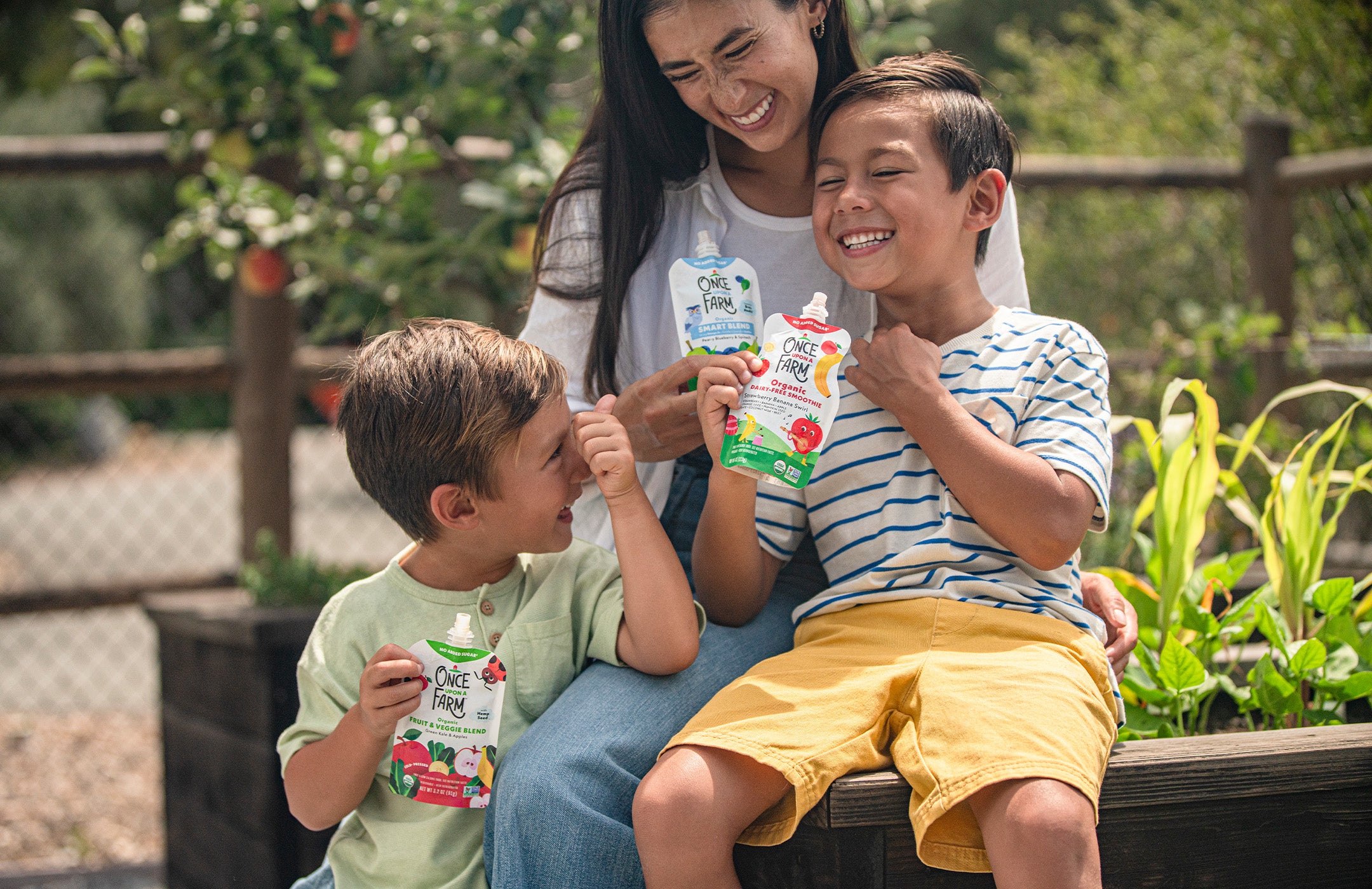 At Once Upon a Farm, we are so proud of the products we've created, but we are equally proud of the community we've built. Parents and caregivers love our products for a range of reasons and these reasons reflect our core values and the high standards we push higher each and every day.
1. Great Variety
For kids with evolving tastes, having an assortment of flavors is a must. Our variety packs make a quick flavor pivot as easy as a trip to the fridge. The combination of ingredients in each recipe also allows your little one to sample a lot in a single pouch.
"I love the variety of this pack and the convenience this affords me in adding veggies to my kids' meals."
—Alena M., Best Sellers Variety Pack
2. The Highest Quality 
We are a USDA Certified Organic and NON-GMO Project-verified brand, working closely with trust organic farms to source the best for your kiddos. Every batch is tasted to maintain quality. We have a sensory panel to test taste and texture. Everything we do is to provide the best products for our community.
"Finally, a pouch that I feel 100% comfortable with! My daughter (13 months) absolutely crushes these!"
—Amy B., All Day Snacks Variety Pack
3. Ingredients You Can Depend On
Our wide variety of ingredients (75+) provides diversity to your child's diet, helping support their growth and development. The fruits and veggies we use are sourced responsibly (see above), picked, then cold-pressure processed (HPP) or flash-frozen to lock in nutrients and ensure farm-fresh taste and textures. Additionally, our ingredients are rigorously screened in our supply chain to meet our high standards.
"My baby loves these pouches and I feel so relieved knowing she is getting all her veggies and fruits with these!!"
—Jenna O., Feel Good Favorites Variety Pack
4. Convenience
Busy parents deserve all the breaks, and our products provide a quick, easy, and nutritious option for their little ones. Great for trips to the park, playdates, lunchboxes, and so much more, you can even extend the life of your pouch (over 4 hours), if you use an on-the-go Pouch Cooler.
"So convenient. For a working mom it's great to know my son is eating healthy and it can be so quick and easy!"
—Samantha C., Best Sellers Variety Pack
5. Kiddos Love Them
And of course, kiddos love Once Upon a Farm —the colors, the flavors, the on-the-go deliciousness. And THAT'S icing on the oh-so-nutritious cake!
"My baby loves these and gets excited when she seems them!"
—Michele B., Best Sellers Variety Pack