Baby
Where to Find Once Upon a Farm in Stores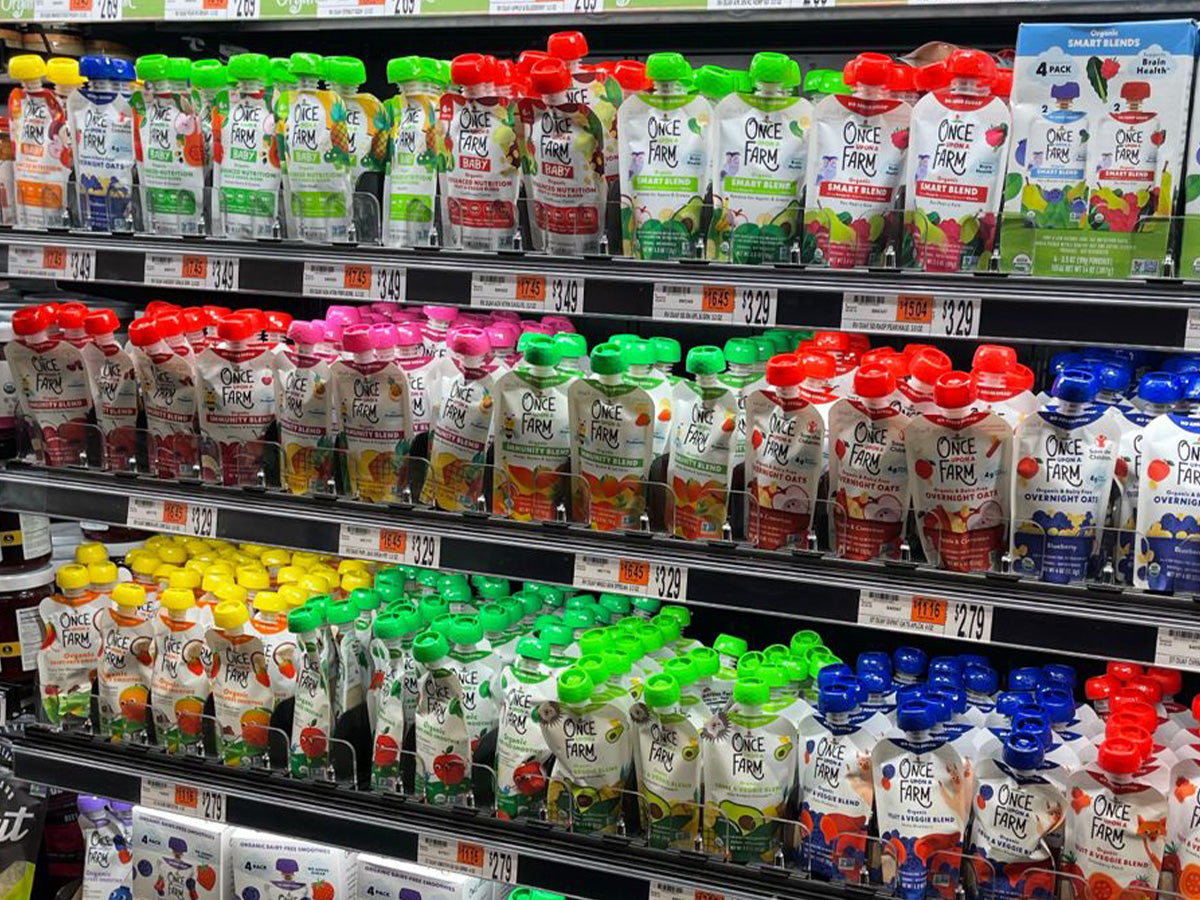 So, you're looking for Once Upon a Farm for your babies or kids, but you've never seen us in the store before. Where should you look? We might be in one of a few different places—depending on the store you're in.
Farm. Fresh. Fridge. Freezer. 🍎🥬 Find us where food stays freshest.
Because we use high-pressure processing (HPP), our blends are kept refrigerated from start to finish, so we won't be with the other baby food brands in most stores. Here's where to find us.
In or Near the Dairy Case
This is where we'll be in most grocery and retail stores, including club stores like Costco and BJ's. Look for us near the kids' yogurts! We might be adjacent to the dairy case, with the non-dairy or healthy snacking options.
Note: In some stores, our Overnight Oats pouches are displayed separately from our Fruit & Veggie Blends. They might be next to other overnight oats products for adults.
In the Produce Section
Farm-fresh snacks are right at home next to farm-fresh fruits and veggies. Look for us with the refrigerated snacks, next to other plant-based packaged goods or with the refrigerated produce.
Stores where you'll find us in the produce section: Target, Hannaford, Ingles, and Walmart
In the Baby Aisle
While we don't belong on the shelves of a baby aisle, you'll find Once Upon a Farm baby coolers in an increasing number of stores and locations. More and more retailers are investing in our organic, refrigerated, Clean Label Project-verified baby food with dedicated space for us on their baby aisles.
These coolers are where you'll find our most robust selection of pouches—including our First 1,000 Day Promise-certified Advanced Nutrition blends and other options for babies 6+ months. You'll also find our baby food bowls (WIC-approved in select states) within the baby coolers where available.
Stores with dedicated baby coolers (in select locations): Albertsons, Safeway, Bashas, Big Y, Bristol Farms, Gelson's, Giant Eagle, Hannaford, Harmons, H-E-B, Hy Vee, Lazy Acres, Longo's, Meijer, New Seasons, Nugget, Roche Bros, Save Mart, Schnucks, Sobeys, Stop & Shop, Walmart, Wegmans, Woodmans
In the Freezer
Our freshly frozen Plant-Rich Meals, recommended for babies 6+ months, are available in a few grocery chains nationwide. Look for select meals in the freezer, next to the kids' meals and snacks.
Stores carrying our Plant-Rich Meals (in select locations): Whole Foods Market, Target (Super Target stores with the larger grocery section), and Sprouts.
P.S. We're Always Available Online
Don't feel like leaving the house? Want to shop our full assortment of blends and/or meals? Order Once Upon a Farm online for delivery right to your doorstep! Choose from a single-flavor box, a curated variety pack, or a customizable subscription of our Fruit & Veggie Blends or Plant-Rich Meals.