Baby
Meet the First Baby Food to be First 1,000 Day Promise Certified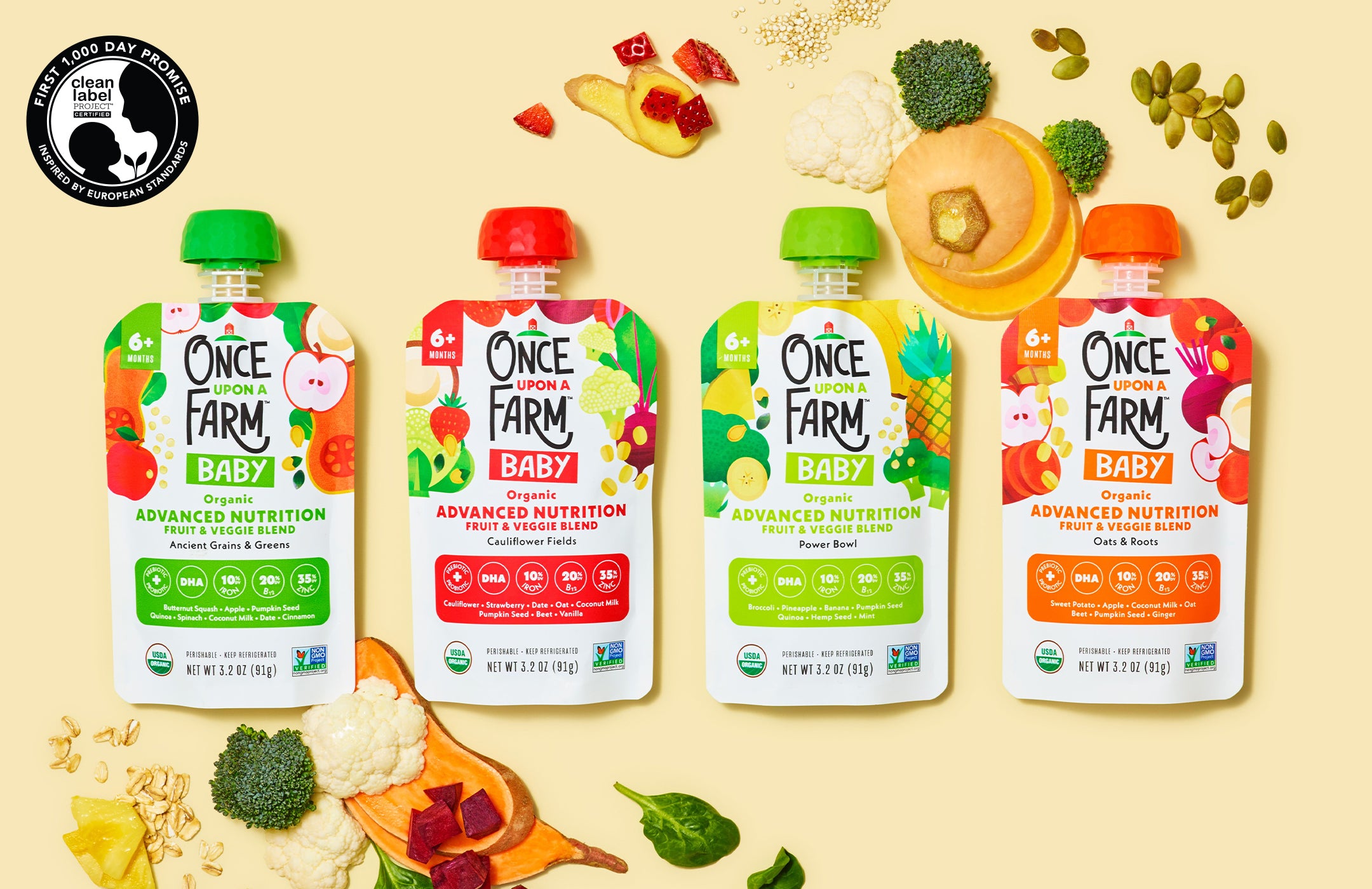 We've always held ourselves to incredibly high standards, but in order to truly be a leader in the baby food & kids' snacking industry, we had to do more than just meet expectations. And so we set out to redefine what safe, high-quality baby food should look like. As we continue to grow as a brand, we'll continue to push ourselves every step of the way, while inspiring others in the industry to do the same.
NEW - U.S. Baby Food Certification by Clean Label Project
Most recently, the Clean Label Project defined new standards for regulating baby food in the United States. What resulted is a brand new certification called First 1,000 Day Promise. Inspired by European regulations, this is the first U.S. certification that requires heightened nutritional elements and regulation of contaminants & toxins found in products for pregnant women, infants, lactating mothers, and children.
Once Upon a Farm: First 1,000 Day Promise Certified Baby Food
Our new Advanced Nutrition Blends are the FIRST products to be First 1,000 Day Promise Certified by Clean Label Project. These are our first blends designed specifically for babies 6–12 months. These delicious blends contain at least ¼ serving of veggies, are unsweetened, and have nothing artificial – making starting solids easy! We are beyond proud to have earned this honor and pledge to continue to raise the bar for all families with fresh, clean, delicious, nutritious food.
Discover Advanced Nutrition
What's the significance of the first 1,000 days?
According to the World Health Organization, the first 1,000 days of life are critically important to long-term health and wellness. It's during this time (starting in the womb, through the age of two) that optimum brain and immune system development are formed. This certification is meant to inspire higher standards across the board to set the next generations up for success.
How does a product earn the First 1,000 Day Promise Certification?
A brand may submit their product to Clean Label Project for consideration, who will then conduct third-party testing to determine whether the product meets the stringent standards outlined in the certification. Here's a general overview of what they're looking for:
Requirements to be Certified:
No added sugar
No artificial flavors
No artificial colors
At least ¼ serving of vegetables
Must Test Under Thresholds For:
Heavy Metals
Pesticides
BPA/BPS
Phthalates
Mycotoxins
Acrylamide
Melamine & Analogues
Glyphosate
Click here to learn more about how Clean Label Project tests products + the exact toxins & materials they're testing for with this certification.