Baby
4 Ways to Prepare Our Plant-Rich Meals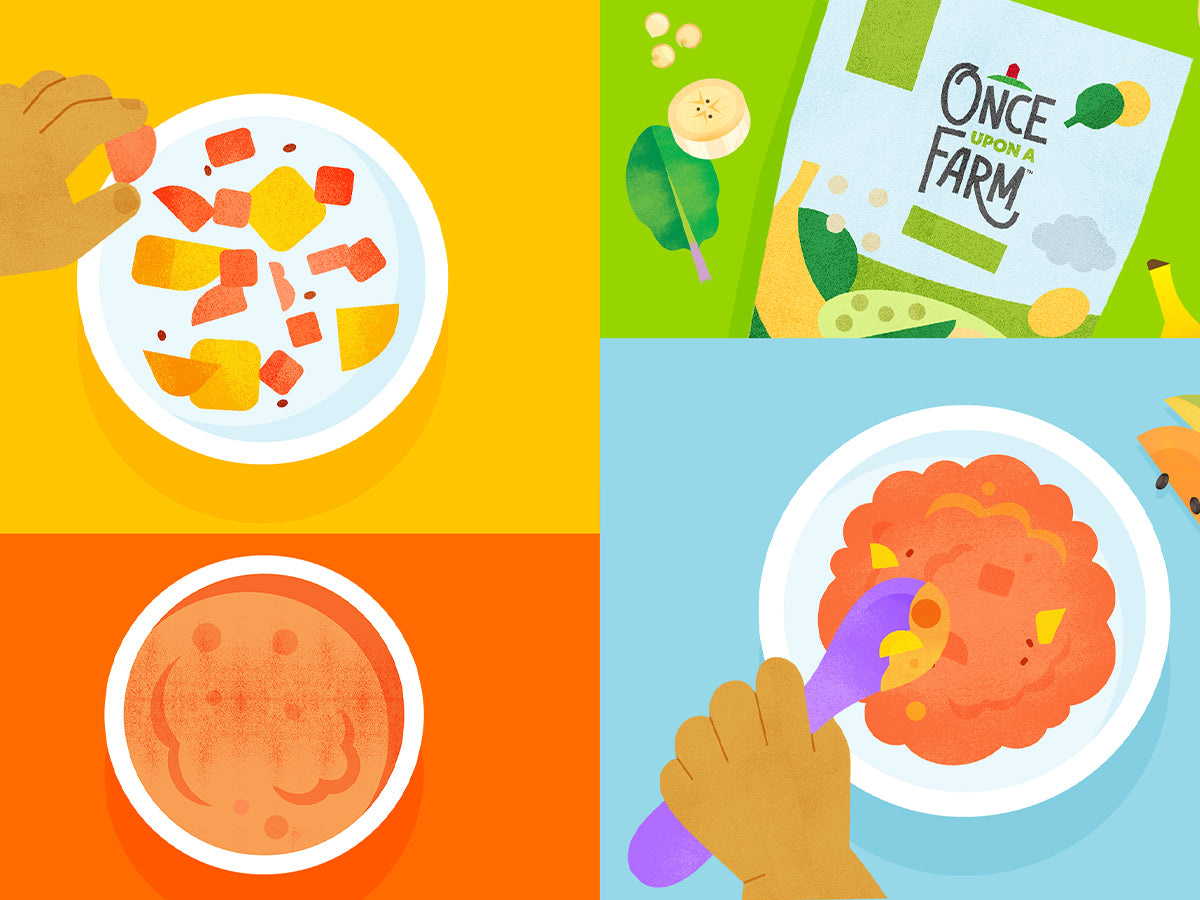 Although we do make baby food, Once Upon a Farm is far from just a baby food company. We're here to make your life easier (no peeling or chopping necessary) and help you nourish your family through many stages—from baby's first bites to school snacking. With that in mind, our new plant-rich meals are designed to adapt as your little one and their taste buds grow.
So, what are our plant-rich meals? First, we start with organic, nutrient-packed veggies, fruit, grains, and legumes—chopped into pieces. Then, we complement each combination of flavors with mild, baby-friendly herbs and spices like mint, turmeric, cardamom, or avocado oil. These colorful mixtures are freshly frozen to maintain all the flavor and nutrients. Once they make it into your home, you've got a yummy, nutrient-packed meal within minutes.
Our meals can be prepared and enjoyed four different ways, depending on your little one's age and taste & texture preferences. Here's what those look like.
1. Puréed
The closest thing you can get to making your own puréed baby food at home, our plant-rich meals can easily be prepared for babies just starting out on solids. This method is great for babies who need the soft, creamy texture of a purée and the consistency of the same flavor in every bite.
How to Prepare: Cook the meal per the package directions, add to a blender, and blend until creamy. Alternatively, you can use an immersion blender in the same pot you cooked the meal in on the stove. Let cool before serving.
2. Mashed
This preparation method is for the baby who's ready to graduate from purées and on to exploring different flavors and textures. You'll still have some bites delivering the creaminess of a purée, combined with others that are more intact adding a little bit of variety and newness to mealtime.
How to Prepare: Cook the meal per the package directions and mash with a fork until you achieve a desired consistency. Let cool before serving.
3. As Finger Food
Instilling healthy food habits—while simultaneously preventing picky eating—should start as early as possible. One of the ways to do this is by introducing your baby to as many different flavors and textures from an early age. When served as finger food, our meals let your little ones experience the look, feel, and taste of foods in their true form—expanding their palate, while also empowering them to build fine motor skills.
How to Prepare: Cook the meal per the package directions, let cool, and serve. If serving as finger food, cut larger pieces of fruits and veggies into bite-size (1/4 inch) pieces.
4. Used in a Recipe
Maybe your little one has grown and is ready for more complex foods, or maybe you're looking for ways to repurpose some of your plant-rich meals for your older kiddos. Whatever's the case, our meals make the perfect base for any number of recipes—from no-bake bites to burrito bowls to pizzas and more. Flex your creative muscles and add a bit of versatility to your snack and meal planning.
How to Prepare: Cook the meal per the package directions and let your creativity lead the way. Visit our blog for some inspo! These Peas & Zucchini Baked Veggie Tots, for example, are a hit with toddlers AND parents.
Starting Solids Tip:
It can take babies being exposed to foods 10–15 times before they decide they like it. If your little one isn't enjoying a particular meal at first, don't give up! Try preparing in a different way next time and being patient as your baby's palate develops. You've got this!
Packaging Note: We've recently updated meals packaging to match our Once Upon a Farm brand. As we undergo the packaging refresh and phase out the Raised Real branding, packaging may vary. Please reach out to our Care Team if you have any questions.