Baby
10 Tips for Traveling With Kids and Babies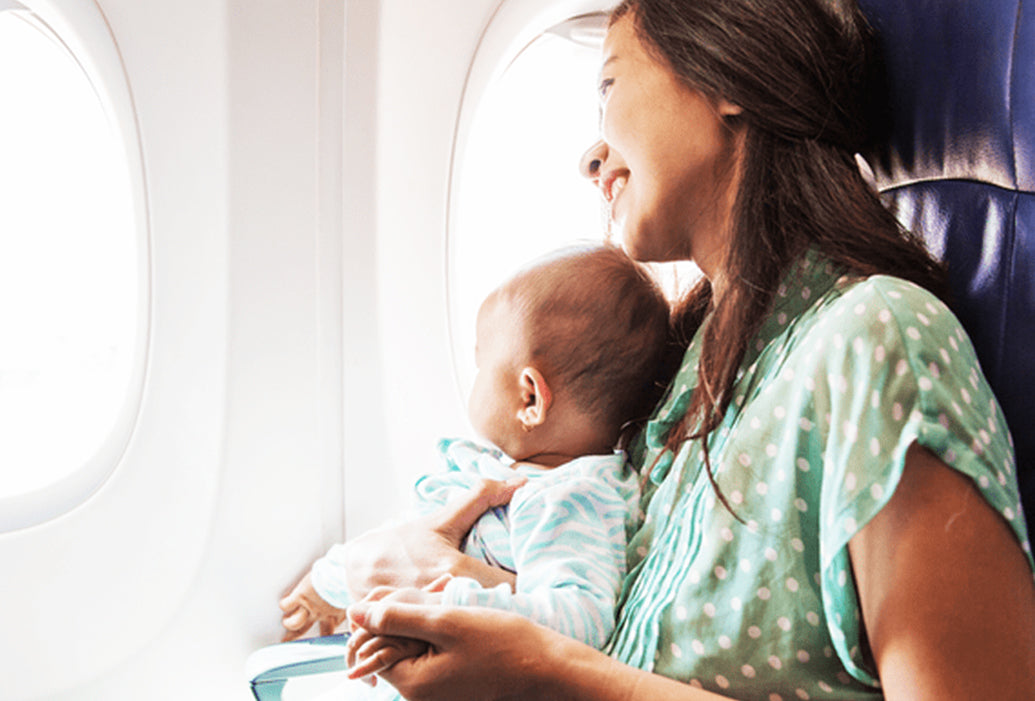 Traveling with the fam is a lot. You plan, you pack, you go, go, go—then, you keep going. To (hopefully) give you a well-deserved break, we've made a list of top travel tips, from getting there to being there.
Getting There
1. Make a List
Before you even start packing, stop. Make a list. Maybe you organize it by family member or maybe by category (think clothes, toys, snacks, etc.). Seeing everything in one place will help you stay organized when you begin the extreme sport that is packing your family for a trip. And it feels really good to add a little checkmark once you've put their favorite books in the bag.
2. Charge Your Electronics
If your little one is doing screens, you'll want to make sure the iPad, tablet, etc. is FULLY charged and that you've downloaded all the content that would otherwise require good WiFi (movies, shows, etc.). The last thing you want is to hand your toddler an iPad with 2% battery, or try to play an un-downloaded episode of their favorite show. You've been warned.
3. Pack Snacks
Pack portable foods that will be easy for your kids to eat on the road/in the air. Our pouches are perfect for on the go and can easily be taken through TSA. Simply designate your pouches as baby food and put them in a separate bin as you move through airport security. We also recommend using our custom Pouch Coolers. And our Refrigerated Oat Bars make great travel snacks, too. These can be left out of the fridge for up to a week!
Shop Travel Snacks & Pouch Coolers
4. Board Early
If flying, take advantage of early boarding—that's what it's there for. Get situated with all your essentials within arm's reach and use overhead bin space for bulky luggage and items you won't need during the flight. That thing your child says they definitely don't need with them in the seat? Do NOT put that in the overhead.
5. Plan Activities
From coloring books (water coloring books are a great option for travel) to busy boards, it's all about keeping the kids occupied. If they're not watching something, they want to be doing something. You can also take advantage of the setting—make the window into an art gallery of Post-it notes you draw on, play Eye Spy: Airplane Addition, wrap up little presents they can open every hour (these can be as simple as crayons or fruit snacks).
6. Get Ready for Take-Off (& Landing)
Little ears are even more sensitive during take-off and landing. Although it may seem odd, try to keep your little ones awake during these times. When asleep, they will not swallow as often and might wake up in pain, so save napping for during the flight! To help with the pain, you can also nurse your baby, or give them a bottle. If you have toddlers or older kiddos, give them a chewy snack.
Being There
7. Set Everyone up for Sleep Success
If staying in a hotel or Airbnb, pre-book a crib to ensure it's there upon arrival. Request to have it set up in the room with a sheet and blanket (depending on your child's age). If this is not available, remember your pack-n-play (and crib sheets). Also, make sure you have sound machines, sleep sacks, portable monitors, and such all on your handy list (#1).
8. Send the Essentials (Or Buy Them Locally)
To help you stay stocked up during extended stays (and to cut down on luggage), ship (or buy locally) diapers, wipes, and baby food to your destination. If traveling within the US, you can easily update your O'Farm pouch subscription to be sent to the address where you'll be staying or pick us up at a local grocery store.
9. Make a Daily Plan
Kids thrive on structure. When you disrupt their schedules (i.e., go on a trip), it's important to try to keep some semblance of structure. Make a mini schedule for days away from home, so they know what to expect. You can even include the older kids in the planning, giving them the chance to be included helps encourage independence and confidence!
10. Make Memories to Take with You
A really fun idea, if they're into it, is to have your kids help in making memories you can take home. They can take photos of their favorite things (polaroids are really fun for little ones as they're immediate, and they can write or draw on them), gather mementos like shells or leaves. Then, when you're home, you can put together a scrapbook as a family and have fun reliving the memories.
Things will be left at home, public tantrums will transpire, and, through the chaos, you will create cherished memories. Remember, you've got this.