Recipes
Overnight Oats by Farmer Jen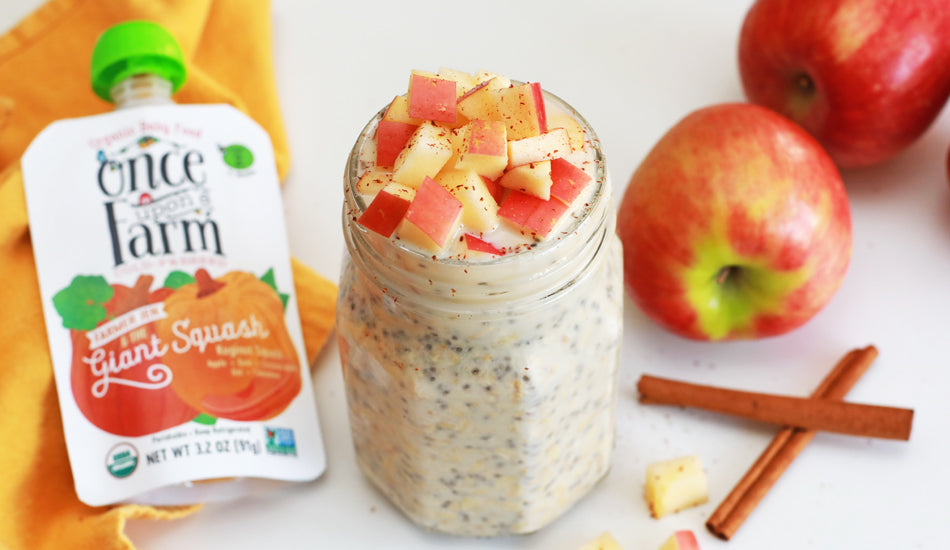 Overnight oats are the perfect make-ahead breakfast to grab and go during a busy morning, while still being flavorful and nutritious which is not always the easiest combo to find in a rush (here's one of our favorite brands if you want to stock the fridge)!
Try this crowd-pleasing recipe featuring our new farm fresh baby food blend, Farmer Jen and the Giant Squash! The delicious Koginut squash was grown from Row 7 seeds on our Co-Founder, Jennifer Garner's family farm! From turning the land into an organic farm to harvesting sweet squash for our new blend, read more about the transformation of the farm here!
Homemade Overnight Oats by Our Co-Founder Jennifer Garner
Ingredients:
½ Cup rolled old fashioned oats
½ Cup milk of choice
1 pouch Once Upon a Farm,

 

Farmer Jen & the Giant Squash
1 Tbsp. chia seeds (good fat!)
1 Tbsp. sweetener of choice (honey or maple syrup)
1/4 Tsp. vanilla extract
Dash of cinnamon
Apple (for topping)
Directions:
Place all ingredients (except apples) into a container and mix until combined.
Next, cover the container and place in the fridge overnight.
Lastly, uncover and top with chopped apples and cinnamon.
Enjoy overnight oats warmed or cool.
Mix it up at home and let us know what you think in the comments below!