Education
Our Values in Action: What It Means to Be a PBC and B Corp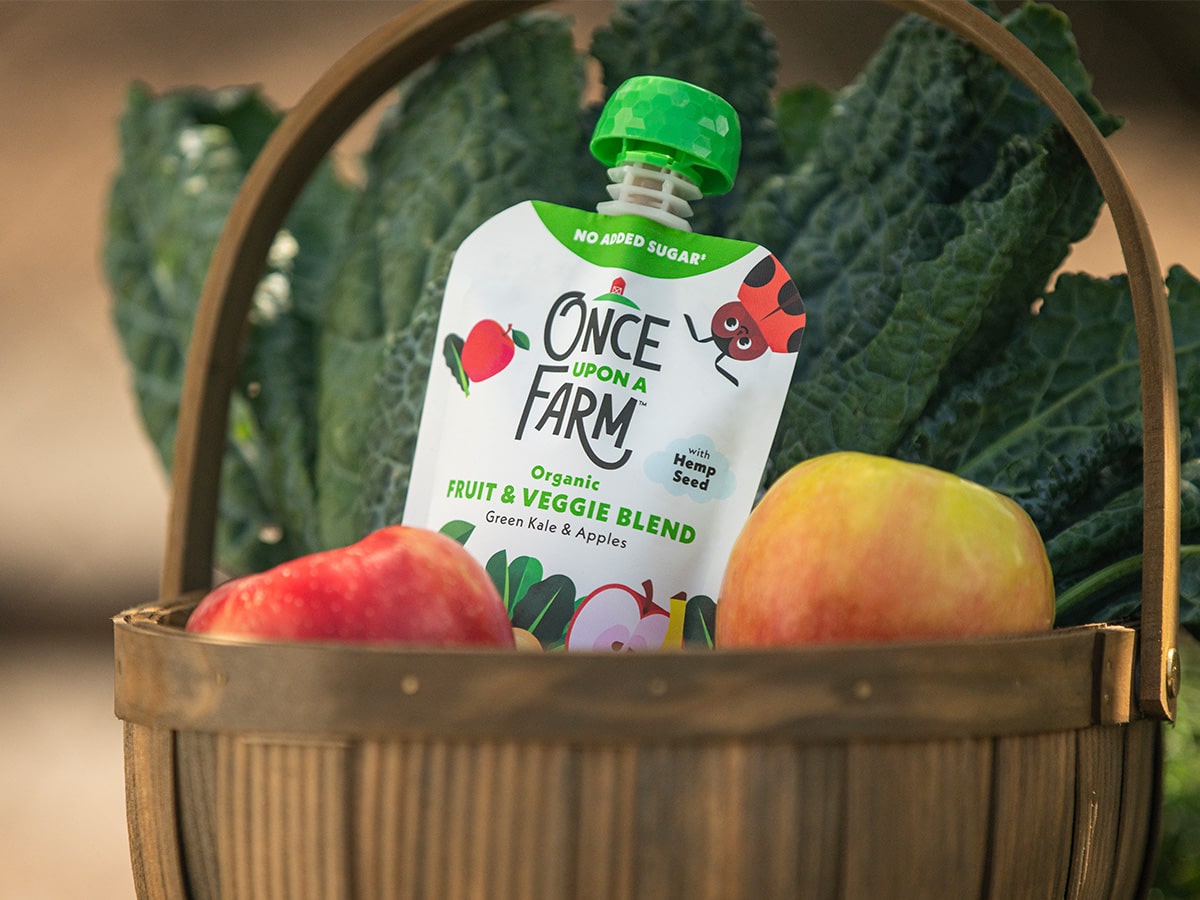 When Cassandra Curtis started developing baby food recipes and selling pouches at local farmers markets, she had a clear vision for this company: to help others. As a busy mom, she not only wanted to feed her kids the very best, but she wanted to help other parents do the same.

Fast-forward a couple years, and Cassandra teamed up with our other three co-founders—John Foraker, Jennifer Garner, and Ari Raz—who shared that vision and helped make Once Upon a Farm into what it is today.

As we've grown and transformed, that vision has never wavered. And we've taken rigorous steps to institutionalize and validate our mission in action through achieving B Corp certification and registering as a Public Benefit Corporation. Here's what our values look like in action.
B Corp Certification
To become a B Corp, a company must go through rigorous and detailed third-party verification, proving it meets the highest standards of accountability, transparency, and performance. And, it's an iterative process: companies that achieve B Corp status, must be recertified every 3 years.
In 2017, we achieved B Corp Certification, a step in holding ourselves accountable for our values, standards, and goals. To achieve B Corp Certification, a company must:
Demonstrate high social and environmental performance
Make a legal commitment to be accountable to all stakeholders (not just shareholders)
Exhibit transparency
Each company is awarded a score based on the B Impact assessment, which takes into consideration impact, mission, ethics, and transparency. When we recertified in 2020, we increased our B Corp score by 2.9 points to 83.1, and we aim to increase that score even further in 2023.
*For reference: B Lab states: "The median score for ordinary businesses who complete the assessment is currently 50.9."
B Corp is not only a certification, validating the good work we do, but it's also a framework that we use to continually improve and challenge ourselves to do better. We take the results and learnings from our most recent assessment to create roadmaps for continued improvement.
From LLC to PBC
In early 2021, we converted from an LLC to a Public Benefit Corporation (PBC), "because we wanted the things we care about to be CLEARLY spelled out in our corporate DNA," says Once Upon a Farm CEO & Co-founder John Foraker.
While a B Corp Certification can be earned by any company, a PBC is a legal incorporation. Here's the official definition from the Delaware legislation, enacted in 2013:
"A 'public benefit corporation' is a for-profit corporation organized under and subject to the requirements of this chapter that is intended to produce a public benefit or public benefits and to operate in a responsible and sustainable manner."
This change strengthened our commitment to doing business in a way that benefits others across the communities in which we operate. Within our PBC articles, we are dedicated to the following public benefits:
To drive improvements in childhood nutrition for a healthier and happier planet
To commit to a portfolio of products and an innovation pipeline that leads in how it approaches access, nutrient excellence, and changing the fresh snacking marketplace
To work across our industry on recyclability initiatives and invest in renewable energy sources while continuing to implement improved sustainability measures across its organization
To support and champion farmers, organic foods, sustainable agriculture and community engagement
Setting New Standards for Baby Food & Kids Snacks
We're continuously challenging industry standards—and even challenging ourselves along the way—for clean, nutritious food for babies and kids. From routine testing for heavy metals, to a conscious partnership with Clean Label Project, to sourcing non-GMO and organic ingredients, we ensure the highest quality food and snacks.
Making Nutritious Food More Accessible
We partner with Save the Children, an organization co-founder Jennifer Garner has been working with for over 15 years, on an ongoing basis. We are committed to delivering 1,000,000 nutritious meals to kids in food insecure communities by 2024 through our A Million Meals partnership with Save the Children. In addition to financial contributions, we also regularly donate our nutritious snacks, and our team members volunteer with Save the Children when possible.
We are also committed to expanding our work with WIC™, as the first line of organic, refrigerated baby food eligible under the program. Our baby food bowls are currently WIC™-approved in Florida, Texas, New York, Michigan, and Connecticut, and we are in the process of getting approval in additional states.


We made a commitment to be more than just a kid nutrition brand. We're passionate people always looking to do things in a better way, and strive to be a purpose-led company that nurtures our children, each other and the earth to pass along a healthier and happier world for the next generation.