Education
Introducing 'A Million Meals' in Partnership with Save the Children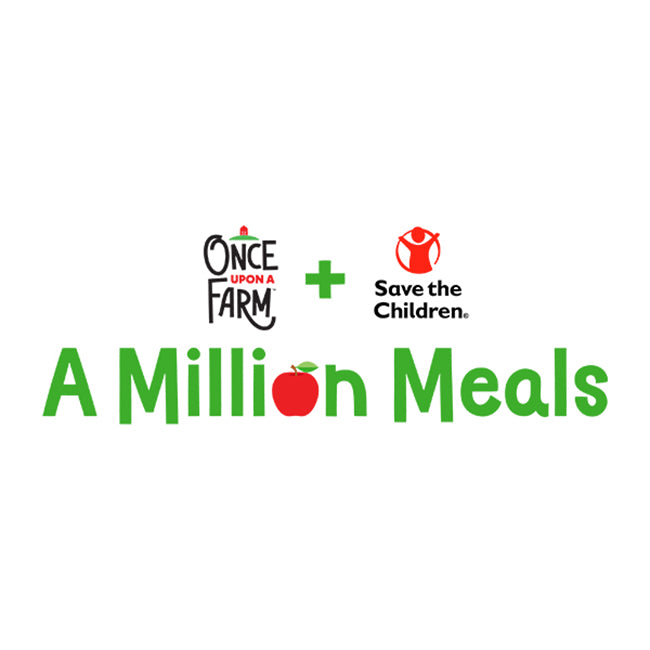 We're proud to launch our A Million Meals program dedicated to helping provide 1,000,000 nutritious meals to kids in food-insecure communities in America by 2024. To build on our multi-year partnership with Save the Children, a non-profit helping kids grow healthy, educated and safe — we remain committed to working together to provide a better start for kids in the U.S. for a healthier, happier tomorrow.
Hear from Our Co-founder, Jennifer Garner

"We are so excited to work together with Save the Children to bring A Million Meals to light," said Once Upon a Farm's co-founder Jennifer Garner. "My work with Save the Children over the past 15 years has deepened and informed my advocacy for early childhood nutrition, and in many ways, is what led me to co-founding Once Upon a Farm. As John, Cassandra, and I, along with the entire Once Upon a Farm team, have built this company, we've always had big ambitions, chief among them to bring healthy, nutritious food to kids everywhere. With this incredible initiative, we hope to deliver on this promise in an impactful way. We look forward to the important work we have to do with Save the Children over the next two years."
Helping Kids Reach Their Full Potential
An estimated 13 million kids are struggling with hunger in America, 2 million more before the pandemic. Studies prove that hunger can negatively impact children's academic performance and behavior in school, preventing them from developing to their full potential. To help kids reach their full potential, Once Upon a Farm's Million Meals pledge will consist of financial investments, product donations, company-wide volunteer opportunities and other programming that support Save the Children's early education and food programs delivering nutritious meals to kids in need.
Hear from Save the Children's Vice President of U.S. Programs, Betsy Zorio
"All across America, more children are hungry than before COVID, putting their growth, development and well-being at risk – and one hungry child is one too many," said Betsy Zorio, Save the Children's Vice President of U.S. Programs. "We're proud to partner with Once Upon a Farm to help nourish our nation's children, giving them a healthy foundation to thrive as learners and in life."⁠
Charitable Product Line
To further impact the A Million Meals program, we're thrilled to officially debut a product line with Save the Children as our partner. With every Farmer Jen pouch purchased, $0.25 will be donated to Save the Children, up to $50,000. We look forward to creating another charitable product to add to the lineup next year.
Follow us on social media as we keep you updated on our journey to A Million Meals!
Shop Our Giveback Blend
We're donating $0.25 to Save the Children for every Farmer Jen pouch purchased (up to $50,000)
This is a carousel. Use Next and Previous buttons to navigate, or jump to a slide with the slide dots.