Lifestyle
Cooking With Kids: Age-Appropriate Tasks for Your Budding Chef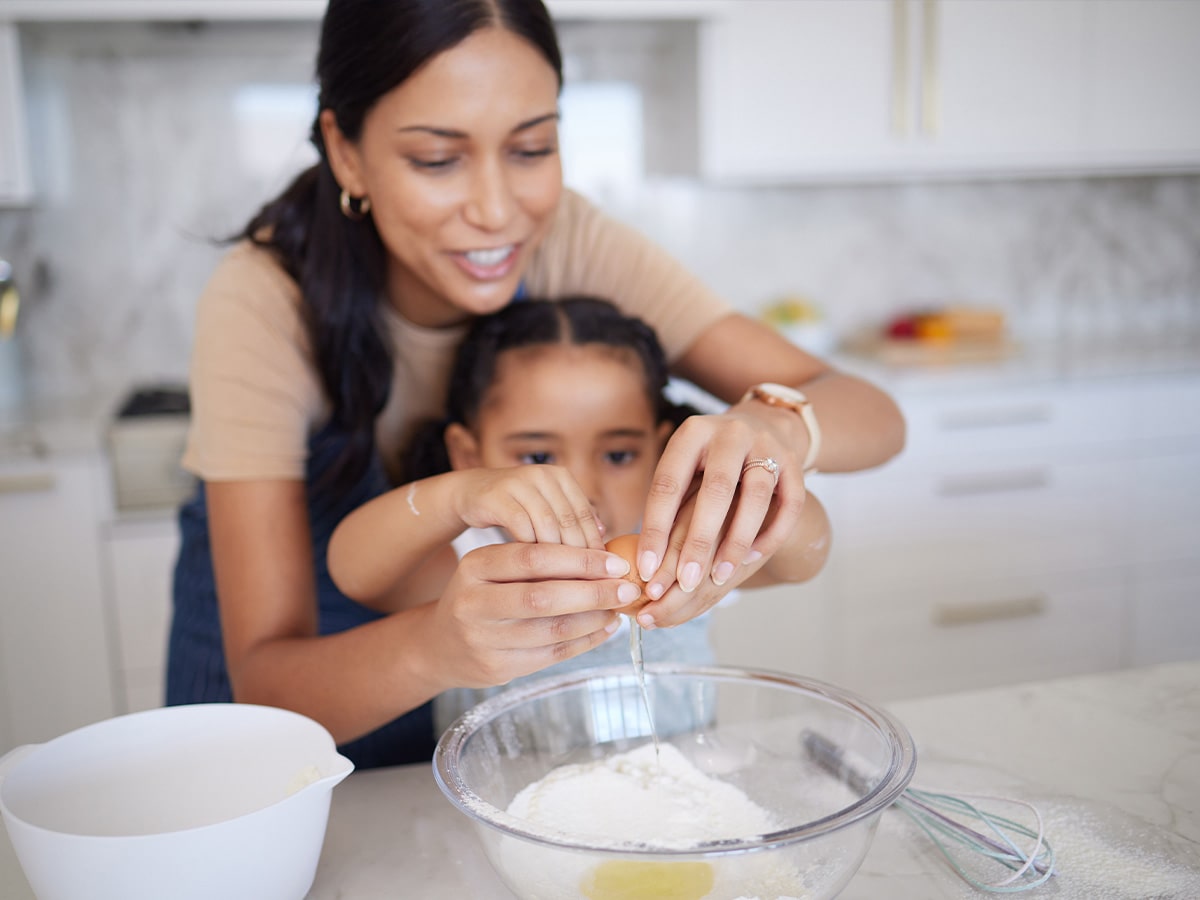 When you're a parent, dinnertime can be an extreme sport. You're rushing to cook any number of meals and keep your kitchen from becoming a disaster-zone, as one kid does laps around your legs and the other screams something very important at you.
Okay, maybe that's an exaggeration, but the truth is, no matter how you slice it, you could use a hand. So, why not enlist the help of your little one? There are lots of age-appropriate tasks your budding chef can perform to help with dinnertime, as well as many benefits to getting them involved. Registered Dietitian Nutritionist, Founder of Healthy Grocery Girl, and super mom Megan Roosevelt (@healthygrocerygirl) has some great tips for cooking with kids and how this special time together can help in the kitchen and beyond.
Meal Planning & Grocery Shopping
For planning, toddlers can help by sharing their favorite meals or ingredients, while older kids can look through cookbooks with you to find recipes that look exciting.
Make the grocery list together. The list, Roosevelt says, "can include words for those who are reading or pictures for those not yet reading."
In the store, toddlers can help search for ingredients; older kids can help take items off any eye-level shelf. Everyone can help with crossing items off the list!
At home, toddlers can unpack certain items from the bags. Older kids can help put away select groceries, "such as non-perishable items onto an eye-level pantry shelf."
Cooking & Baking
Read the recipe to your toddler, or read it together with your older kid.
Have your kids measure and stir ingredients. As Roosevelt says, "Kids love to scoop, level, and dump!" Depending on their age, they'll need more or less help with these tasks.
Let them set the timer for baking or cooking.
For older kids, let them use a child-safe knife to cut fruits or vegetables.
Let your little ones use cookie cutters, providing a little extra help for toddlers. They'll love picking the shapes to cut in fruits, vegetables, and sandwiches.
Mealtime
Toddlers can help bring certain items to the table and older kids can set it.
Older kids can write out name cards or the menu—toddlers can draw or decorate these.
Encourage them to serve themselves. Older kids can help serve others, too.
Kids can clear the table with toddlers helping move non-fragile items. Everyone can help with cleanup, like sweeping the floor and wiping the table.
Developmental Benefits of Cooking With Kids
Aside from the help, cooking with kids has many developmental benefits as well.
Fine Motor Skills
There are many opportunities for children to strengthen their fine motor development through cooking: stirring, spreading, scooping, peeling, and more.
Vocabulary
Meal prepping and cooking together are great opportunities to learn new words—food words like ingredient names and prep words like stir, measure, whisk, and so many more.
Eating
Cooking together can help make your little one a more adventurous eater. "Children who are involved in the meal prep process are more likely to be excited about their meal or snack," Roosevelt says, "and more likely to eat, or at least try a bite of, what they helped create."
Quality Time
Not only are you helping promote a new skill to last a lifetime, but also spending quality time together. "Cooking is a therapeutic and wonderful way to connect with loved ones," Roosevelt notes, "to bond as a family and enjoy time together."
Confidence
"Young children love to do things 'all by myself' and practice control and independence," says Roosevelt. Cooking together and praising their contributions helps your child feel confident, which helps promote independence.
So, what will you be cooking together first?
Need some inspo? How about a Quick Pasta Bowl with our Pea, Zucchini & Basil Meal! Or these No-Bake Sweet Potato & Mango Energy Bites for a yummy snack. And here's some breakfast inspo using our Butternut Squash & Quinoa Meal!