Recipes
Kid-Friendly Recipe: Carrot Cake French Toast Cups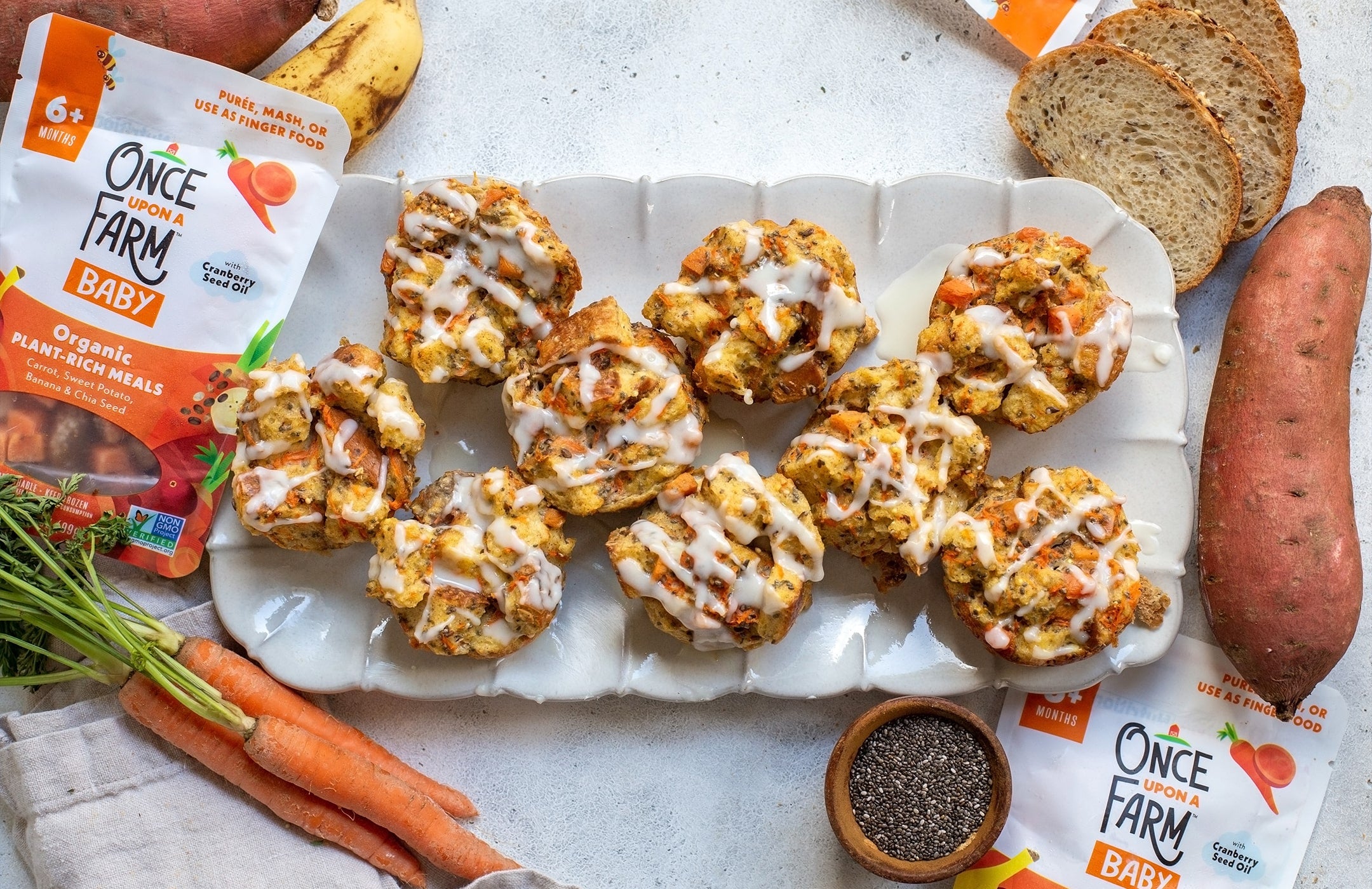 Who says you can't have (carrot) cake for breakfast? Inspired by the love-it-or-hate-it dessert, we hope this twist on French Toast elicits a "love it" reaction. 🥕
Ashley Walterhouse of FitMittenKitchen developed this unique recipe for Once Upon a Farm, using our Carrot, Sweet Potato, Banana and Chia Seed Plant Rich Meal as the base, plus added carrots for extra nutrients and flavor. Get this meal in a custom subscription box!
Carrot Cake French Toast Cups
Yield: 12 muffin cups
Prep Time: 10 minutes
Cook Time: 25 minutes
Ingredients
1 Carrot, Sweet Potato, Banana and Chia Seed meal, cooked & cooled
6 cups cubed sourdough bread (about 1.5" cubes)
4 large eggs
1.5 cups soy milk (or milk of choice)
2 tablespoons maple syrup
2 teaspoons cinnamon
1 carrot, finely shredded (⅓ cup packed)
Optional: Melted Coconut butter for topping
Directions
Preheat oven to 350ºF.
Cook Meal according to package instructions; set aside to cool.
In a large bowl, whisk together eggs, milk, maple syrup and cinnamon. Fold in cubed bread, shredded carrot and cooked Plant-Rich Meal. Make sure to press down the bread cubes so they get completely covered with the liquid mixture.
Generously spray a non-stick* 12-cup muffin pan with cooking spray. Use a measuring cup to distribute the french toast mixture into each cup, making sure to get an equal amount of bread cubes along with the liquid mixture into each cup.
Bake for 22–-27 minutes, or until tops are golden and middle is cooked through.
*Make sure pan is well sprayed, or feel free to use silicone baking cups or non-stick parchment paper cups for easier cleanup.