Baby
8 Benefits of a Once Upon a Farm Baby Food Subscription Box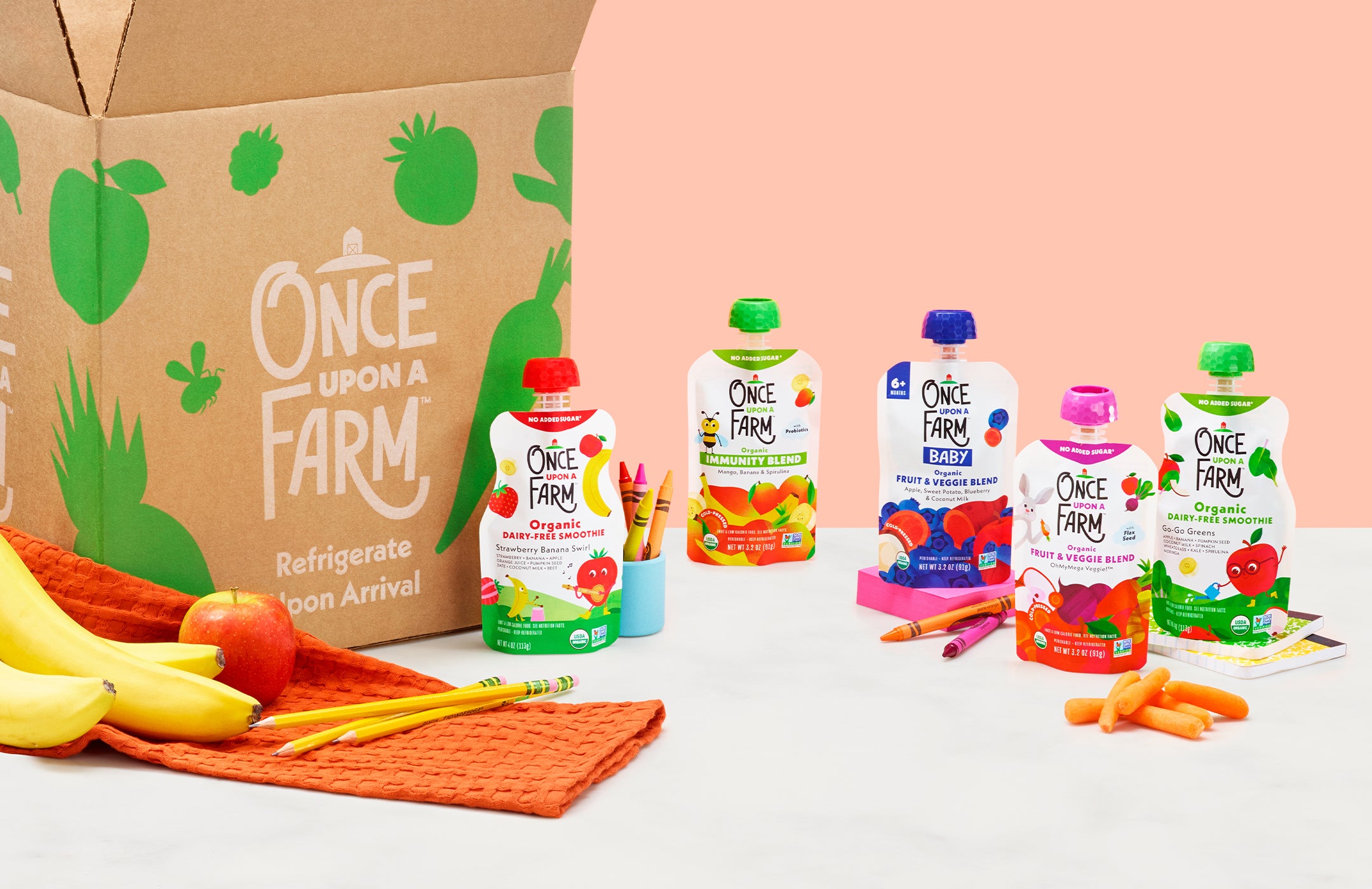 When you find a food your little one loves, it feels like a big win. Couple that with a brand you trust, and it's like a match made in baby food heaven. Thankfully, at Once Upon a Farm, we've made it easy to get our much-loved and well-trusted products whenever and wherever you need them most.
The Build Your Box Subscriptions are a fan favorite for so many reasons—here are some:
1. Convenience
Delivered straight to your door, and at your desired frequency (from every 1 to 5 weeks), the boxes provide a super convenient way to stay stocked up on the products you and your kiddos love.
2. Flexibility
It's easy to edit your subscription. Simply log into your account at any time up to one day before your charge date to change your blends. You can also pause your subscription if you're heading out of town, or cancel any time.
3. Dependability
All orders ship in insulated packaging with frozen gel packs or dry ice to ensure the products arrive cold. (If they are not cool to the touch when opening, please contact us.) You can be confident the pouches and meals will reflect the high quality you have come to depend on.
4. Customization
Choose from a 24-Count Pouch Subscription, 24-Count Meal Subscription, or 16-Count Meal Subscription. Then, customize your box with any assortment of products (you can change your selections with each delivery).
5. Variety
Our site has the widest assortment of Once Upon a Farm products, which means you have many choices to fill your box. To give you an example: With a 24-Count Meal Subscription, you could get one of each of our meals, including all the Organic Plant-Rich Meals and Organic Oats and Fruits, and still have space to double up on a few faves.
6. Early Access
Be the first to stock up on new products, including those that haven't yet made it to your local store.
7. Rewards
Earn loyalty points (SEEDS) with every purchase. Redeem your SEEDS for exclusive discounts and more rewards. Learn more here.
8. Cost
When you have a subscription, you automatically save up to 15% on every order.
Skip the extra trips to the store and get farm-fresh goodness delivered straight to your door with a subscription box!