Baby
7 FAQs About Baby Food Pouches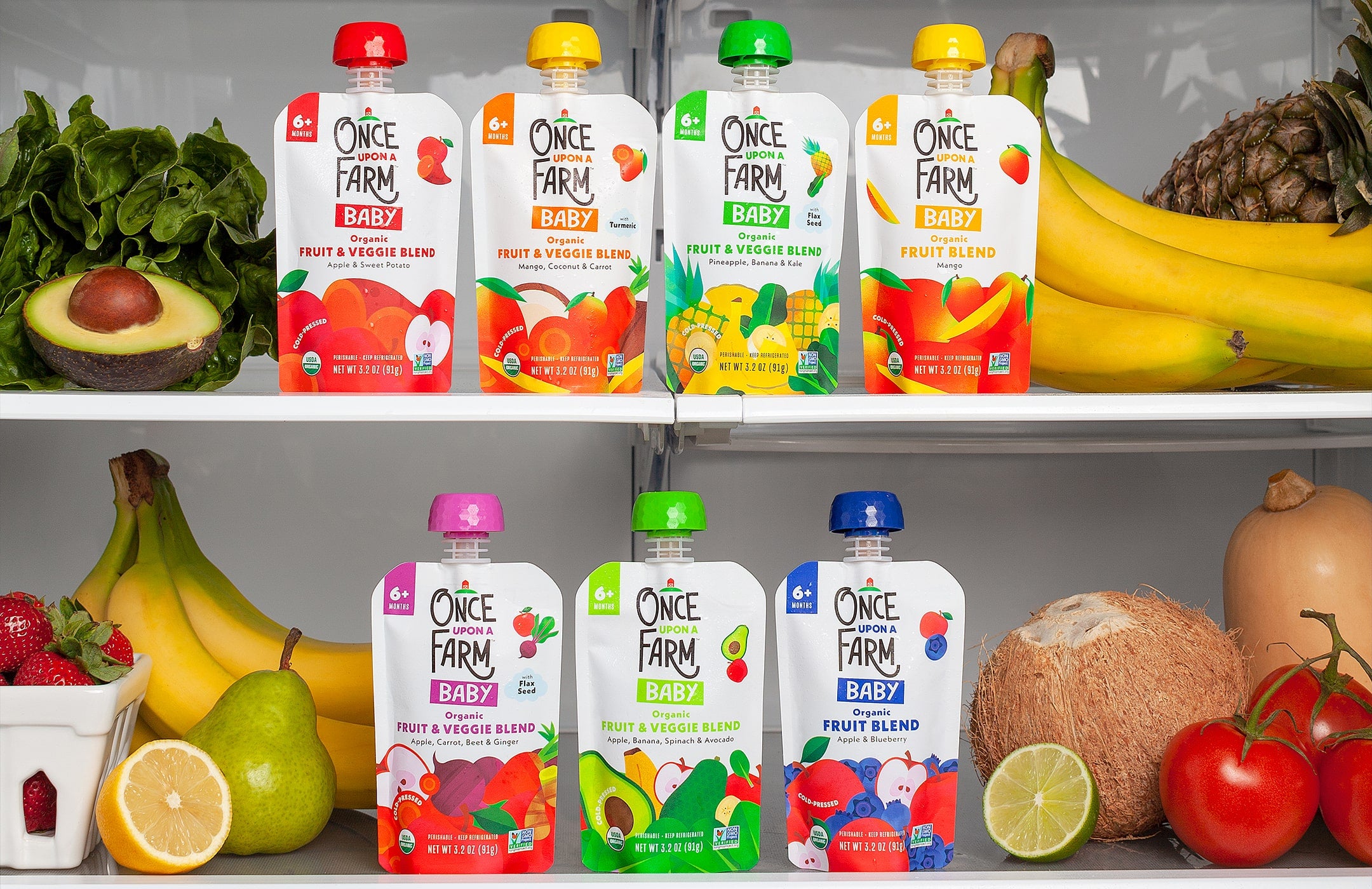 Baby food pouches are many-a-parent's best friend for many reasons—notably because kids love them. But when it comes to feeding your kiddo, their stamp of approval is just one part of the equation. We've rounded up some frequently asked questions about baby food pouches. To help us provide the most comprehensive answers, we spoke with Pediatric Registered Dietitian Nutritionist, and Once Upon a Farm expert, Kacie Barnes, MCN, RDN, LD.
1. Are baby food pouches nutritious?
Of course, not all pouches are created equal, but many are loaded with fruits and veggies, and some even contain extra ingredients like seeds or coconut milk for extra nutrients. To increase nutritional variety, she says, "Look for pouches that include ingredients you might not purchase otherwise." For example, the Once Upon a Farm Advanced Nutrition Power Bowl Blend has quinoa, pumpkin seeds, hemp seeds, and DHA algal oil (water-extracted Omega-3 oil). Those are highly nutritious ingredients you might not regularly cook with.
2. How many baby food pouches can be eaten per day?
Because nutritional requirements will vary greatly by age, stage, and individual needs—we recommend checking with your child's pediatrician on this one.
3. Pouches and purées are great, but is there ever too much of a good thing?
As pouches are purées, they make great first solids. But Barnes says they shouldn't be the only textures that your little one is being exposed to. "Because they are easy to eat and well-liked by kids," she notes, "it can be tempting to reach for pouches more often, but we also want to keep in mind the oral motor development that comes from getting acquainted with new textures that require chewing and manipulating in the mouth (and developing the associated muscles) rather than just drinking pouch."
Also, while many pouches are highly nutritious, "variety in the diet is going to be your best bet for covering all the nutritional bases." Check out our Plant-Rich Meals when your baby is ready to explore more variety (including new textures), while practicing self-feeding!
4. Can babies eat straight from pouches?
The short answer is yes! That said, "You'll find that babies just starting solids won't be able to handle holding the pouches themselves quite yet." Barnes says. "Some parents opt to squeeze pouches onto baby utensils to give babies the opportunity to practice self-feeding, and some parents just help babies learn to squeeze the pouches into their mouths." By toddlerhood, your little one will get handy with handling their pouches, which saves you time, and helps keep mealtime a little less messy!
5. Is it OK to serve baby food cold?
Baby food pouches can be served cold! In fact, Once Upon a Farm pouches must be refrigerated, so they're already cold (and delicious straight from the fridge). After opening a pouch, if your child decides they only want some of the blend, you can re-refrigerate the rest for up to 72 hours.
6. Can you freeze baby food pouches?
If you plan to freeze your pouch, place it in the freezer before the 'Enjoy By Date'. Once frozen, our products will be good for 6 months after the 'Enjoy By Date'. After removing from the freezer, place the pouch in the refrigerator to thaw. Be sure to consume them within 24 hours of thawing. We don't recommend re-freezing blends if they've been frozen and thawed.
7. How do I warm up baby food?
To warm up your little one's food, simply place the pouch in a bowl of warm water for a few minutes. Remove the pouch and be sure to shake or stir it well and always test the food to make sure it's temperature appropriate before feeding it to your baby. We also recommend serving warmed food from a bowl with a spoon to prevent any hot spots.
If you have any questions, please don't hesitate to reach out to a trusted resource (here's who to turn to and when)! For questions specific to Once Upon a Farm, we're always here to help provide support and expert guidance on your baby food journey.