Baby
Your Guide to Starting Solids With Once Upon a Farm Baby Food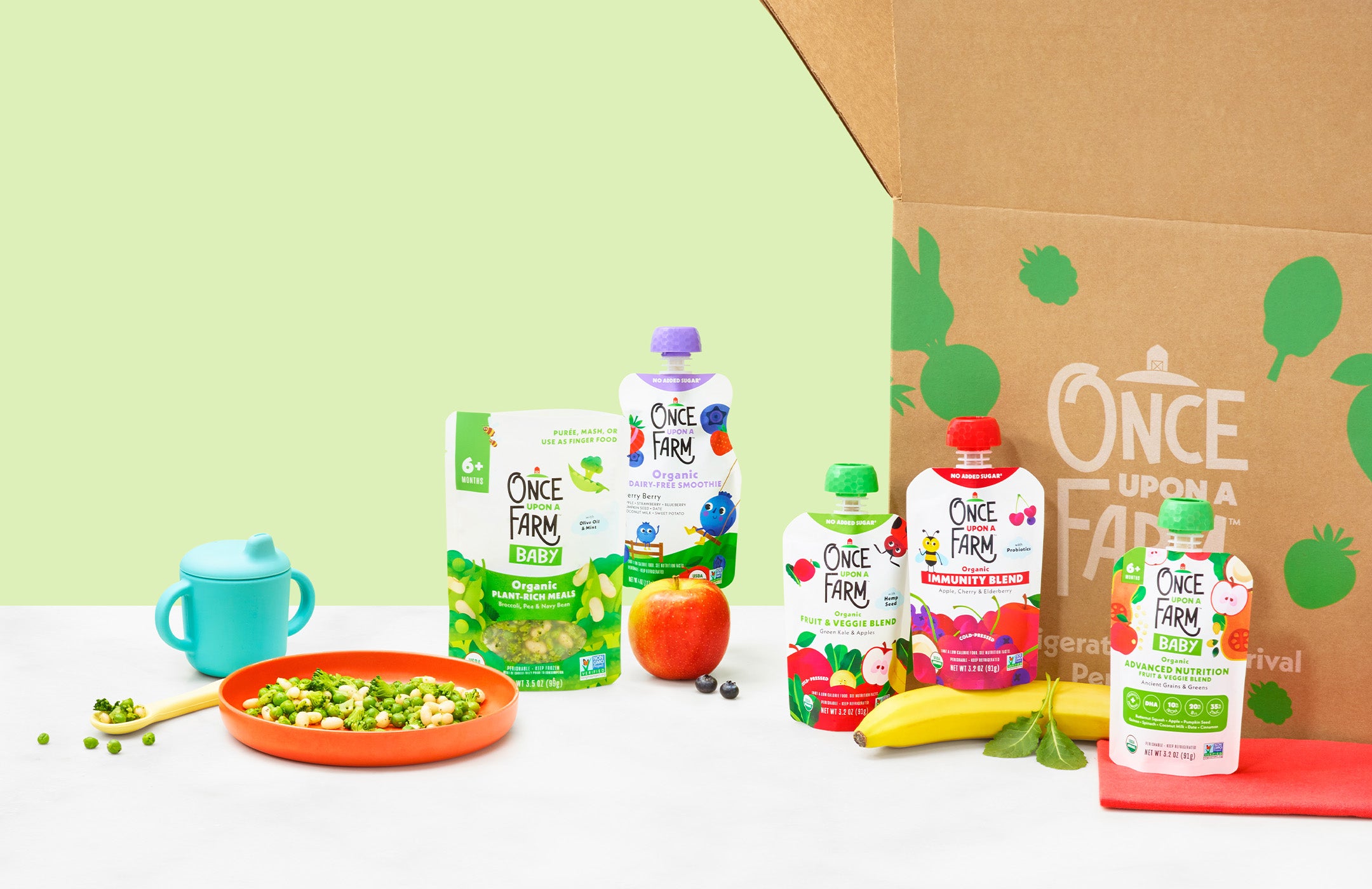 Introducing solid foods to your baby is a huge milestone that comes with a lot of decisions. When are you going to start? Are you going to start with purées or finger foods? Which brand do you trust? And once you've chosen a brand, where do you start with their assortment?
While we can't make those decisions for you, we can help make them easier! First, here's how to know your baby's ready for solids (check with your child's pediatrician if you're not sure). And here's some more info on Once Upon a Farm baby food!
Why Start Solids With Once Upon a Farm?
Our baby food is always organic, non-GMO, unsweetened, and Clean Label Project certified (which means it's been tested for 400+ environmental and industrial toxins, including heavy metals). We use more than 75 ingredients in our baby food line to help provide diversity to your child's diet and help inspire a lifetime of healthy eating.
And our food tastes really, really good! We do tons of taste testing during product development, and once we've landed on a recipe, every batch is taste-tested to make sure it meets our quality standards for both taste and texture.
Where to Begin With Our Baby Food
We're so happy you're thinking about including us in your baby's feeding journey. Let us help you navigate those first bites with a quick guide to our product lines. Remember: Every baby's feeding journey is different, so where you begin is totally up to you. Of course, if you have any questions or concerns, please check with your child's healthcare provider.
1. Satisfy Curiosity With Simple Starters
Simple farm-fresh organic ingredients is all it takes to spark delight in curious eaters. These limited-ingredient purées help ease your baby into solid foods. Smooth textures, smooth transition.
2. Explore Variety & Texture With Advanced Nutrition
A little more variety. A tad more texture. More unique ingredients and creative combinations to explore. Advanced Nutrition Blends each contain at least ¼ serving of veggies plus prebiotics, probiotics, iron, vitamin B12, and zinc.
3. Get Adventurous With Our Plant-Rich Meals
Delicious discovery is served with our nutritious finger-friendly meals and snacks perfect for more adventurous palates. Cook, then purée, mash, or serve as finger food to introduce your baby to new flavors and textures.
4. Introduce a World of Flavor With Pairings & Recipes
Organic fruits and veggies for all ages and stages. As your little one's palate expands and their appetite grows, our baby food can adapt. Pair one of their favorite Plant-Rich Meals with a protein and your choice of herbs or spices for a complete toddler meal. Serve one of our pouches alongside a meal for some extra fruits and veggies. Transform a go-to meal or pouch into a yummy recipe the whole family will love.