Education
Joining Hands for Childhood Cancer: A Conversation With Liz Scott of Alex's Lemonade Stand Foundation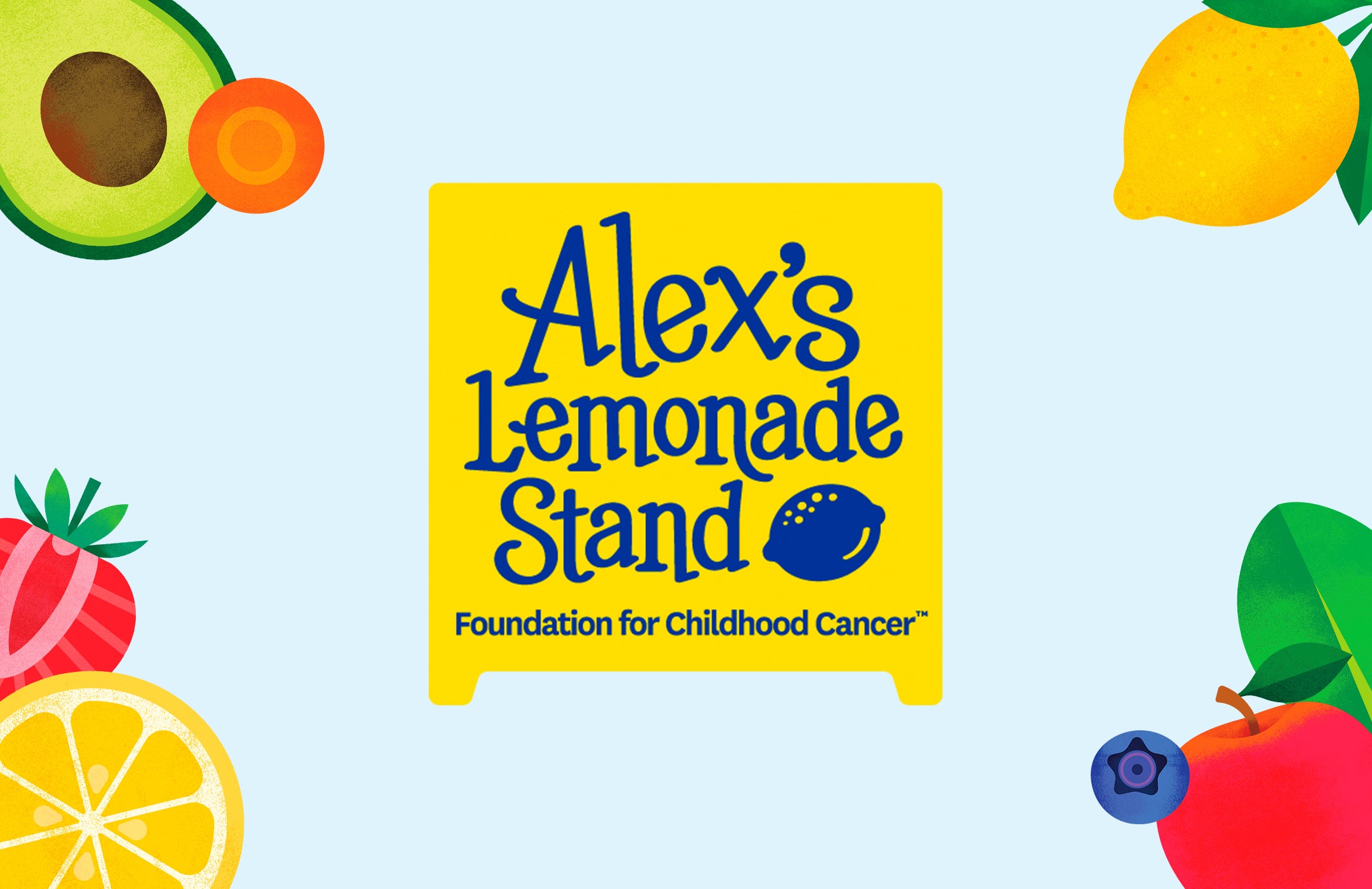 Beyond marking the start of fall, September is Childhood Cancer Awareness Month, and Alex's Lemonade Stand Foundation (ALSF) is leading the charge. The nonprofit is committed to changing the lives of children with cancer through funding research, raising awareness, and supporting families—and now, Once Upon a Farm is joining the fight. On Thursday, September 14, we're pleased to share that 20% of all sales on onceuponafarmorganics.com will be donated to Alex's Lemonade Stand Foundation (ALSF).
To shed light on the nonprofit's incredible initiatives and ways you can help, we had the chance to sit down with Liz Scott, ALSF's Co-Executive Director and mother of the eponymous Alex Scott. Read on and show your support, whether that's through joining The Million Mile (details below) or ordering your favorite O'Farm necessities on September 14. Together, we can make a meaningful impact in the fight against childhood cancer.
September is Childhood Cancer Awareness Month. Could you share some of the key initiatives Alex's Lemonade Stand Foundation (ALSF) has planned to raise awareness and support during this important time?
Liz Scott: Our goal for the month is to spread awareness about childhood cancer. One of the ways we do that is through The Million Mile, our largest event at ALSF. We started it over 10 years ago, and our goal is to collectively log one million miles and raise millions of dollars for childhood cancer research. Anyone can participate by signing up as a team or an individual at TheMillionMile.org. Throughout September, people track their mileage from walking, running, cycling—however you want to participate—and fundraise along the way. It's a really fun event for the whole family and it's easy to fit into your daily routine because every step counts for our mission to help kids with cancer!
We also have one of our biggest in-person events in September, L.A. Loves Alex's Lemonade, which brings superstar chefs and mixologists to Los Angeles to lend their support to ALSF and the fight against childhood cancer. Hosted by Chef Suzanne Goin and business partner Caroline Styne, along with Chef David Lentz, this fun and family-friendly afternoon features one-of-a-kind food and drink samplings. Guests can mingle with their favorite gourmet chefs and taste fine dining across the country, all while raising funds for childhood cancer research.
ALSF has achieved remarkable progress in the fight against childhood cancer. Can you highlight a specific success story or milestone that demonstrates the foundation's impact?
LS: One recent child whose story touches on our mission to fund critical research and help childhood cancer families is a young boy named Lincoln. He was diagnosed with an ependymoma, and then relapsed, which meant the typical treatments like chemotherapy wouldn't work anymore.
We had a researcher whose work we funded who twas running a clinical trial in Augusta, Georgia that gave Lincoln's family a potential treatment option. The only problem is that Lincoln lived in New Hampshire. That's where our Travel For Care program comes in. It helps cover flight and hotel costs for families, like Lincoln's, who need to travel for treatment. We helped them get to that trial, and today, Lincoln has had no evidence of disease for over a year. That's a huge milestone for any kid fighting a brain tumor!
Research is crucial for improving childhood cancer treatment. How does ALSF identify and support innovative research projects that contribute to better outcomes for young patients?
LS: We have a scientific advisory board made up of some of the brightest minds in the childhood cancer research community. They have a rigorous review process that ensures our supporters' dollars are funding grants with the greatest potential to help the most kids. ALSF is also the only childhood cancer research organization that the National Cancer Institute has given the peer-reviewed funder designation. Our grant programs also fund research at every step of the process, from early-stage innovative research all the way to lifesaving clinical trials.
Beyond financial contributions, how can individuals and businesses actively participate in supporting ALSF's cause and making a difference in the lives of families affected by childhood cancer?
LS: One of the best ways is just raising awareness of ALSF and childhood cancer in general. This all started with my daughter Alex setting up a lemonade stand in her front yard while fighting her own cancer, and eventually people from all over the country heard about her mission and wanted to help, too. You never know who will be inspired to step up next and help.
Can you share a story of a young cancer warrior whose journey has been positively influenced by ALSF's work and the support of its community?
LS: Another amazing story is Philip, a young boy who was diagnosed with the same type of neuroblastoma that our daughter Alex passed away from in 2004. When Philip needed new treatment options, Philip's family found out about a clinical trial our donors helped fund. Today, his family is so thankful he is entirely cancer-free and able to live like a normal kid. It was a full circle moment to see the work Alex started lead to a cure for kids facing the same cancer she had.
Childhood cancer affects not only the child but also their family. How does ALSF provide assistance and resources to families navigating the challenges of pediatric cancer?
LS: We know firsthand how hard this journey is, so beyond our Travel For Care program, we have lots of ways we try to support families. One of our biggest is the SuperSibs program, which provides free mailings and support to siblings of kids with cancer, who also face their own challenges after a childhood cancer diagnosis. Another is Flashes of Hope, which offers free photography sessions to childhood cancer families. There are also many resources and information on our website, from guidebooks to school resources and so much more.
Looking ahead, what are ALSF's primary goals and priorities for the next few years in terms of research, advocacy, and providing aid to families in need?
LS: Collaboration in the research community has been a key emphasis over the years, and The Crazy 8 Initiative and our Childhood Cancer Data Lab are just two of the ways we're pushing that commitment forward in the future.
The Crazy 8 Initiative brings together the best childhood cancer researchers across the country to collaborate and tackle the deadliest forms of childhood cancer. Many of our researchers have mentioned how collaboration is critical to moving research forward for kids whose diseases have far too few treatment options. We've committed more than $25 million to this initiative and are so excited for its potential to help kids.
We also started the Childhood Cancer Data Lab at ALSF in 2017. They are a team of data scientists who build tools, resources and training to help researchers harness the power of big data to find more cures faster. Their team is always coming up with new ways to support the work our funded researchers are doing.
Collaborative efforts can make a powerful impact. Can you explain the importance of collaborating with brands like Once Upon a Farm to raise both awareness and money?
LS: Finding brands like Once Upon a Farm that care about giving back is so key to what we do. Not only does it help more people learn about ALSF, but the funds raised are critical to so many families out there who are looking for hope. Childhood cancer research is consistently underfunded, and partnerships like this help spread the importance of how every dollar truly can make a difference.
As readers are eager to get involved, especially during Childhood Cancer Awareness Month, how else can they take action and contribute to ALSF's initiatives in a meaningful way?
Sign up for The Million Mile! Start a team and invite friends, family, co-workers, anyone you know who wants to participate. And if you are in the L.A. area, there are still tickets available for L.A. Loves Alex's Lemonade, as well. You can also share the cause with friends, donate to fund research, check out our Champions program that's perfect for student-athletes or fundraise the way it all began and host a lemonade stand! Alex always believed anyone can make a difference, and that belief is still central to everything we do at ALSF.