Lifestyle
6 Tips for Grocery Shopping with Kids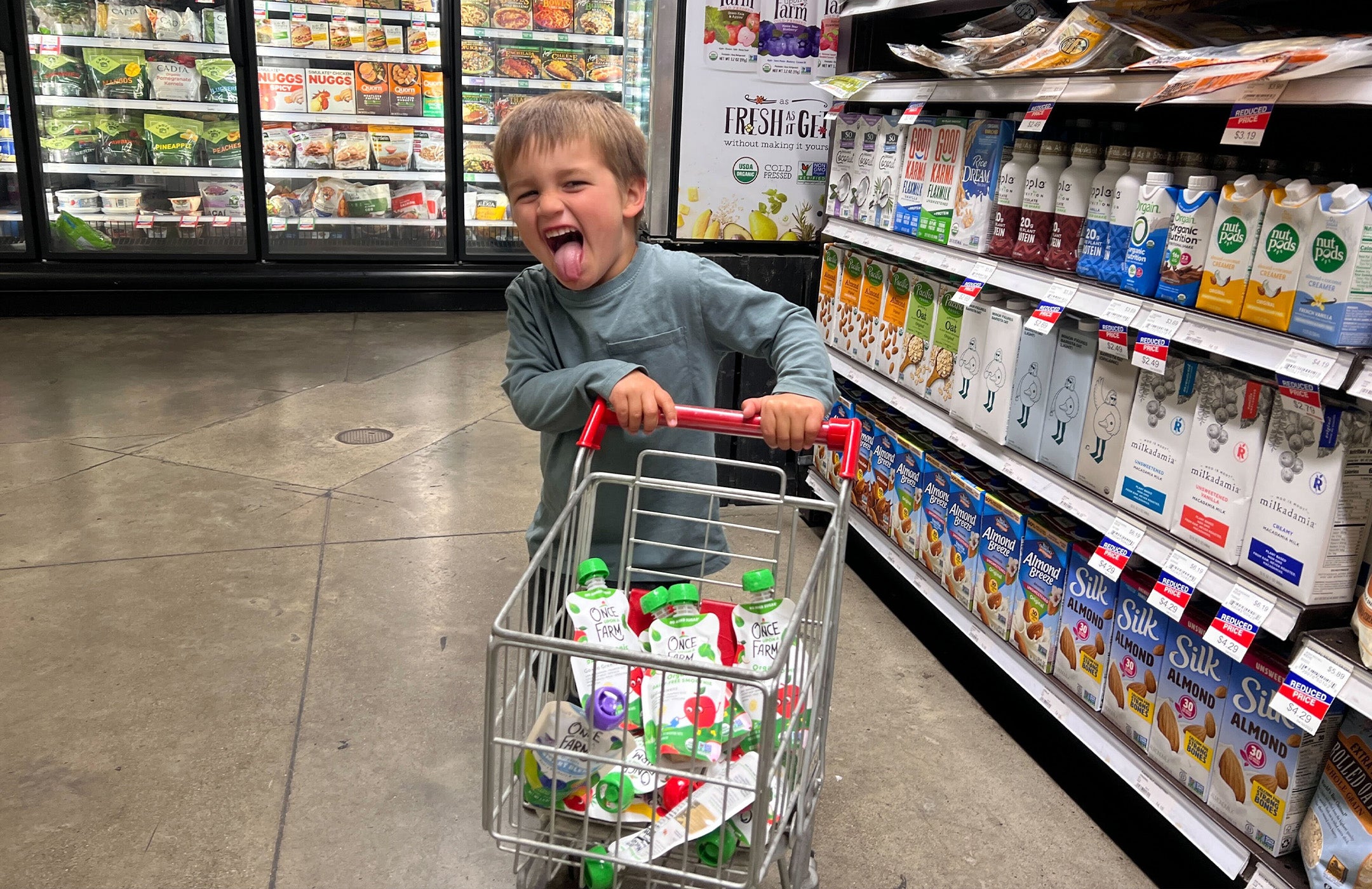 From an adventure to an experience, grocery shopping with kids can be a lot. Whether you're swinging by the store after school, taking the family for a weekend haul, or just need something to do together, we have tips to help you stay sane and on-list while grocery shopping with kids.
1. Make a List Together
Before heading out, a fun way to get your kiddo involved is to make a shopping list with them. Have your child add some favorite items—maybe plan to make a meal together and add all those ingredients—whatever helps to get them excited!
2. Cut & Carry the Coupons
If you're a coupon-cutting family, try getting your little one involved in the process. Search for and cut the coupons together, then deputize them to be in charge of the coupons on the shopping trip!
Not a fan of paper coupons but still interested in deals? Look for Once Upon a Farm on the Merryfield Rewards app, a loyalty program featuring better-for-you brands.
3. Play a Game
If things are feeling restless, playing a game is a great way to keep your little one distracted. With so many colors in the aisle, why not pick a color and find as many foods that fit that hue. (Green: grapes, lettuce, Green Kale & Apples pouches! Red: apples, ketchup, Apple, Cherry & Elderberry Immunity Blend pouches!)
4. Bring Snacks
A standard parent tip is to stuff your bag with snacks whenever leaving the house—the grocery store is no exception. Perhaps even more reason to BYO snacks. (What with all the temptation!) Once Upon a Farm pouches are a hassle-free and ever so delicious snack option. You could always grab a snack from the aisle, but that could cause emotions to flare if picking the "right" snacks becomes an issue.
5. Designate a Bagging Helper
At checkout, it's a prime opportunity for your kiddo to step up and help out. They can pack non-heavy, non-fragile items into bags, even help to organize items (fruit in there, frozen items there, etc.).
6. Opt for Pickup
If an in-store trip isn't in the stars, you can still pack up the brood and head to the store for a pickup. You still get to make a list together (and check off items as you unpack later)—even grab that special item out of the trunk before heading home.
So, grab your shopping bags, a snack (or five), your list, and your little one, then breathe deeply and head to the car. You've got this!