Lifestyle
Father's Day Gift Guide: 6 Gifts Dads Actually Want (According to the Dads of O'Farm)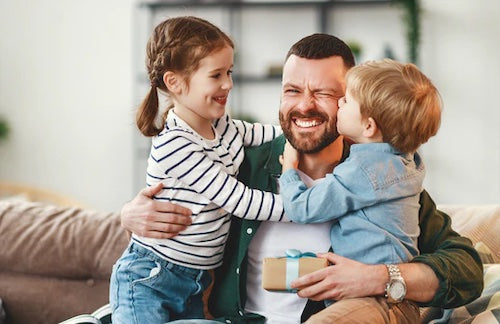 What do dads really want for Father's Day? Let's take the guesswork out of it and ask them ourselves! We tapped some of the dads of O'Farm to see what they'd love from their families this Father's Day. Their picks include great options for the outdoorsy dad, the "crunchy" dad, and the foodie dad—plus, a non-tangible idea all dads will love.
1. Life Cykel - The Biohacker Set®
Some fungi power for the fun guy in your life. In addition to tasting great on pizza or salads, mushrooms are widely used for a variety of wellness benefits. This set of extracts addresses a lot of concerns dad may have!
O'Farm dad on why it makes a great gift:
"My wife says I'm extremely 'crunchy' for ordering this stuff, but I don't care. I'm a believer! Better energy, focus and mood during the day, and better REM sleep at night. Easy to mix into any drink. Not cheap, but tough to put a price on feeling good."
—Jeff Schafer, Sr. Team Director, National Accounts
2. Family Time and a Good Meal
Hard to beat good food and good company! Plan an activity dad will love—whether that's watching a movie at home or going on an adventure—and make sure to fuel up and/or refuel as a family.
O'Farm dad on why it makes a great gift:
"Between work, school, and activities, life is hectic. All I ever want to do during the day for Father's Day, is to spend time with my daughters and let them choose what we do as an activity from bike rides to the candy shop, hikes, or a movie on the couch! I love to end the day cooking a great meal for my family followed up with a game night."
—Elliott Mason, Sr. Team Director, Grocery
3. Traeger Grills Pro Series 575 Wood Pellet Grill and Smoker
 Image via Traeger on Amazon
Grilled meat? Good. Smoked meat? Good. Being able to do both with one appliance? Goooood.
O'Farm dad on why it makes a great gift:
"Everyone loves it when dad has a cookout!"
—Andy Chan, Site Program Manager
4. Quality Time + a Day Off for Golf
The perfect Father's Day weekend: one day with no responsibilities and another filled with family fun. (Noticing a trend yet in our dads' answers?)
O'Farm dad on why it makes a great gift:
"On Father's Day, I just want to spend quality time with my family and my dad. The day before, however, my favorite 'gift' from my wife is getting the 'OK' to play a weekend round of golf (which doesn't happen that often with two kids under two)!"
—Scott Schofield, Sr. Director of Sales
5. ANYTHING from YETI
Fun fact: Our whole team got Once Upon a Farm-branded YETI insulated water bottles at our company gathering in spring 2022, and you bet we've all been putting them to good use! 
O'Farm dad on why it makes a great gift:
"Dad loves an excuse to pack the cooler and get outside. Whether it's just a couple adult beverages to go watch a sunset somewhere, a few more adult beverages to tailgate at a ball game or a day on the lake, a full meal and drinks for a family picnic or a weekend camping trip…the applications are endless. And Dad is always amazed at how long a YETI can keep something cold, and he will probably make a point to remind everyone around him about how cold their stuff is staying in his cooler every 30 minutes or so."
—Ryan Johnson, Sr. Manager, DTC Operations
6. Quality Family Time
Rounding out the list with our third vote for quality family time. Doesn't get much better than spending time with those who made you a dad in the first place on your special day!
O'Farm dad on why it makes a great gift:
"The best and only gift I want on Father's Day is simply quality time with my family. A fun handmade card, a long family walk, or just hanging around over a fun dinner. Laughing, thinking, conversing and being together without external distraction."
—John Foraker, CEO & Co-founder