Recipes
Wholesome Blueberry Muffins Your Little Ones Will Love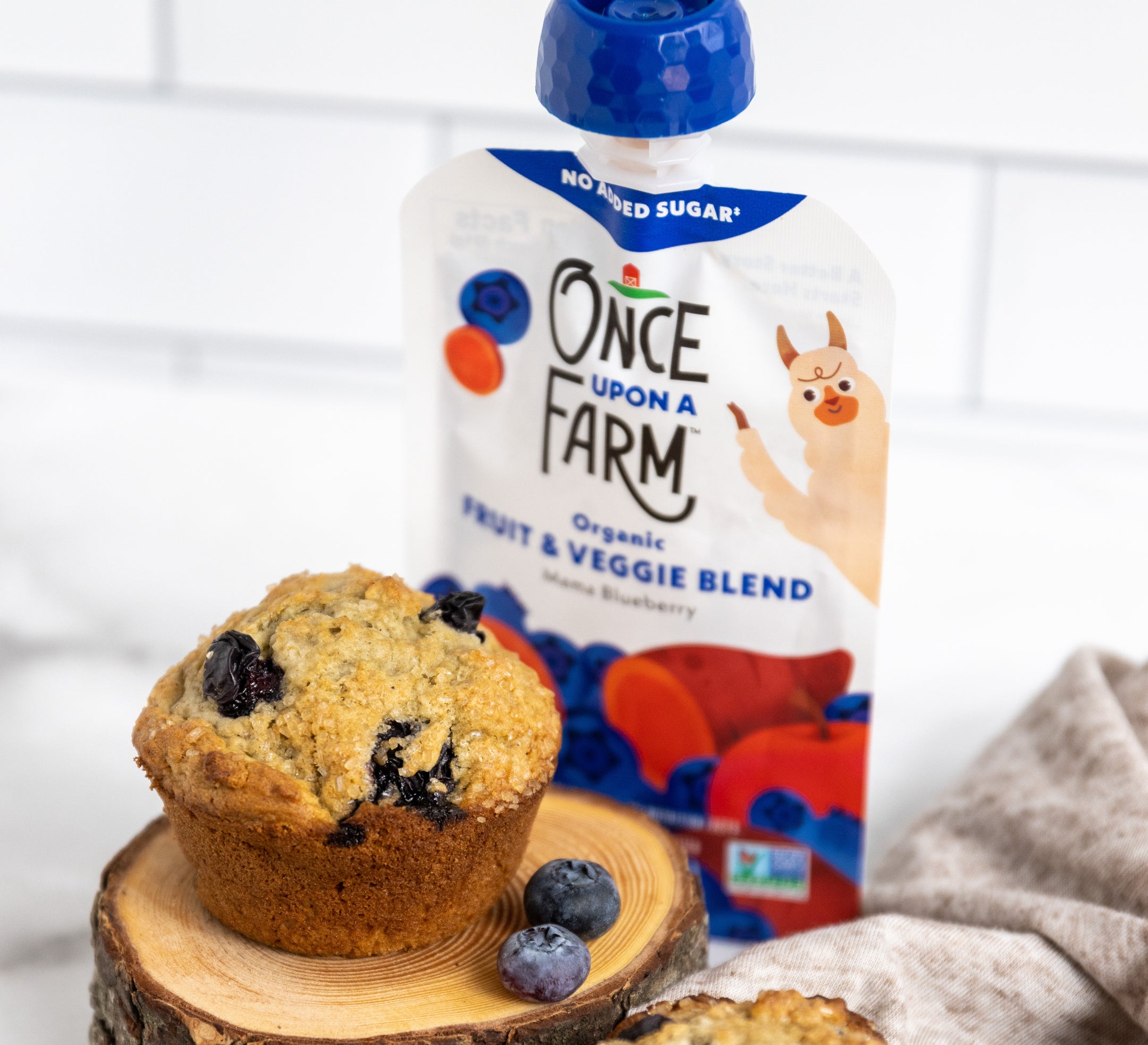 Kiddos love muffins and we love when they're easy to make! These are sweet enough to taste like a treat, but wholesome enough to fill up little tummies. Give them a go and let us know what you think! 
Blueberry Muffins Made With Love
Yield: 6 muffins 
Ingredients:
1 cup all-purpose flour
2 tsp baking powder
1/4 cup milk (or any nut milk)
1/2 tsp vanilla extract
1 tsp lemon juice
2 tbsp butter (or vegan butter)
2 tbsp sugar
1 egg yolk (or 2 tbsp vegan yogurt)
1/2 cup blueberries
Raw sugar (optional)
Directions:
Pre-heat oven to 425°F. Line a cupcake or muffin pan with paper liners or grease with butter and set aside.
Whisk together flour and baking powder and set it aside.
In a large cup, add milk, the Once Upon a Farm Mama Blueberry purée, vanilla extract, and lemon juice. Mix well and set aside.
Mix butter and sugar together until pale and fluffy, about 2 minutes. Add egg yolk and mix for 1 minute.
Add the dry ingredients and alternate with the milk mixture in 3 additions, mixing in between each addition. Fold in the blueberries making sure not to over-mix the batter.
Scoop the batter into your prepared baking pan. Sprinkle with raw sugar and bake for 20 minutes.
How to Store and Freeze Your Delicious Blueberry Muffins
Muffins will stay good for up to 4 days in a paper towel-lined airtight storage container stored at room temperature. You can also freeze them by individually wrapping each muffin in plastic and placing in the freezer. Then you can take them out the night before you're ready to enjoy for a quick and easy mid-week breakfast.
Recipe by Hetal from Milk & Cardamom, a past MasterChef contestant and mama to daughter Elara!