Education
Our Commitment to a Better Future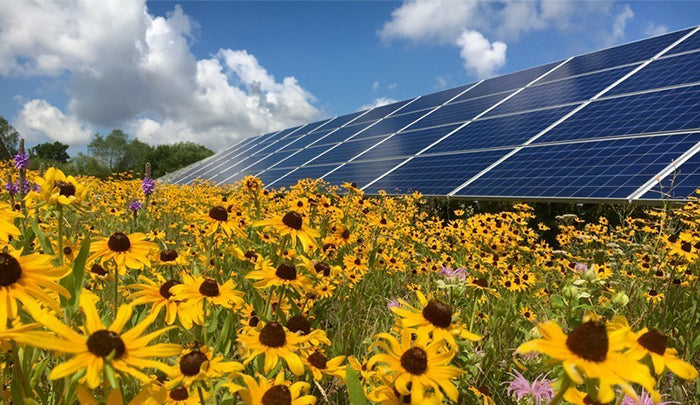 At Once Upon a Farm, we're committed to doing all we can to keep our planet green and to pass on a happier, healthier world for the next generation. As a B Corp, we're using our business as a force for good and meet the highest standards of overall social and environmental performance, transparency and accountability.

We take our sustainability efforts seriously, which is why we are working to innovate and improve our packaging while seeking out materials that preserve the safety, integrity, and quality of our products and to reduce our carbon footprint wherever we can.
Recyclability
The recyclability of our pouches is something we are very aware of and are working hard to improve. When crafting food for your little ones, food quality and safety are of utmost importance. In order to maintain these high standards, we need to use plastic films with several layers of materials - which keep our pouches air, water, and puncture-proof.
Unfortunately this type of plastic is not accepted by recycling plants, and is not compostable. This is the biggest issue we face today - along with hundreds of other companies. We have our roadmap set on a mono-material pouch, and are working closely with our packaging suppliers and other companies to bring that vision to life as soon as possible.
Industry-wide problems such as this will only be solved when companies work together - that's why we are committed members of packaging roundtables such as the One Step Closer (OSC) Packaging Collaborative who champion open source work on this issue.
Our Baby Food Bowls are 100% curbside recyclable. Simply rinse the bowl and toss in your curbside recycling bin! In addition, all of our shipping boxes and liners are made from materials that are fully recyclable. Just toss them in your curbside recycling bin or bring them to your local recycling facility.
Our multi-colored pouch caps make for wonderful arts and crafts projects and activities! Check out our
Pinterest page
for more inspiration and tag us on social to share your CAPtivating DIY projects!
Our Footprint
At the beginning of 2021, we made an important step towards decreasing our footprint - we have invested in renewable energy! All of our products are now made with renewable energy through the use of renewable energy certificates (RECs). For transparency and accountability, we are also third-party certified by
Green-e
and the Center for Resource Solutions.
The renewable energy projects we have invested in are all low-impact and many are owned/operated by small, local co-ops, provide vocational training and clean job creation, and promote co-benefits such as pollinator habitat development.
In addition, the materials and processes that we use in our packaging require less energy to produce than the typical glass jar, which allows us to reduce the size of our carbon footprint. Our pouches take up less storage space than glass jars, which means fewer trucks on the road to deliver our products.
With fewer trucks on the road using less fuel, we are able to reduce the number of greenhouse gasses released from our deliveries by cutting down the amount of storage space necessary in each truck.
Our goal is to leave this earth better for generations to come, and we are working to achieve that goal with our delicious, nutritious food and our continued efforts to improve our product packaging.
If you have specific questions or concerns, please reach out to care@uponafarm.com.