Baby
Now at Whole Foods: Once Upon a Farm Organic Baby Food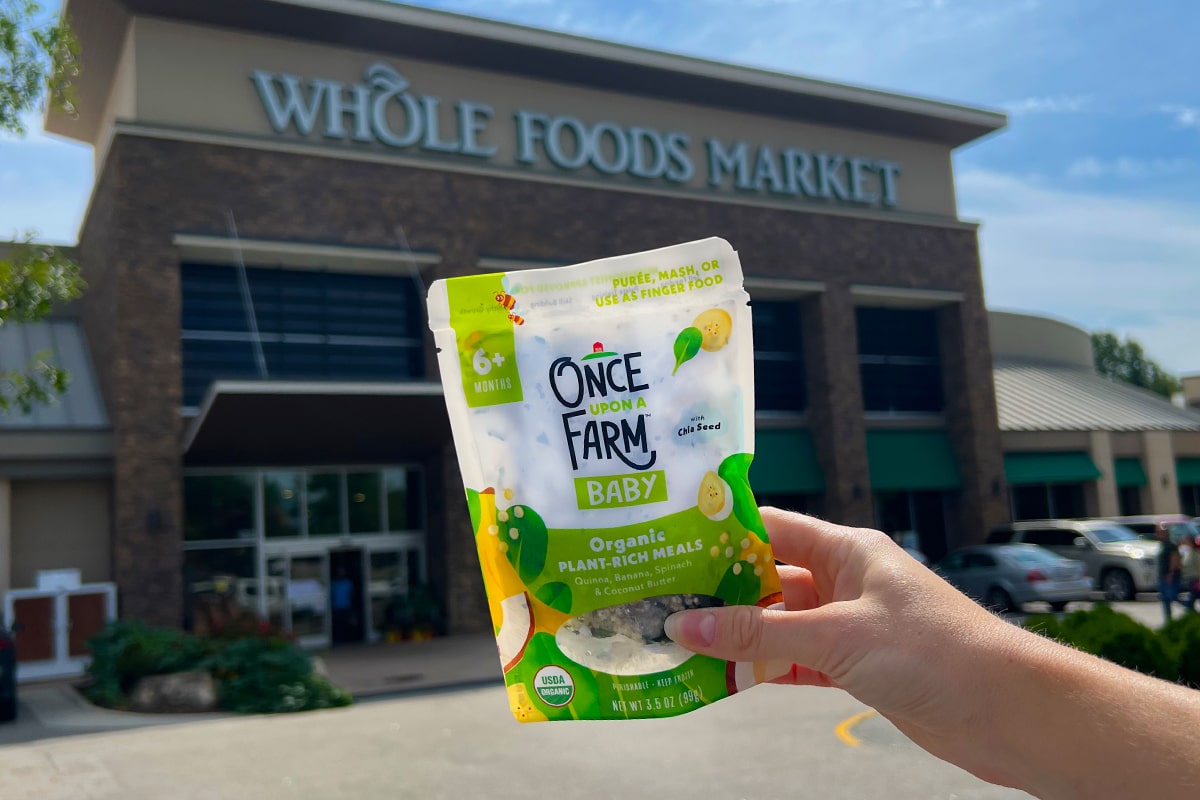 Whole Foods shoppers—we've got good news for you! You might already be used to seeing Once Upon a Farm in the refrigerated section, but now there's another place to look. Head to the freezers to discover our new organic, plant-rich baby food at Whole Foods Market stores nationwide.
About Our Organic Baby Food: Frozen Plant-Rich Meals
We took the guesswork and the prepwork out of the equation with ready-to-cook organic baby food. Our Plant-Rich Meals are loaded with veggies, fruit, grains, & legumes and paired with baby-friendly herbs & spices to help expand your baby's palate and build a confident eater.
Freshly frozen to lock in nutrients and flavors, our meals are ready in minutes. Just cook (stovetop or microwave), then purée, mash, or serve as finger food to support your baby's self-feeding journey. Choose from 15 varieties (and counting) to introduce new flavors, textures, and combos to your budding foodie.
Find Our Baby Food at Your Local Whole Foods Market
You can find a select assortment of our most-loved Plant-Rich Meals in the frozen section of your local Whole Foods Market. Look for us near the frozen veggies or the dedicated kid's section.
Meals may vary by location and availability, but currently include:
Black Bean, Red Pepper, Sweet Potato & Cilantro
Broccoli, Pea & Navy Bean
Sweet Potato, Mango & Coconut Milk
Mango, Carrot, Navy Bean & Coconut Butter
Quinoa, Banana, Spinach & Coconut Butter
Meals Subscription: Convenience + Variety
Want more variety, to stock up, or simply prefer the convenience of delivery? Build a custom meals subscription on our site. Choose from a 16-count or 24-count box, pick your meals, and select a delivery frequency (shipments every 1–5 weeks). You can adjust your box, pause, or cancel at any time.
Psst: Looking for a ready-to-serve baby food option at Whole Foods?
Our Fruit & Veggie Blends are suitable for 6+ months as well. Find them in the refrigerated section near the kids' yogurt. Flavors will vary based on store/location/availability, but may include:
Green Kale & Apples
OhMyMega Veggie!
Wild Rumpus Avocado
Mama Blueberry
Also at Whole Foods: Cold-Pressed Pouches for Toddlers & Older Kids
Once Upon a Farm has fresh snacking options for kids of all ages—from first bites to school lunches. Our other options are recommended for ages 12+ months, as these blends contain more complex flavors/textures. Of course, it's up to you and your child's pediatrician to determine what's best for your little one. Flavors will vary based on store/location/availability, but may include:
Apple, Cherry & Elderberry Immunity Blend
Mango, Banana & Spirulina Immunity Blend
Pineapple, Banana & Dragon Fruit Immunity Blend
Strawberry Banana Swirl Dairy-Free Smoothie
Berry Berry Dairy-Free Smoothie
Apple & Cinnamon Overnight Oats
Blueberry Overnight Oats
Pear-y Blueberry & Spinach Smart Blend