Kid
Introducing Our NEW Dairy-Free Coconut Milk Yogurt Alternative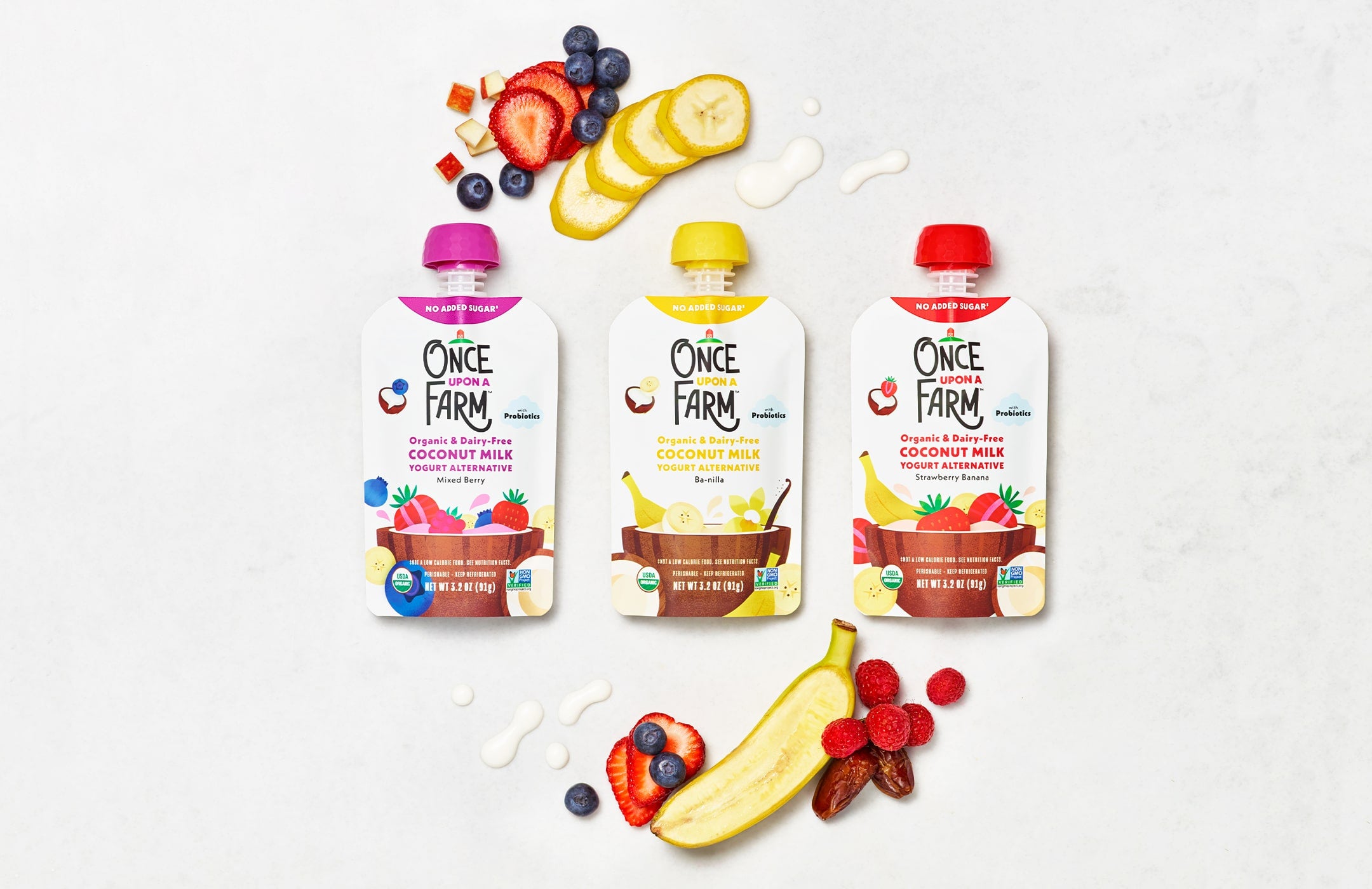 Fresh from the Farm, there's a new and exciting product coming to a grocery store near you. Launching exclusively at Sprouts starting July 3, our organic, dairy-free Coconut Milk Yogurt Alternative pouches will hit the sweetest spot for your growing kiddos—but don't worry, no added sugar!‡
"Finally, our pure, probiotic, creamy coconut yogurts are here! With only simple ingredients, no added sugar, no natural flavors, and full of fruits, our cold-pressed, dairy-free coconut yogurt will satisfy your family's tummies and taste buds."
—Cassandra Curtis, Once Upon a Farm Co-founder & Chief Innovation Officer
While you've likely seen yogurt alternatives on your local grocery shelves (you might even have some in your fridge), our dairy-free yogurt alternative pouches have been specially formulated with your little one's unique nutritional needs in mind. That's because, like all our products, these are sweetened only with real fruit. Plus, they have added prebiotics and probiotics.
As microbiome expert Suzanne Devkota, PhD says, "The [Dairy-Free Coconut Milk Yogurt Alternative] supports the developing gut through its combination of pre- and probiotics. In particular, the agave inulin contained in the product is an innovative pre-biotic that research has shown to increase abundance of typically beneficial bacteria and suppression of potentially problematic bacteria."
Good for the growing body and oh-so tasty, the product comes in three delicious flavors: Ba-nilla, Strawberry Banana, and Mixed Berry—each with a velvety, whipped-like texture. Whether you've got a little one with a dairy-sensitive stomach, or just a yogurt lover looking for something new, nutritious, and delicious, these products are sure to delight! Find us at all Sprouts stores across the US, starting July 3.
NEW: Two flavors of our Coconut Milk Yogurt Alternative pouches (Strawberry Banana and Ba-nilla) are now available on our site! Add to your subscription, purchase individually, or order a variety pack with both flavors.
‡Not a low calorie food.