Recipes
Recipe: Mango & Carrot Veggie Burgers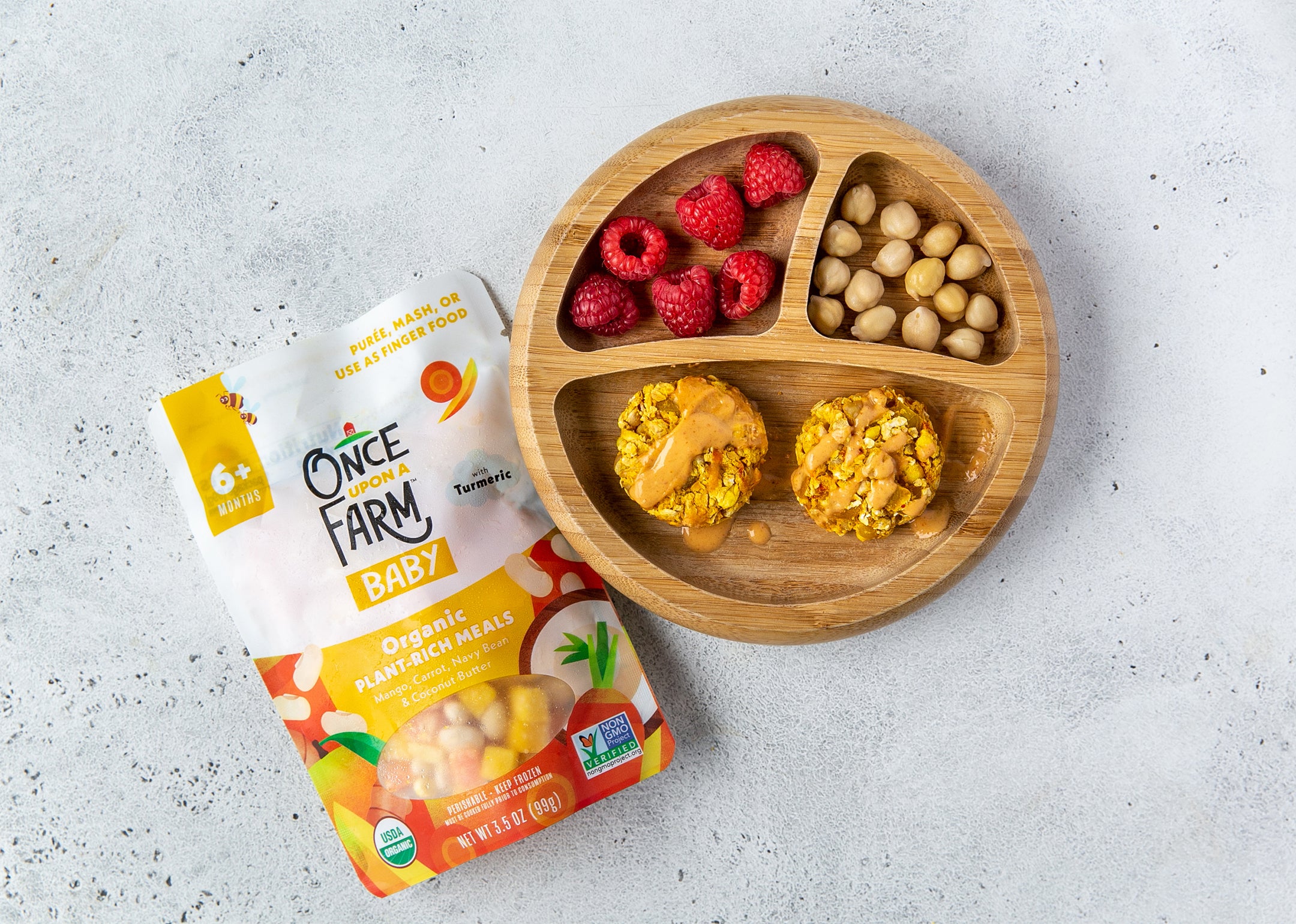 Say hello to veggie burger patties—with a twist. Developed by Ashley Walterhouse of Fit Mitten Kitchen using our Plant-Rich Meals, these fruit & veggie patties are sure to be a household fave this summer!
A little sweet, a little savory, a whole lot delicious. Serve these on their own or on a bun/roll with your choice of toppings. And don't forget the quick cashew curry sauce! Feel free to substitute your choice of nut/seed butter for the sauce.
Easy, Plant-Rich Burger Patties
Ingredients:
Veggie Patties:
1 Once Upon a Farm Mango, Carrot, Navy Bean & Coconut Butter Meal
½ cup canned chickpeas, drained and rinsed
½ teaspoon Thai red curry paste
1.5 tablespoons quick oats
Quick Cashew Curry Sauce:
1 tablespoon cashew butter
½ tablespoon lime juice
½ teaspoon Thai red curry paste
Directions:
Cook Meal according to package instructions, then transfer to heat-safe medium bowl and place in fridge for 25 minutes.
Preheat oven to 350ºF and line a small baking sheet with parchment paper; set aside.
Once Meal is cool, add ½ cup chickpeas and red curry paste; mash with potato masher to create a sticky mixture. Make sure chickpeas are mashed well and no whole ones remain.
Add in quick oats and stir until evenly combined.
Take about 2 tablespoons of mixture (you can use a medium cookie scoop for ease) and shape into small patties, about ½" in thickness and 2" in diameter. You should get 4-5 patties.
Place on lined baking sheet and bake for 18 minutes.
Allow patties to cool completely before serving. You may need to cut into smaller pieces for babies/toddlers for safe eating.
Serve with quick curry sauce, if you'd like (simply stir to combine ingredients).