Lifestyle
10 Great Children's Books Written by Women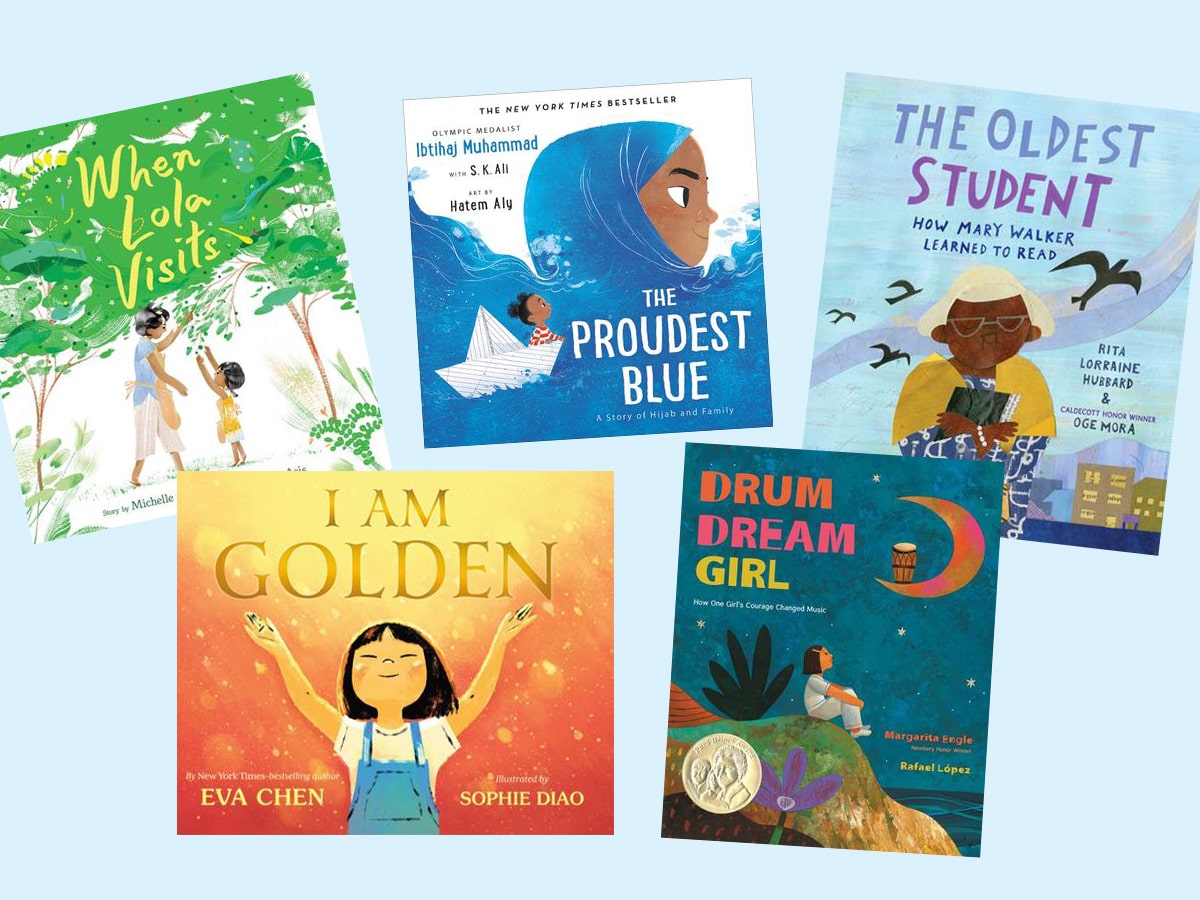 To help us celebrate Women's History Month and our love of reading with our families, we tapped Brooklyn-based indie bookstore Books Are Magic for a little creative inspiration.
"Here are 10 children's books to celebrate women!" says Kristina Rivero, Children's Specialist at Books Are Magic. "Whether they are about famous trailblazers, or the mothers and sisters that shaped the women we became, these stories will empower and inspire your children to dream without limit."
Learn more about each of these intentionally chosen books below.
All links lead to the Books Are Magic website for more details & online ordering.
By Eva Chen
This joyful and lyrical picture book from New York Times bestselling author Eva Chen and illustrator Sophie Diao is a moving ode to the immigrant experience, as well as a manifesto of self-love for Chinese American children.
What do you see when you look in the mirror, Mei? Do you see beauty?
We see eyes that point toward the sun, that give us the warmth and joy of a thousand rays when you smile. We see hair as inky black and smooth as a peaceful night sky. We see skin brushed with gold.
Book cover image & description by Feiwel & Friends.
By Rita Lorraine Hubbard
In 1848, Mary Walker was born into slavery. At age 15, she was freed, and by age 20, she was married and had her first child. By age 68, she had worked numerous jobs, including cooking, cleaning, babysitting, and selling sandwiches to raise money for her church. At 114, she was the last remaining member of her family. And at 116, she learned to read. From Rita Lorraine Hubbard and rising star Oge More comes the inspirational story of Mary Walker, a woman whose long life spanned from the Civil War to the Civil Rights Movement, and who—with perseverance and dedication—proved that you're never too old to learn.
Book cover image & description by Random House Children's Books.
By Ibtihaj Muhammad
With her new backpack and light-up shoes, Faizah knows the first day of school is going to be special. It's the start of a brand new year and, best of all, it's her older sister Asiya's first day of hijab--a hijab of beautiful blue fabric, like the ocean waving to the sky. But not everyone sees hijab as beautiful, and in the face of hurtful, confusing words, Faizah will find new ways to be strong.

Paired with Hatem Aly's beautiful, whimsical art, Olympic medalist Ibtihaj Muhammad and Morris Award finalist S.K. Ali bring readers an uplifting, universal story of new experiences, the unbreakable bond between siblings, and of being proud of who you are.
Book cover image & description by Little, Brown Books for Young Readers.
By Grace Byers
This gorgeous, lyrical ode to loving who you are, respecting others, and being kind to one another comes from Empire actor and activist Grace Byers and talented newcomer artist Keturah A. Bobo.

We are all here for a purpose. We are more than enough. We just need to believe it.
Book cover image & description by HarperCollins.


By Susan Hood
Fresh, accessible, and inspiring, Shaking Things Up introduces fourteen revolutionary young women—each paired with a noteworthy female artist—to the next generation of activists, trailblazers, and rabble-rousers.

From the award-winning author of Ada's Violin and Lifeboat 12, Susan Hood, this is a poetic and visual celebration of persistent women throughout history.
Book cover image & description by HarperCollins.


By Anika Aldamuy Denise
An inspiring picture book biography of storyteller, puppeteer, and New York City's first Puerto Rican librarian, who championed bilingual literature.

When she came to America in 1921, Pura Belpré carried the cuentos folklóricos of her Puerto Rican homeland. Finding a new home at the New York Public Library as a bilingual assistant, she turned her popular retellings into libros and spread story seeds across the land. Today, these seeds have grown into a lush landscape as generations of children and storytellers continue to share her tales and celebrate Pura's legacy.
Book cover image & description by HarperCollins.


By Margarita Engle
Girls cannot be drummers. Long ago on an island filled with music, no one questioned that rule—until the drum dream girl. In her city of drumbeats, she dreamed of pounding tall congas and tapping small bongós. She had to keep quiet. She had to practice in secret. But when at last her dream-bright music was heard, everyone sang and danced and decided that both girls and boys should be free to drum and dream.
Inspired by the childhood of Millo Castro Zaldarriaga, a Chinese-African-Cuban girl who broke Cuba's traditional taboo against female drummers, Drum Dream Girl tells an inspiring true story for dreamers everywhere.
Book cover image & description by Houghton Mifflin Harcourt.


By Roda Ahmed
When Little Mae was a child, she dreamed of dancing in space. She imagined herself surrounded by billions of stars, floating, gliding, and discovering.

She wanted to be an astronaut.

Her mom told her, "If you believe it, and work hard for it, anything is possible."

Little Mae's curiosity, intelligence, and determination, matched with her parents' encouraging words, paved the way for her incredible success at NASA as the first African American woman to travel in space.

This book will inspire other young girls to reach for the stars, to aspire for the impossible, and to persist with childlike imagination.
Book cover image & description by HarperCollins.


By Michelle Sterling
For one young girl, summer is the season of no school, of days spent at the pool, and of picking golden limes off the trees. But summer doesn't start until her lola—her grandmother from the Philippines—comes for her annual visit.

Summer is special. For her lola fills the house with the aroma of mango jam, funny stories of baking mishaps, and her quiet sweet singing in Tagalog. And in turn, her granddaughter brings Lola to the beach, to view fireworks at the park, and to catch fish at their lake.

When Lola visits, the whole family gathers to cook and eat and share in their happiness of another season spent together. Yet as summer transitions to fall, her lola must return home—but not without a surprise for her granddaughter to preserve their special summer a bit longer.
Book cover image & description by HarperCollins.


By Aura Lewis
Using gorgeous watercolor illustrations, this biography of Gloria Steinem introduces young readers to the leader of the women's liberation movement. Following her from childhood through her political awakening and beyond, Gloria's Voice explains Steinem's motivations and beliefs, as well as the obstacles she faced in fighting for women's rights. Throughout, debut author and artist Aura Lewis highlights Gloria's message of equality and the importance of believing in oneself. Every young person—but especially girls—will find inspiration in Gloria's journey and this timely biography.

Book cover image & description by Union Square Kids.