Lifestyle
10 O'Farm Parents Share Words of Encouragement for the First Day of School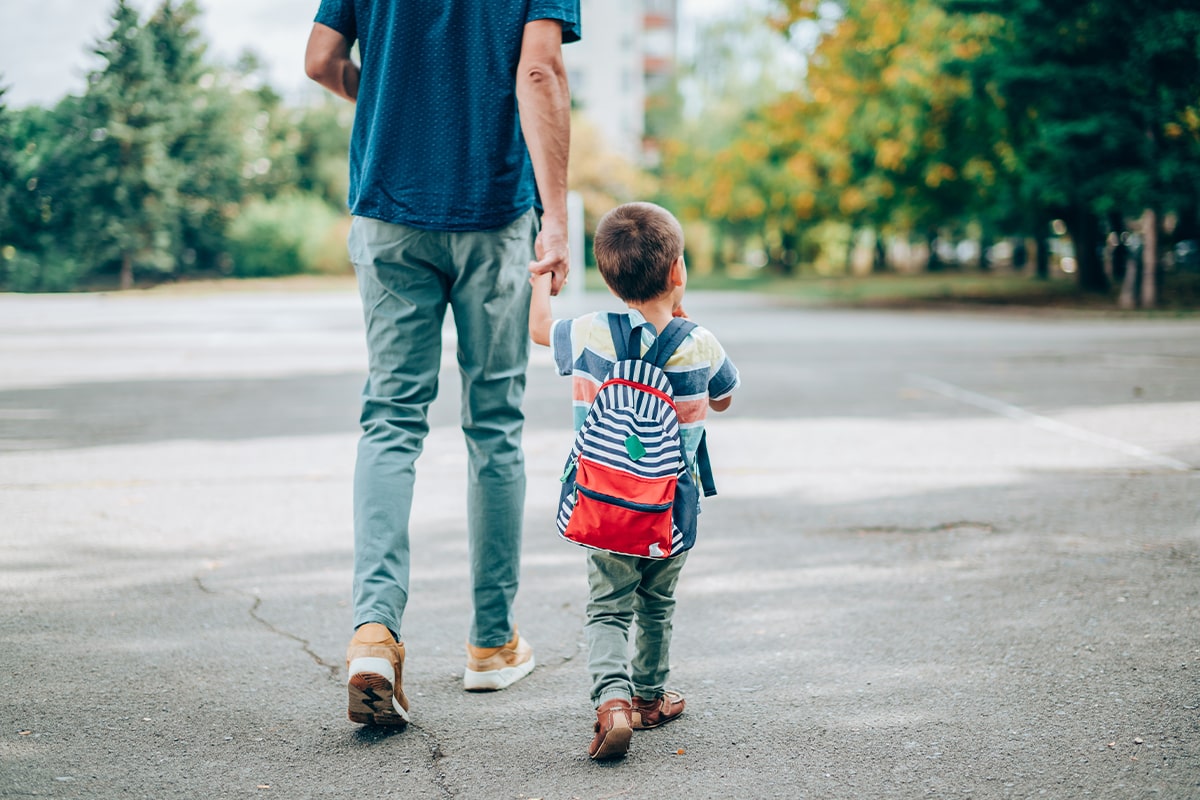 Starting school is a big deal for everyone involved. Your kids are gearing up for so many new experiences: challenges, opportunities, and—most importantly—tons of fun ahead as they embark upon this new journey.
But let's not forget that this can be both an exciting and nerve-racking time for parents and caregivers, too! If you're preparing to send your little one to daycare or school for the first time—whether this is your first child or your fourth—a little reassurance can't hurt.
And so we asked parents who have been in your shoes to share some words of encouragement about this season. See what they had to say below. And from all of us at O'Farm—we're sending you love, strength, and well wishes! 
1. Stay easy and calm—and have fun!
"I was given some great advice when my kids were little that really helped with first day jitters: kids can feel a little out of control with so much attention on the first—keep it simple, mama. Give them control where you can with a couple of options: Would you like pancakes or waffles? Would you like the park when I pick you up, or ice cream—or both!

And of course, have a little fun—a note in the lunch box is great, but a face drawn on the banana is even more fun! (I put googly eyes on an apple once but they had to be fished out of my daughters mouth by the teacher, so you can go too far 😬😂)."
—Jen Garner
Co-founder & Chief Brand Officer
2. Seek out community.
"Plan a get together (walk, coffee, or even just a text thread) with friends in the same boat that morning. I always found it nice to speak to other moms going through similar situations (make sure you surround yourself with those keeping it positive!)."
—Katie Marston
Chief Marketing Officer
3. Take it all in.
"Take that extra moment for one last glance to take it all in, let that tear drop, then walk with your head held high, knowing how well prepared they are for this moment. Because I promise you, before you know it, you'll take that extra moment again one last time...their graduation. And you'll remember AND cherish this very moment. xxx"
—Lee Hill
Consumer Relations Manager
4. Celebrate the milestones!
"Sending your baby or toddler to daycare/preschool can be scary but also so exciting. My now social butterfly 3.5-year-old was described as 'reserved' by his teachers for the first few months of preschool, but watching him come out of his shell at school and make his first friend on his own has been one of my favorite moments as a parent."
—Kim Pia
Senior Digital Marketing Manager
5. Ease into it.
"Plan for a few transition days with your daycare—this doesn't have to be like ripping off a band-aid. Day 1, spend an hour with your child in the room and bring them back home. Days 2 & 3, drop them off for an hour, go get coffee or do something comforting for self-care. Day 4, lean into full day, give lots of hugs and kisses and take deep breaths knowing you're doing your best!
Taking baby steps into your new chapter vs. feeling like you have to go 'all in' can provide some calm and ease during emotional times! Oh, and take a daily photo at drop-off! I love looking back on this for comfort throughout the day, and you build a fun progression timeline, to boot!"
—Amy Dreger
Director of Sales
6. Treat yourself.
"Plan to treat yourself to coffee, tea, breakfast, smoothie (whatever you fancy!) after that first-day morning drop-off. You did it! 😊"
—Jane Ablaza
MarCom & Brand Partnerships Manager
7. Recognize your accomplishment.
"It's an amazing morning. It's one of those milestone like seeing your kid sit up, walk, and speak. So much focus in on making the first day special for your kid, but it's also important to realize you, the parents, have helped bring that special person to this moment. It's a celebration for you both, so take time to treat yourself and enjoy every moment."
—Elliott Mason
Senior Director of Sales
8. Try to relax.
"Take a deep breath, and try to relax. It's so hard to leave your babies, but just remember that they'll have fun, will get to learn/socialize, and will be so excited to see you at the end of the day!"
—Brandy English
Brand Ambassador
9. Embrace the discomfort.
"Magic happens outside of your comfort zone!"
—Rachel Marrero
Brand Ambassador
10. Be patient.
"Breathe! Their new structures and routines will settle and they will thrive!"
—Jenni McCulloch
Brand Ambassador