Recipes
Pumpkin Oatmeal Blondie Bars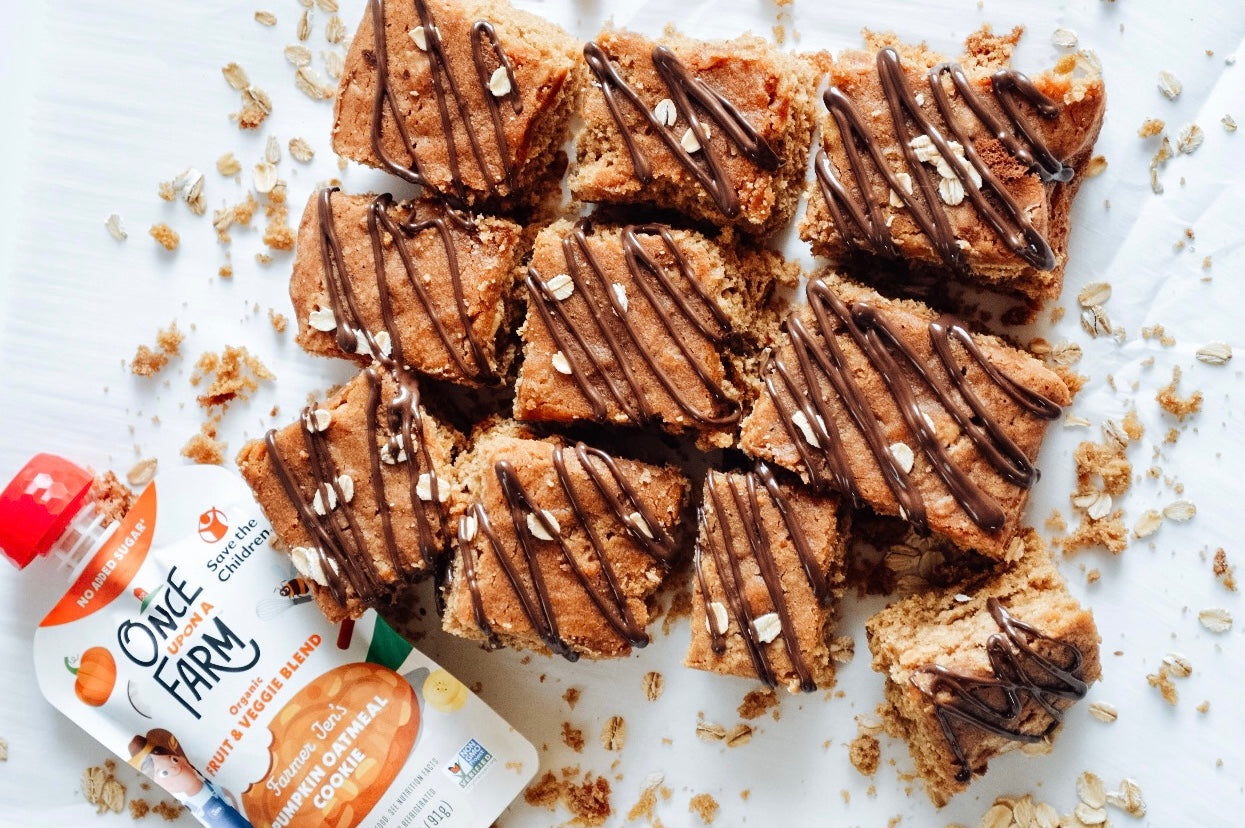 We all know that pumpkin brings the fall spirit! With yummy chocolate and a delicious hint of pumpkin spice in every bite, these festive blondie bars are the perfect fall treat for your entire family. 
Yummy Pumpkin Oatmeal Blondies
Ingredients:
2 1/3 cups all-purpose flour
2 teaspoons ground cinnamon
1/4 teaspoon ground ginger
1/4 teaspoon ground nutmeg
1/8 teaspoon ground cloves
1 teaspoon baking soda
Pinch of salt
2 sticks unsalted butter, room temperature
3/4 cup granulated sugar
3/4 cup brown sugar
1 large egg
2 teaspoons vanilla extract
1/3 cup of rolled oats
Dark chocolate melting wafers or chocolate chips (optional, but highly recommended)
Directions:
Preheat oven to 350 degrees. Line a 9 x 13 inch baking pan with parchment paper, including enough to hang over all sides.
In a bowl, mix together flour, cinnamon, ginger, nutmeg, cloves, baking soda, and salt.
In a separate bowl or standing mixer, cream butter and sugars until smooth. Add egg and vanilla and mix. Add the Once Upon a Farm pouches and mix until combined. Note - Your mixture will look chunky until dry ingredients are added.
Mix in dry ingredients gradually until just combined. Fold in rolled oats.
Spread batter in pan and sprinkle a small amount of oats on top. Bake for 35 minutes until golden brown or a toothpick inserted in the center comes out clean.
After the bars have cooled, drizzle with melted chocolate. 
Recipe by Ashlee from @the_babblingbaker and @sugar.shocked.cakehouse, a self-taught baker making simple recipes and custom cakes and cupcakes with one-of-a-kind flavor profiles.