Lifestyle
Mother's Day Gift Guide: 10 Gifts Moms Really Want (According to the Moms of O'Farm)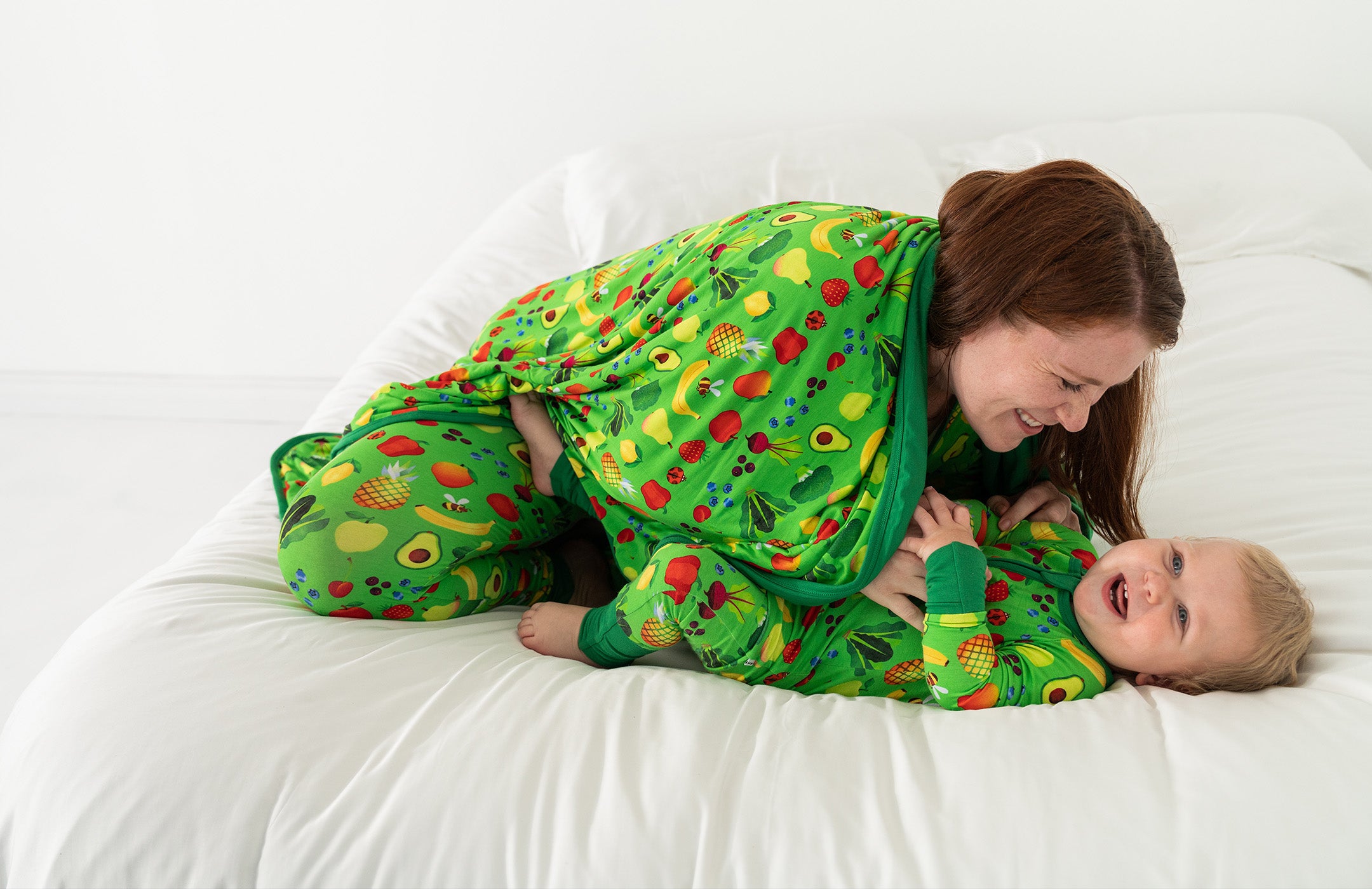 Looking for a Mother's Day gift for a mom in your life? Let's see what moms really want. We asked the moms of Once Upon a Farm to share their top gift picks—including products they use and love and things on their own personal wish lists.
1. Ember Mug
For the coffee, tea, or hot beverage-loving mom, this smart mug is a game changer. With a built-in battery and smart LED sensor, this mug keeps your beverage at your chosen temperature for up to 1.5 hours (or all day, when placed on the charging coaster).
O'Farm mom on why it makes a great gift:
"HOT COFFEEEEEE!!! I never get to enjoy my coffee until it's room temp or freezing."
—Quinn Burns, Account Manager
2. Anything from Valleybrink Road
 Image via Valleybrink Road
A gift basket filled with thoughtful items that moms will use and love? Perfect. Choose from spa day sets, bundles for new moms (Nipple balm for breastfeeding moms? Much appreciated!), boxes of decadent sweets, and more.
O'Farm mom on why it makes a great gift:
"Breathtaking hand-curated deliveries from an amazing momma-owned company. She literally picks everything out herself, hand packs all boxes, and shares so many positive tips on her social about navigating a working-mom life."
—Melissa Ninegar, Sr. Director, People and Culture

3. Limited-Edition Mama Meal Kit
 Image via A Dozen Cousins
A Dozen Cousins, Golde, and Partake came together to create a kit of snacks, meal starters, and morning "pick me ups" to help nourish moms and their families. All proceeds from the kit go to Kindred Space LA, an LA-based black-owned birthing center, to help nourish even more moms. And The HoneyPot Co. is matching all donations!
O'Farm mom on why it makes a great gift:
"I love this yummy bundle of my favorite brands! Plus, all proceeds nourish new moms as they start this new phase in parenthood."
—Jane Ablaza, Sr. Manager, MarComm and Partnerships
4. Lovebox Love Note Messenger
This heartfelt communication device lets you send photos, love notes,
drawings, or stickers to the Lovebox to let your loved one know you're thinking of them. Great for parents to send messages to their kids while they're away—or vice versa!
O'Farm mom on why it makes a great gift:
"For a working mom who has to travel, a Lovebox to send special messages home to her little ones, and a little photo album to carry with her."
—Jen Garner, Co-founder & Chief Brand Officer
5. Theragun Mini 
We all get our share of knots, aches, and pains—whether from everyday activities, workouts, or the occasional injury (anyone else somehow hurt themselves while sleeping?). For targeted relief, this portable massage tool is perfect for home or on the go!
O'Farm mom on why it makes a great gift:
"For those tired shoulders, hips, and back. This is the only massager that targets my knots and loosens them for pain-free days. Family Tip: It's small enough for the kids to hold it and help out!… and not going to lie, but my husband uses it as much as I do."
—Katie Marston, Chief Marketing Officer
6. Book Beau Book Sleeves
Know a mom who's always reading? Give her a way to safely bring books on the go with her. These fun water-resistant sleeves help protect books from damage while in a backpack or purse. Psst: It works great for e-readers and tablets, too!
O'Farm mom on why it makes a great gift:
"For any mom who loves to read or carry a book with her. I know my mom will love to protect her book in a fun soft cover when on the go."
—Cheryl VanValkenburgh, Vice President & Chief Customer Officer
7. Heated Neck & Shoulder Wrap
It's great when you can find time to fully relax and zone out (this wrap makes those moments even better), but sometimes, you just can't find the time to completely unwind during the day. Easy to use and wear, this heated wrap helps make any moment (even work!) a little more enjoyable.
O'Farm mom on why it makes a great gift:
"Feeling pampered doesn't have to take a lot of effort. This neck & shoulder wrap feels and smells amazing, it heats up quickly and you can wear it anywhere—in bed, at your desk, driving to and from daycare!" 
—Amy Dreger, Sales Director
8. Caraa Baby Diaper Bag
Diaper bags are a necessity, but they aren't always the most aesthetically appealing bags to carry around. We love a diaper bag that doesn't feel/look like a diaper bag—but functions just as great and stores just as much. Practicality can still be stylish!
O'Farm mom on why it makes a great gift:
"Having a baby comes with literal baggage but now there are so many options that feel less like a diaper bag and more organized/trendy/chic! Having a diaper bag that I actually enjoy using, rather than schlepping around, makes me feel more like me!"
—Kimberly Pia, Sr. Manager, Shopper Marketing
9. Soft Jammies
Don't quote us on this, but the comfier your pajamas are, the better you'll sleep (or so we can hope!). Our Sr. Director of Sales, Kristin O'Connell loves Ebejery for luxe pajamas you'll feel and look great in. And Little Sleepies is another O'Farm mom fave—especially our Limited-Edition Once Upon a Farm collab!
O'Farm mom on why it makes a great gift:
"After becoming a mom, I now understand why my mom always had "nice, soft pajamas" on her gift list. It's a perennial favorite, and when you roll out of bed feeling like your house is pure chaos, at least you've got some cute, comfy pjs on."
—Kristin O'Connell, Sr. Director of Sales

10. A Spa Day
Give mom a gift card to her local day spa—or, better yet, find out when she can be available (aka when can you watch the kids?) and book a treatment or two for her. The fewer steps between her and ultimate relaxation, the better!
O'Farm mom on why it makes a great gift:
"No cell phones allowed, no responsibility and complete relaxation."
—Gina Hatcher, Materials Analyst