Kid-Friendly Vegan Veggie Pasta Sauce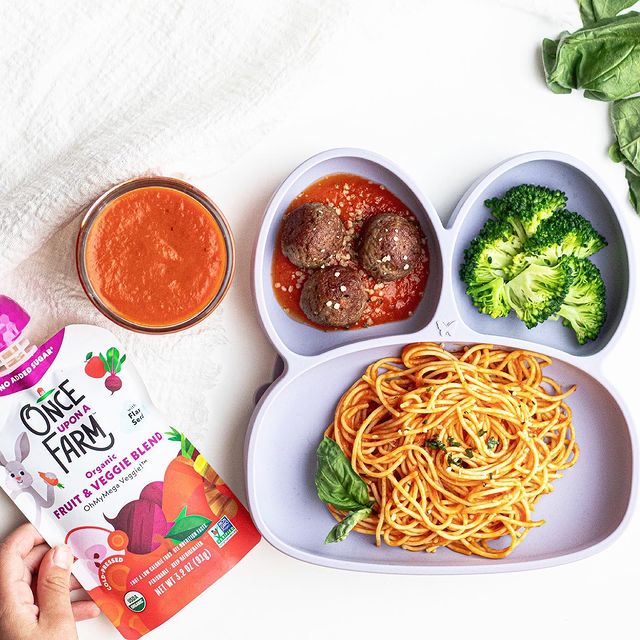 If your kids are picky about pasta sauce, then this recipe is for you! Quick, easy, and full of extra nutrients like B12 from nutritional yeast and hidden veggies from our OhMyMega Veggie! pouch.
Nutrient-Rich Pasta Sauce for Kids
Kid-friendly, vegan, creamy and full of veggies — you really can't go wrong.  This pasta sauce recipe makes for an easy weeknight dinner for busy families with hungry kiddos.
Ingredients:
2 tbsp. avocado oil

½ medium onion, minced

2 tsp. garlic, minced

1 - 15 oz. can tomato sauce

1 tsp. italian seasoning

2 tbsp. nutritional yeast

1 -

Once Upon a Farm OhMyMega Veggie!

pouch

½ cup water

¼ cup canned coconut milk, unsweetened

salt and pepper to taste
Directions:
In a large skillet, heat oil over medium heat. Stir in minced onions and cook for 5 minutes, until soft. Add in garlic and let cook for an additional minute.

Pour in tomato sauce and water, then season with italian seasoning, and nutritional yeast.

Reduce heat and let sauce simmer on low for 10 minutes, stir occasionally. Stir in coconut milk and let simmer for an additional 10 minutes.

Add sauce into a high speed blender and cover making sure to vent to allow heat to escape. Blend until smooth.

Pour into a medium bowl, salt and pepper to taste.

Top their favorite pasta, use for pizza sauce, or garlic bread for dipping.
If your kids are old enough, try to get them to help you make it. Engaging them in the process will make them even more excited to eat it! 
Recipe by The Plant Powered Parents — a plant-based family from Arizona who creates fun and flavorful recipes because eating vegan doesn't have to be boring!