Baby
Baby's First Foods: 5 Tips for Starting Solids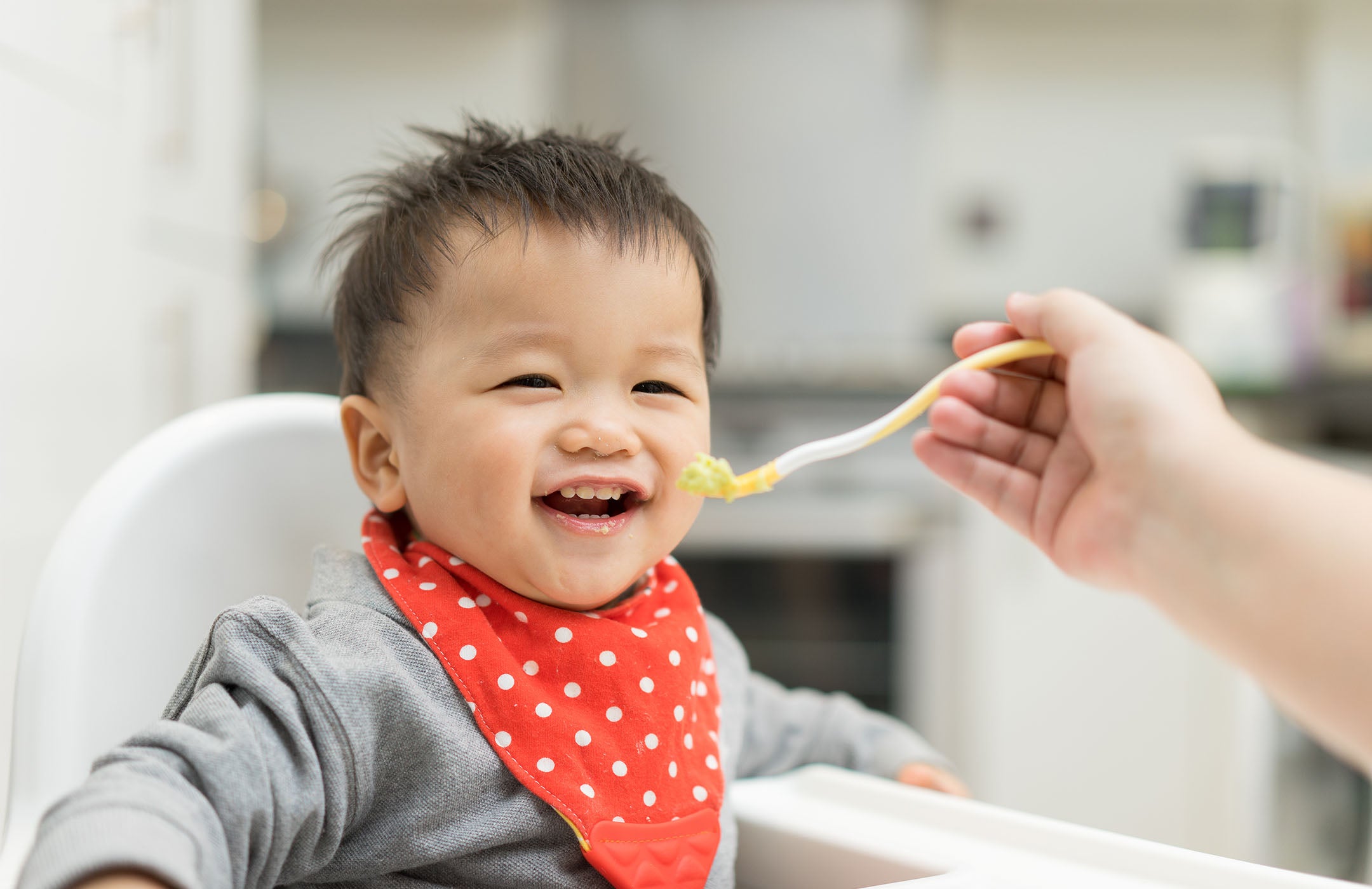 When it comes to babies, optimal nutrition is essential to ensure growth, health, and development. Introducing your little one to solid foods not only helps them develop a relationship with food, it shapes their preferences and turns them into a long-term healthy food lover! Before you get started, consider these helpful tips for introducing your baby to their first solid foods.
5 Tips for Feeding Your Baby Their First Foods
1. Strike a (nutritional) balance
Mashing a banana may be easy, but babies need the right balance of calories, protein, and fat. Meal prep can be a tricky balance, but a good rule of thumb is to mix easily digestible protein, fat, vegetables, and grains. 
2. Go bold, not bland
What your baby eats in the first few years of life creates a blueprint for what they will want to eat in the future, so don't hold back on the ingredients you offer them. The old advice of feeding kids one food at a time, or bland foods, is outdated. In 2008, the American Academy of Pediatrics flipped their stance to say introducing potentially allergy-inducing foods (yes, that goes for nuts, too) early on may ward off food allergies later on. Babies with a family history of food allergies need a little extra precaution. Exposing your baby to every flavorful herb, spice, and food you can from their first days can help them develop a lifelong palate for it.
Great First Foods for Baby
3. Make food functional
Breastmilk and formula are still the primary sources of nutrition for the first year, and baby food plays a complementary but essential role in filling the gaps. Baby food is where functional foods, like the phytonutrients from colorful fruits and vegetables, can add an extra protective layer to a baby's diet. Because babies eat such a small amount, every bite counts!
4. Watch the baby, not the clock
The World Health Organization recommends starting a baby on solids no earlier than six months. Regardless of age, be sure to look for signs of readiness.
Keeps the neck up and sits up without support.
Loss of the tongue-thrust reflex or pushing foods out with tongue. The mouth and tongue develop in sync with the digestive system, so once their tongues are ready, their bellies are too!
Baby is ready to chew!
Expressing interest in solids by turning towards the spoon and grabbing food with their hands.
5. Be patient
It takes babies, on average, 10-15 tries to warm up to a new flavor. Given that statistic, all the hard work and effort you put into creating the perfect superfood meal may be met with a head turn or a funny face. Just a small taste is all they need to develop their palates to a new food, and with a little repetition, they'll be loving it in no time!