Baby
Homemade Teething Biscuits & Frozen Yogurt Bark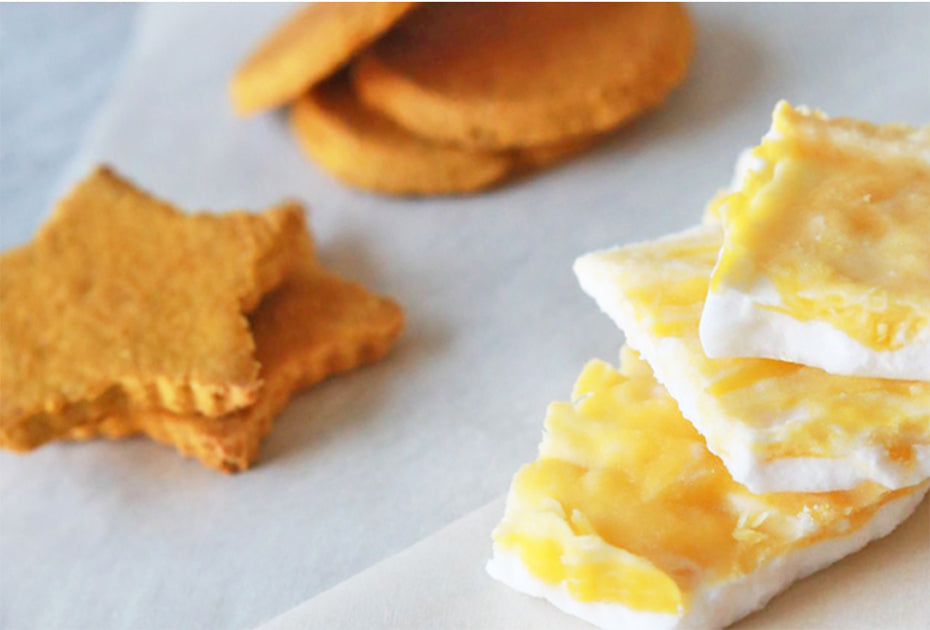 If you're the parent of a teething little one, these baby teething biscuits and frozen yogurt bites will be your new best friend. Trust us, they'll make your baby's teething experience much easier and in turn make your experience better too! 
Simple Baby Teething Biscuits
Ingredients:
2 cups of thick rolled oats
1 teaspoon of aluminum free baking powder
2 tablespoons of coconut oil

2 pouches of baby fruit & veggie blend 

Mango, Coconut & Carrot 
Directions:
In a food processor, combine the oats and baking powder. Blend together until a very fine oat flour forms.
Add coconut oil and two

Mango, Coconut & Carrot

pouches

. Blend until a dough forms (add up to 1 tbsp of water if needed to form a sticky dough). You can also use a stand mixer or mix by hand.

Form the dough into a ball. Divide the dough in half, and roll it out so it's about a 1/2 inch thick. Use cookie cutters to make 10-12 cookie shapes.
Place the shapes on a sheet of parchment paper on a sheet pan. Bake at 325 degrees for 1 hour (flip after 30 mins). Let cool and harden overnight.
Popular Blends for Teething Babies
Frozen Pineapple Coconut Yogurt Bark
Ingredients:
Directions:
Line a sheet pan with parchment paper.
Spread the yogurt on to the parchment paper.
Squeeze out both Once Upon a Farm pouches onto the yogurt. Swirl together with a butter knife.
Place the sheet pan with the mixture into the freezer for 5-6 hours.
Remove the yogurt bark from the freezer and break with a fork. Store in freezer until your baby is ready to eat a piece.
As with any food, please be sure to carefully monitor your baby while they enjoy the teething biscuits or frozen yogurt bark.