Education
Fridge and Pantry Organization Tips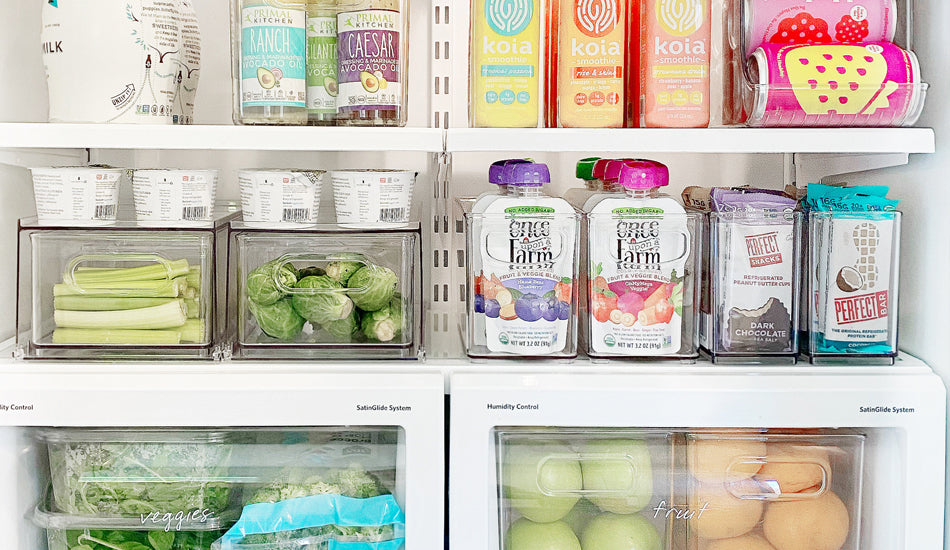 Fridge and Pantry Organization Tips from Holly Blakey of Breathing Room Organization. We all love the look of an organized fridge and pantry. Is there anything better than sorted snacks and ROYGBIV fruits and veggies? Actually, yes: Eliminating food waste. Billions of dollars of food go to waste every year. One way to do your part as an individual and as a family is to know what's in your fridge and pantry so that you're not overbuying, and only using what you need.
See, you can have your cookie canisters and eat them too! I'm here to give you simple steps and quick tips to tidy up your family's food areas so that you can have that visual satisfaction you're craving, while also helping keep your food-waste footprint low.
For both your fridge and pantry, here are my simple steps for instantly getting them in tip-top shape:
1. Take everything out!
Yes, everything. This is key for a few reasons:
You really see everything you have

You're able to clean each surface

It gives you a better sense of your space and how to utilize it better
While you're taking everything out, do yourself a favor and pre-sort it into categories such as all the condiments in one section, all the snack items in another section. This will help you when you start editing.
2. Edit
This is my favorite step because I love a good purge. Make sure you have a few compost bags, a recycling bin, and a bag for food donations. Since a big goal of organizing is to help prevent future food waste, you don't want to waste any during this step. Very little of your items need to be put in the trash, unless the container shows that it's not recyclable. To keep it simple, you'll get rid of all food that is:
Expired: empty the contents into the compost bin or disposal; rinse and recycle the containers.

You never use: If it's already open, follow the steps above; if unopened, donate to a local food bank or shelter.

You have way too much of: If you have 8 cans of garbanzo beans, or 3 bags of unopened chia seeds, it's time to part with all but one can or bag, and give the rest to a food bank. It's very likely they'll expire before you use them.
This is a good time to grab a piece of paper and take note of any holes in your inventory. Did your box of baking soda expire and you need more before the next impromptu baking session with your kiddos? 
3. Clean
Food areas get messy – leaky jars, half-opened chip bags, and spilled spices. You wouldn't want to put back all your newly edited items onto gloopy surfaces. So a good clean is key. If you want to avoid using harsh chemicals around food areas, white vinegar is a great alternative. And for tough surface stains, a Mr. Clean Magic Eraser usually does the trick.
4. Make a plan
Before you run to The Container Store or Target to buy new bins and containers, it's essential that you make a plan for how you'll be using both spaces in order to maximize functionality and space efficiency.
5. Organize & Label
This is the fun part for everyone! Now that you've done all the hard work and have shopped for any products you needed, you get to bring it all together! Here's a few tips for placing your items to help keep your space organized over the long haul:
Create zones such as "snack," "lunch items," "dinner starters," or "treats." You'll want to make it very clear to everyone where everything goes so that family members aren't creating a mess just to find the mac 'n cheese. Label bins and containers clearly. Use images for non-readers if needed.

Be strategic about where your zones go. Healthy snacks usually go low where anyone (even your 4 year old) can grab them without climbing to the top shelf. On the other hand treats, baking items, and mommy's snacks (it's okay, we all deserve to have some treats that are just for us!), usually get placed up high (and in concealed or simply non-see-through bins). Cans usually go lower so that if one falls, nobody gets a goose egg. 
Fridge Organization Tips & Tricks
Create extra drawers. Lacking bin space? Use stackable fridge drawers to create more space in your fridge and also help keep categories contained.

Separate fruits and veggies. The ethylene in fruits can cause vegetables to spoil quicker, so use in-drawer bins in order to keep them fresher.

Within kiddo reach. Keep kids snacks, such as Once Upon a Farm Fruit and Veggie Blends, Smoothies, or bars in their own containers for easy accessibility. Your kiddos can simply reach for the bin and then pick which flavor they want!

Decant! It's one of my favorite past times… not only does it look amazing, but it helps keep items fresher, and helps you buy in bulk rather than individually packaged food. You can decant almost any dry good: rice, pasta, cereal, baking ingredients, etc. Just make sure you select airtight containers!

Use risers. A lot of food goes unseen, and thus wasted, because you can't see it. Risers help you have clear visibility of items such as cans, condiments, and other food jars.

Stack 'em! Just like in your fridge, there are simple ways to create more space in your pantry. You can use shelf risers, Stackable Fridge Bins, or even stack your lazy susans (which also help increase visibility – especially in corner spots!). Get creative with your space!
Now let's chat about fridge and pantry specifics…
Think about how your family uses each area:
Do you have little ones who need to access healthy snacks easily without any (or little) help?

Do you need to have concealed bins for treats?

Do you need a way to make "eat first" items easier to see and access?
Understand any space limitations:
Does your pantry consist of deep pull-out shelves? (Look for deep narrow bins!)

Do you have a side-by-side fridge and freezer which creates narrow food storage space?

Do you lack the shelf space you need? (Create it with stacking bins!)

Then take measurements. While you don't have to be exact, jotting down a few measurements will help you choose products that will best fit your space.
Choose a cohesive look:
Take a quick scroll through instagram or pinterest to find a few images of fridges and pantries you absolutely love. What colors and materials are they using? Limit yourself to no more than 3 colors and materials for the products you'll want to buy, such as Whitewashed Rattan Baskets, glass canisters, or acrylic bins with metal baskets. This will help you be decisive at the store and save you time on unnecessary returns.

You can shop from your own house too! Check out your kid's rooms for any wire or seagrass baskets – those would be great in the pantry. Again, just make sure it's a cohesive look because that will help with the organized feel.
 There you have it! You are officially equipped to create the #fridgegoals and #pantrygoals of your dreams, while helping the planet, and eating healthier at the same time. We just crossed off three new years' resolutions – 2021 is off to an amazing start!
Blog by Holly Blakey of Breathing Room Organization
Ready to organize, declutter, edit, streamline, simplify? Whatever word you choose, Holly can help you find your own Breathing Room. Follow along on Instagram at @breathing.room.organization
Featured Pantry Brands:
• 
Pipcorn Heirloom Snacks
• 
Partake Foods
• 
A Dozen Cousins
Featured Fridge Brands:
• 
Poppi 
• 
Koia
•
 Perfect Bar
• 
Primal Kitchen