Education
8 Back-to-School Products to Make Life Easier for Parents & Kids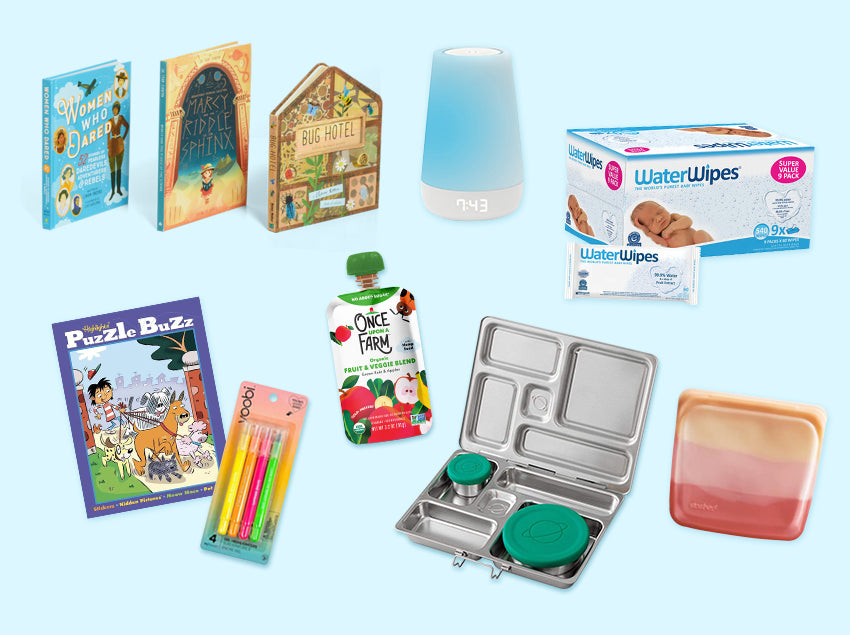 We all know that back-to-school season can be hectic. With supplies to buy, after-school activities to organize, new morning and bedtime routines to practice, getting back into the swing of things can be a serious juggling act. The following items have helped moms and dads on the Once Upon a Farm team (and their kiddos) streamline their routines, get into the learning spirit, and adjust more easily to the new school year.
1. Hatch Sound Machine for Easy Bedtime and Well-Rested Kiddos
A well-rested kiddo makes for a happy kiddo and Hatch Rest+ is a sleep gadget that will have your little ones wanting to go to bed. The device offers multiple functions including soothing white noise, a customizable night light, a dimmable clock, a time-to-rise feature to help your kids know when it's time to wake up, and more. Making sure your kiddo gets enough sleep will make all the difference and this sleep device will help!


2. PlanetBox Stainless Steel Lunch Box for Effortless Packing and Cleaning
Making lunch has never been easier! PlanetBox makes stainless steel lunch boxes that are designed for effortless packing and easy breezy clean up — just throw the whole thing in the dishwasher! Plus they're made with planet-friendly materials and guaranteed to be toxic-free and food safe. The five compartments make packing a variety of foods easy while keeping everything separated for your picky eaters. Don't forget to add a sweet lunchbox note!

3. Once Upon a Farm Blends for Nutritious On-the-Go Snacking
Whether you're rushing out the door with little time for breakfast, quickly throwing together a school lunch, or looking for a nutritious after school snack, Once Upon a Farm organic, fruit and veggie blends are your back-to-school snack time heroes. They're nutrient-rich and made with organic whole fruits and veggies, and no added sugar —but still tasty enough for kids to ask for them every day. Grab a handful at your local grocery store or lighten your grocery store haul and get them delivered straight to your door.

4. Water Wipes for Spills and Kid Messes
Whoever said wipes are just for babies in diapers didn't have a school-aged kid! Baby wipes have a whole host of other uses for toddlers, kids, and parents alike and they will definitely come in handy for back to school. Keep a pack of Water Wipes in the car, in your bag, and anywhere else you might need to quickly clean kid spills, messes, fingers, faces, toys, etc. Water Wipes contain 99.9% water and a drop of fruit extract to act as a natural conditioner — no chemicals or other harsh ingredients.

5. Reusable Stasher Bags for Colorful Food Storage and More
These versatile, reusable, and colorful Stasher Bags can be used for snacks, lunches, or even to hold arts supplies like pens, pencils, and markers. They're made to last and can be put in the freezer, microwave, and dishwasher — which is a must if you ask us. Let your kiddo pick out some of their favorite colors and they'll be excited to snack on whatever you serve them in each bag.

6. Yoobi for All Your School Supply Needs
Whether you're prepping your kindergartener for their first day, or getting your elementary school student ready for in-person learning again, Yoobi is a one-stop shop for school supplies. Shop by grade or category — you'll be sure to find something for the whole family. We especially love Yoobi because of their promise to give back. For every item purchased, they donate a school supply item to a child in need in the United States via the Kids In Need Foundation.

7. Puzzle Buzz for Screen-Free Activities
Looking for screen-free ways to entertain your kiddos while you make dinner or finish up your work? Puzzle Buzz activity books are fun, interactive books for kids ages four through seven. Each book has 36 pages of age-appropriate challenges like dot-to-dots, mazes, drawing and coloring activities, coded messages, and more. All the activities and challenges are designed to reinforce the thinking and learning skills your kids are practicing in school.

8. Literati for New Books to Get Your Kids Excited About Reading
With school back in session and new extracurricular activities planned, you might not have as much time on your hands for trips to the library. Literati is a subscription service that delivers five age-appropriate books to your home on a monthly or bi-monthly basis. Then you get to keep the books you love and return the rest for free. It's a great way to expose your kiddos to diverse characters and authors, new genres, and spark their imagination without handing them an iPad.


Send us a message on Instagram to let us know your favorite back-to-school items! We hope this list gave you a few new ideas. We're sending you all the positive energy and patience you need to get through this hectic time of year.