Lifestyle
10 Children's Books by Black Authors to Add to Your Bookshelf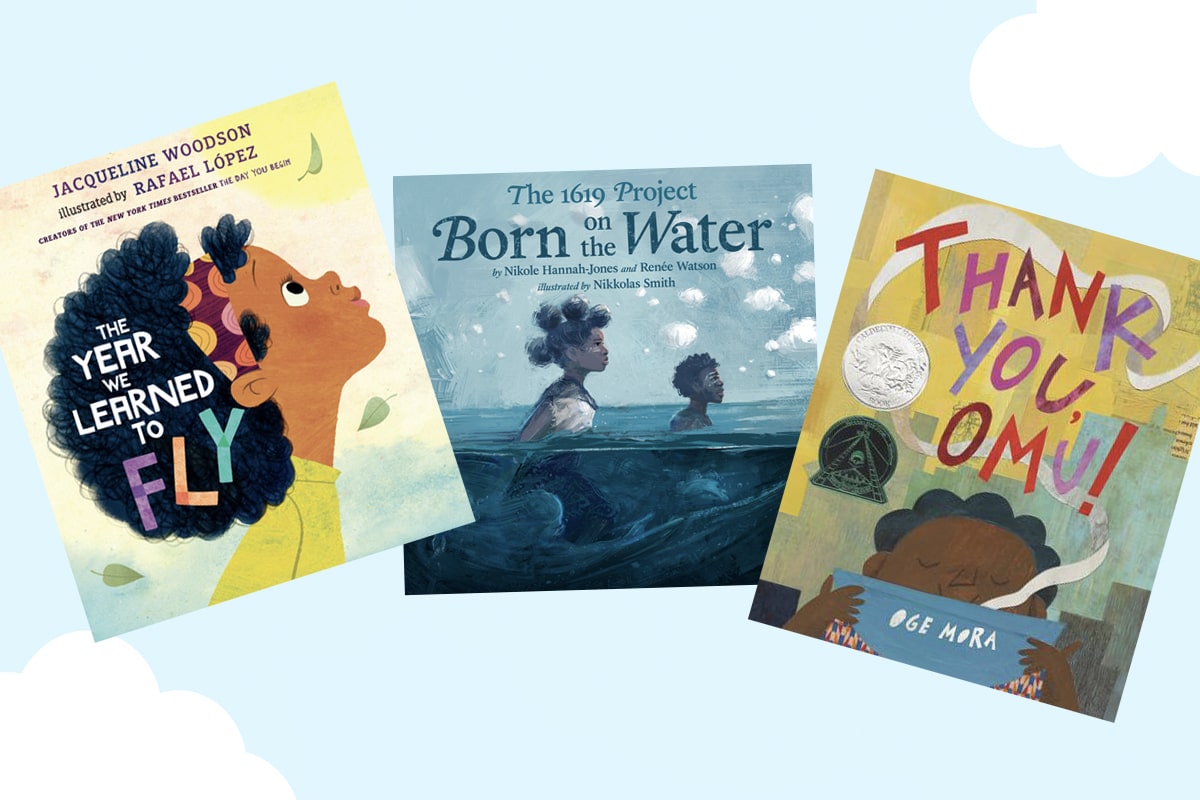 One of our favorite things to do with our families is cozy up with a good book. Even before our little ones can read on their own, we love to introduce them to beautiful images, poetic language, and stories of triumph, adventure, & wonder.

We partnered with The Collective Oakland—a Black-owned indie bookstore in Oakland, California—to bring you a curated list of children's books by Black authors. Not only are these books written and illustrated by Black artists—they feature Black characters, letting children see themselves represented and celebrated in the art they consume.

"Starting the conversation about race, compassion, and inequality with a child can be very difficult without the right tools," says Michelle Walton, The Collective Oakland's Director of Marketing and Sales. "Many of our parents use books on the list as conversation starters. I love that so many beautiful, diverse books are available for children that foster a sense of wonder and encourage imagination."

Learn more about each of these intentionally chosen books below.

All links lead to The Collective Oakland's website for more details & online ordering.
By Jacqueline Woodson
On a dreary, stuck-inside kind of day, a brother and sister heed their grandmother's advice: "Use those beautiful and brilliant minds of yours. Lift your arms, close your eyes, take a deep breath, and believe in a thing. Somebody somewhere at some point was just as bored you are now." And before they know it, their imaginations lift them up and out of their boredom. Then, on a day full of quarrels, it's time for a trip outside their minds again, and they are able to leave their anger behind. This precious skill, their grandmother tells them, harkens back to the days long before they were born, when their ancestors showed the world the strength and resilience of their beautiful and brilliant minds.
Book cover image & description via Nancy Paulsen Books
By Natasha Anatasia Tarpley
What will you choose to be?
A free spirit?
A weaver of words?
A star dancing across the night sky?
A limitless galaxy?

The possibilities are endless in this uplifting ode to the power of potential. With lyrical text by bestselling author Natasha Anastasia Tarpley and images by Regis and Kahran Bethencourt—the team behind CreativeSoul Photography—each page of The Me I Choose To Be is an immersive call for self-love that highlights the inherent beauty of all Black and brown children.
Book cover image & description via Little, Brown Books for Young Readers
By Timbaland ft. Christopher Myers
hey there, darling baby child,
you're safe in here though the storm is wild
the streetlights glow through dark so deep
but safe in sound you'll go to sleep

As a little boy gets ready for bed, the sounds of a wild storm echo around him, lulling him to sleep. From the crash of thunder to the pitter-patter of raindrops to the beat of passing cars, the music of the city creates a cozy bedtime soundtrack.
Book cover image & description via Atheneum Books for Young Readers
By Parker Curry & Jessica Curry
Parker Looks Up follows Parker, along with her baby sister and her mother, and her best friend Gia and Gia's mother, as they walk the halls of a museum, seeing paintings of everyone and everything from George Washington Carver to Frida Kahlo, exotic flowers to graceful ballerinas. Then, Parker walks by Sherald's portrait of Michelle Obama…and almost passes it. But she stops...and looks up!
Book cover image & description via Aladdin
By Patricia C. McKissack 
"Misery loves company,"" Mama says to James Otis. It's been a rough couple of months for them, but Mama says as long as they have their health and strength, they're blessed. One Sunday before Valentine's Day, Reverend Dennis makes an announcement during the service-- the Temples have lost everything in a fire, and the church is collecting anything that might be useful to them. James thinks hard about what he can add to the Temple's ""love box,"" but what does he have worth giving? With her extraordinary gift for storytelling, McKissack--with stunning illustrations by Harrison--delivers a touching, powerful tale of compassion and reminds us all that what is given from the heart, reaches the heart.
Book cover image & description via Schwartz & Wade

By Alice Faye Duncan
Every year, Opal looked forward to the Juneteenth picnic--a drumming, dancing, delicious party. She knew from Granddaddy Zak's stories that Juneteenth celebrated the day the freedom news of President Lincoln's Emancipation Proclamation finally sailed into Texas in 1865--over two years after the president had declared it But Opal didn't always see freedom in her Texas town. Then one Juneteenth day when Opal was twelve years old, an angry crowd burned down her brand-new home. This wasn't freedom at all. She had to do something But could one person's voice make a difference? Could Opal bring about national recognition of Juneteenth? Follow Opal Lee as she fights to improve the future by honoring the past.
Book cover image & description via Thomas Nelson
By Tami Charles
Lyrical, personal, and full of love, All Because You Matter is for the picture book audience what The Hate U Give was for YA and Ghost Boys was for middle grade: a conversation starter, a community touchstone, and a deep affirmation of worth for the young readers who need it most.
Book cover image & description via Orchard Books
By John Steptoe
Inspired by a traditional African folktale, this is the story of Mufaro, who is proud of his two beautiful daughters. Nyasha is kind and considerate, but everyone—except Mufaro—knows that Manyara is selfish and bad-tempered.

When the Great King decides to take a wife and invites the most worthy and beautiful daughters in the land to appear before him, Mufaro brings both of his daughters—but only one can be queen. Who will the king choose?
Book cover image & description via Amistad
Everyone in the neighborhood dreams of a taste of Omu's delicious stew! One by one, they follow their noses toward the scrumptious scent. And one by one, Omu offers a portion of her meal. Soon the pot is empty. Has she been so generous that she has nothing left for herself?
Book cover image & description via Little, Brown Books for Young Readers
By Nikole Hannah-Jones & Renée Watson
A young student receives a family tree assignment in school, but she can only trace back three generations. Grandma gathers the whole family, and the student learns that 400 years ago, in 1619, their ancestors were stolen and brought to America by white slave traders. But before that, they had a home, a land, a language. She learns how the people said to be born on the water survived.
Book cover image & description via Kokila